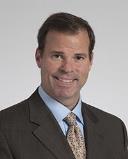 Ben Frank joined the Chief of Staff and Clinical Enterprise office on November 23, 2015, as the System Executive Director of Clinical Operations. Frank reports directly to Chief of Staff Brian Donley, MD, to unify our system-wide business operations.
An experienced healthcare leader, Frank served as CEO of Sheikh Khalifa Medical City (SKMC) from June 2013 until October 2015. SKMC, managed by Cleveland Clinic since 2007, serves as the flagship institution for the SEHA (United Arab Emirates) healthcare system.
Frank joined the SKMC team in 2012 and quickly rose to the role of CEO. He successfully led the Executive Management Team at SKMC while the facility set major milestones including performing the UAE's first-ever deceased donor organ transplant, reaching 2,500 pediatric cardiac surgeries since 2007, and performing 850 adult and pediatric cardiac surgeries in 2014, an SKMC record. In 2013, SKMC enhanced its leading healthcare infrastructure by opening a renovated Emergency Department, where more than 100,000 patients were treated in its first year.
Under Frank's leadership, SKMC has received numerous accolades, including becoming one of the world's select institutions to be accredited as a Cycle IV Chest Pain Centre for its high quality of care for cardiac patients. SKMC was awarded the Business Entity of the year in 2013, the highest recognition by SEHA. Five SKMC medical training programs have been accredited by the Accreditation Council for Graduate Medical Education International. Most recently, SKMC was re-accredited for the third time with the highest recognition by the Joint Commission International. SKMC was awarded the Dubai Quality Award in 2014.
Frank has enhanced SKMC's relationship with Cleveland Clinic by supporting Emirati leaders of the future with the UAE Executive Fellowship Program, working closely with the Education Institute and its Samson Academy.
Prior to joining SKMC, Frank served as President of Ochsner Physician Partners and System Vice President of the Accountable Care Network at the Ochsner Health System in New Orleans.
Frank holds a Master of Health Administration from Tulane University, and a BS in Commerce and Business Administration from the University of Alabama. He also is a Fellow of the American College of Healthcare Executives (FACHE).