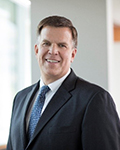 Brian Donley is the Chief Executive Officer of Cleveland Clinic London. In this role, he directs the strategy and operations, guides recruitment and led the 2022 opening of the 184-bed private healthcare facility in central London.
Previously, Dr. Donley was Cleveland Clinic's Chief of Staff and Chief of the Clinical Enterprise. He also served as President of the Cleveland Clinic Regional Hospitals and Family Health Centers.
He attended the University of Notre Dame, graduating Phi Beta Kappa. He also graduated with distinction from the University of Michigan Medical School and completed his residency in orthopaedic surgery there, as well. Dr. Donley attended Harvard Business School, completing the Advanced Management Program. He completed a fellowship in orthopaedic foot and ankle surgery at the Campbell Clinic in Memphis, Tennessee.
Dr. Donley is a Professor of Surgery at the Cleveland Clinic Lerner College of Medicine and a Fellow of the Royal College of Surgeons, England.