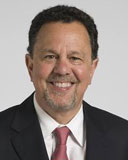 As chair of the Philanthropy Institute, Mr. Chardiet is responsible for all philanthropic initiatives and capital campaigns for Cleveland Clinic. He is a recognized leader in the world of philanthropy and has significant experience in establishing a strong culture of charitable giving.
Prior to joining Cleveland Clinic, Mr. Chardiet was the Chief Advancement Officer and Assistant Vice Dean at the University of Pennsylvania Health System and University of Pennsylvania Medical School. He has previous experience at the Washington Hospital Center Foundation, the development arm of the largest teaching hospital in Washington, D.C. Earlier in his development career, he held positions at Red Cross, Brown University and American University.
Mr. Chardiet received his Bachelor of Arts degree in international relations and Latin American studies from Southern Connecticut University in 1973. Five years later, he earned a Master of Science degree in social policy research from the University of Pennsylvania, followed by an advanced certificate degree from Penn in research.