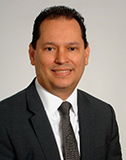 Rodolfo J. Blandon is the President of Cleveland Clinic Weston Hospital in Weston, Florida. In this role, he oversees operations, governance and financial accountability for Weston Hospital and eight ambulatory health centers in Broward and Palm Beach counties. He also contributes to regional strategy across Florida. Dr. Blandon maintains an active practice as an interventional radiologist at Weston Hospital and is a Clinical Assistant Professor at Cleveland Clinic Lerner College of Medicine.
Previously, Dr. Blandon was Chief of Staff for Cleveland Clinic Weston Hospital. In this role, he led the Office of Professional Staff Affairs, provided medical staff appointment, credentialing and review and compensation oversight. He was also responsible for conflict resolution. Dr. Blandon also previously served as the Chair of the Department of Imaging at Cleveland Clinic for 18 years.
Dr. Blandon graduated from the University of South Florida Morsani College of Medicine. He completed his radiology residency at Allegheny General Hospital in Pittsburgh and a fellowship in vascular/interventional radiology at Alexandria Hospital/George Washington University in Alexandria, Virginia. He also completed a general surgery internship at the Medical College of Pennsylvania in Philadelphia. Dr. Blandon also holds a master's degree in business administration from University of Florida.
Dr. Blandon is a fellow of the American College of Radiology. He is a member of numerous professional societies, associations and boards and has been published in multiple peer-reviewed publications and presentations.