Summary
Summary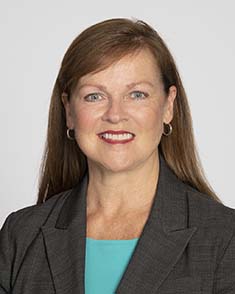 Susan Spencer, DNP, MSN, BA, RN, NE-BC, is chief nursing officer (CNO) at Cleveland Clinic Mercy Hospital. In her role, she leads nursing strategy, oversees nursing practice and quality and provides operational oversight. Spencer previously served for three years as associate chief nursing officer (ACNO) for Cleveland Clinic Akron General. As ACNO, she led nursing and patient care services, including bed management and the organization's operations center. She was a key member of Akron General's successful integration to Cleveland Clinic.
Spencer began her nursing career in 1985. She served as a staff nurse for eight years at several Ohio healthcare organizations. In 1993, she became director of clinical services and patient care at Ohio Heart Care in Canton, Ohio. She spent a year with University Hospitals of Cleveland in an advanced clinical cardiology nursing role, which was followed by six years at Affinity Medical Center as director of education services. Spencer joined Akron General in 2008 as director of nursing and patient care services. For three years, she held the role of director of service excellence and chief experience officer. She served as the executive director of nursing from 2014 to 2019, until she was named ACNO. Spencer holds a Doctor of Nursing Practice from Waynesburg University, a Master of Science in Nursing from the University of Phoenix, and a Bachelor of Arts in Business Management from Malone University. She is a board-certified nurse executive and a member of the Emergency Nurses Association as well as the American Organization for Nursing Leadership.
Education
DNP, Waynesburg University, Waynesburg, Pennsylvania, 2018
MSN, University of Phoenix, Tempe, Arizona, 2008
BA in Business Management, Malone University, Canton, Ohio, 2002
RN Diploma, M.B. Johnson School of Nursing, Elyria, Ohio, 1985
Certifications
Board Certified Nurse Executive (NE-BC), American Nurses Credentialing Center
Healthcare Leadership for Mass Casualty Incidents
Advisory Board Fellowship Healthcare Administration
Contact Information
Cleveland Clinic Mercy Hospital
1320 Mercy Drive Northwest
Canton, OH 44708
330.489.1111, ext. 2403
spenses@ccf.org
Leadership
Leadership
With more than 20 years in healthcare leadership, Spencer strives to achieve the safest, highest quality of care and best experience for patients and caregivers. She is a firm believer in investing in caregiver and leadership development. In addition to creating development programs for employees and leaders, Spencer has participated in development offerings such as Leadership Akron. She is a graduate of the Tony Gorant Community Leadership Institute. Her leadership expertise includes continuous improvement, implementation of new programs and services, including outpatient cardiology practice and diagnostic testing, advanced practice provider triaging, ED split-flow, and creation of a new patient experience department. Throughout her career she has also played an integral role in the opening of several new buildings/facilities and service line offerings.
Clinical Practice & Teaching
Clinical Practice & Teaching
Clinical Practice
Spencer's clinical expertise lies within the areas of cardiology and emergency nursing.
Teaching
Spencer is an adjunct faculty member at Waynesburg University, where she teaches online nursing courses. She spent six years as director of education services at Affinity Medical Center. In the role, she led efforts to facilitate team building and leadership development, provided training for more than 800 employees, transitioned staff development into an enterprise-wide education services support program, and combined hospital education efforts, including competency testing, skills labs, in-services and continuing education. She also served as training center coordinator for the American Heart Association, coordinating the ACLS and BLS programs.
Research & Publications
Research & Publications
Spencer is an experienced presenter and has shared her work at national conferences, including the Press Ganey National Conference. She has also contributed to written publications from organizations such as the Beryl Institute and medical journals such as the Journal of Emergency Nursing.
Professional Involvement
Professional Involvement
Member, Emergency Nurses Association
Member, American Organization for Nursing Leadership
Past Instructor, DDI Service Plus
Past Board Member, Victims Assistance Program
Past Board Member, Open M Akron