Summary
Summary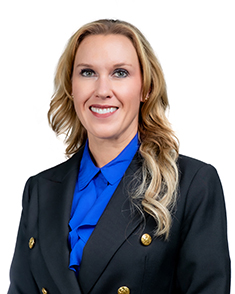 Elizabeth Govero, DNP, RN, CMSRN, is chief nursing officer (CNO) at Cleveland Clinic Abu Dhabi (CCAD). CCAD is Cleveland Clinic's first multispecialty hospital outside North America and home to the health system's most diverse nursing team. Overseeing this unique team, Govero leads strategic planning, nursing operations and nursing practice, focusing on safety, quality and patient and caregiver experience. She brings more than two decades of healthcare leadership to her role, most recently serving as vice president of nursing and CNO at SSM Health St. Mary's Hospital – St. Louis, which is affiliated with St. Louis University.
Govero entered the nursing profession in 1999 as a cardiac staff nurse. She propelled into leadership in 2001 at Barnes-Jewish Hospital in St. Louis, first as an assistant nurse manager, then as nurse manager. For 11 years, she served in manager roles, primarily for the peri-anesthesia care unit (PACU). She was also interim director of surgical services. Govero then worked for several Illinois-based hospitals in the Hospital Sisters Health System (HSHS). In 2012, she joined St. Elizabeth's Hospital in Belleville, Ill. as director of nursing operations. Two years later, she accepted her first CNO position at HSHS St. Joseph's Hospital – Highland, a role she held for nearly three years. In addition, she served as interim chief executive officer (CEO) for nine months. Govero rejoined HSHS St. Elizabeth Hospital, this time as CNO at the hospital's new location in O'Fallon, Ill. She transitioned to St. Mary's Hospital – St. Louis in 2019. Govero holds a Doctor of Nursing Practice and a master's degree in healthcare and nursing administration. She is a member of the American Organization for Nursing Leadership and American Association of Critical-Care Nurses.
Education
DNP, Southern Illinois University, Edwardsville, Illinois, 2016
MSN, Healthcare and Nursing Administration, Southern Illinois University, Edwardsville, Illinois, 2008
ADN, Kaskaskia College, Centralia, Illinois, 1999
Certifications
Certified Medical-Surgical Registered Nurse (CMSRN), Medical-Surgical Nursing Certification Board (MSNCB)
Lean Six Sigma Yellow Belt Certification
Contact Information
Cleveland Clinic Abu Dhabi
Al Maryah Island
Abu Dhabi, United Arab Emirates
971 58 900 9822 (UAE)
goveroe@clevelandclinicabudhabi.ae
Leadership
Leadership
Govero is well-versed in leading healthcare and nursing teams. Having served in four CNO positions, as well as interim director and CEO positions, she is an experienced executive who brings value and expertise in operations, financial planning, healthcare regulation, clinical and process improvement and more. She is a highly visible leader who is known for her advocacy and support of the nursing profession and the caregivers who work with her. She has developed and implemented successful strategies in caregiver engagement, experience, retention and professional development. Her ability to drive performance improvement, operational efficiency, quality, safety and patient satisfaction is superior. As CNO at St. Elizabeth's, she improved nurse turnover by 20% in six months. Under her leadership at St. Joseph's, patient satisfaction scores increased in pain management, nurse communication and response of nursing staff. And for the nine months she served as CEO, colleague engagement and culture of safety scores jumped significantly to 93% positive.
Clinical Practice & Teaching
Clinical Practice & Teaching
Clinical Practice
Govero's clinical expertise lies within the area of critical-care nursing.
Teaching
Govero believes there is immense value in nurses advancing their skills and education and she is passionate about helping current and future nursing caregivers succeed in their careers. At St. Elizabeth's, she was integral to the formation of the HSHS Southern Illinois Division (SID) Nursing Education Institute, as well as the implementation of the HSHS SID registered nurse (RN) residency, RN fellowship, and RN and nursing aide float pool. At St. Joseph's, she helped lead the planning and launch of nurse manager and charge nurse development programs, a nurse fellowship program and preceptor development. She has also served as an adjunct faculty member at the following institutions:
Saint Louis University, St. Louis, Missouri
Southern Illinois University, Edwardsville, Illinois
Barnes-Jewish Hospital Goldfarb School of Nursing, St. Louis, Missouri
Research & Publications
Research & Publications
A firm believer in evidence-based practice, Govero has presented regionally and nationally on topics such as narcotic administration in the PACU; thoracic outlet syndrome and understanding the disorder to improve post-surgical outcomes; and leading clinical performance improvement for medication reconciliation utilizing Lean Six Sigma concepts. Her new nurse leader checklist for foundational success was published in Nurse Leader in 2012. She also created a reference for new nurse managers, which was published as an eBook in 2016, and included things nurses should know when stepping into their first manager role and how to build and sustain a foundation.
Professional Involvement
Professional Involvement
Member, American Organization for Nursing Leadership (AONL)
Member, American Association of Critical-Care Nurses (AACN)
Past Member, American Society of PeriAnesthesia Nursing (ASPAN)
Past Member, Illinois Organization of Nurse Leaders (IONL)
Honors & Awards
Honors & Awards
Nurse Leader Award, March of Dimes, 2017
Nurse's Week Leadership Award, Barnes-Jewish Hospital, 2009
Patriot Award, Barnes-Jewish Hospital, 2008
Best Video [Interactive Patient Tracheostomy Teaching Video], SOHN Annual Conference, 2007
Excellence in Leadership, Barnes-Jewish Hospital, 2006
As interim CEO, Govero led HSHS St. Joseph's Hospital Highland to the following:
Top 20 Critical Access Hospital for Top Quality, National Rural Health Association (NRHA), 2016
Rural Hospital Award in Quality for Sepsis-Saving Lives, Illinois Health and Hospital Association (IHA), 2016
Rural Hospital Award in Quality for Reduction in Readmissions, IHA, 2015