Summary
Summary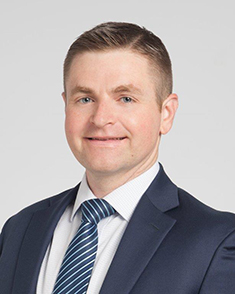 Matthew J. Slife, CPA, PMP, is the executive director of nursing operations for the Stanley Shalom Zielony Institute for Nursing Excellence at Cleveland Clinic. In his role, Slife provides leadership for the Nursing Institute's enterprise-wide operations, business activities, financial performance, strategic system alignment and health system integration, overseeing operations of approximately 24,000 nursing caregivers across the health system. With nearly 20 years of professional experience, including six years in Big 4 Public Accounting and more than 11 years within Cleveland Clinic's Department of Finance, Slife brings to his position extensive knowledge of budget forecasting, operational and financial performance improvement, staffing model creation and clinical cost-metric development for facilitating ongoing performance management and more.
Previously, Slife served as Director of Finance for Cleveland Clinic health system where he led various Care Resource Optimization initiatives that led to savings of more than $1.4 billion in clinical and administrative expenses. In addition, he was also the finance lead for Cleveland Clinic's $900 million Pathology and Laboratory Medicine Institute. Prior to joining Cleveland Clinic in 2009, he worked as a Manager at KPMG LLP, providing financial and operations advisory services, such as leading process optimization, cost optimization, internal controls, system implementations and integration projects. Slife received his Bachelor of Science in Business Administration, with a double major in Accounting and Finance from Xavier University. He holds a Six Sigma Greenbelt certification from the University of Michigan, a Project Management Professional (PMP) certification and is a Certified Public Accountant (CPA).
Education
BSBA in Accounting and BSBA in Finance, Xavier University, Cincinnati, Ohio, 2003
Certifications
Certified Public Accountant (CPA), State of Ohio
Six Sigma Greenbelt Certification, University of Michigan College of Engineering
Certified Project Management Professional (PMP), Project Management Institute
Contact Information
Cleveland Clinic
9500 Euclid Avenue
Cleveland, Ohio 44106
216.636.5809
slifem@ccf.org
Leadership
Leadership
A dedicated operations and finance executive, Slife's leadership expertise lies in the areas of financial, strategic and capital planning, cost structure optimization, labor productivity, process improvement, Lean Six Sigma operations, program and project management and business integrations. Additionally, he is a non-practicing CPA with Big 4 Public Accounting experience. Throughout his career, Slife has formed a reputation as a trusted leader who drives results. Among many notable accomplishments, he has created decision models for areas such as staffing, volumes and reimbursement, as well as identifying and implementing enterprise cost savings measures. He has also developed clinical cost/unit metrics that have directly improved non-staff productivity, laboratory test technical costs and more. In addition, Slife is recognized throughout Cleveland Clinic health system for his exceptional leadership of the enterprise risk management program, enterprise information technology (IT) sourcing initiative for infrastructure and support services, and his efforts in assisting the planning and preparation of Cleveland Clinic's COVID-19 laboratory testing operations.
Professional Involvement
Professional Involvement
Member, ALS Association National Board of Representatives
Board Member, Northern Ohio ALS Association
Mentor, Xavier University Executive Mentoring Program
Advisory Council Member, St. Paschal Baylon Parish and School Finance Council