Discover the difference of a nursing career at Cleveland Clinic
---
Why Work for Cleveland Clinic?
Being a nurse at Cleveland Clinic is so much more than a job. It's a career that lets you explore many different career paths. Where you can grow and learn each and every day. Where you can use your skills and build new ones. Where you're supported and valued. Most importantly, it's a place where you can make a difference in the lives of your patients with compassion and understanding. Being a nurse a Cleveland Clinic is all of these things and more.
Here's why we might be a great fit for you:
You're skilled and compassionate
When you decided to start a career in nursing, you knew that it wasn't like other jobs. It's more than the tasks you do each day — it's also about people. The compassion and empathy you bring to work with you is vital to your role. At Cleveland Clinic we highly value this trait. It's even listed as one of our core values.
And when you work with us, you're surrounded by others who share this passion for people. Together, we aim to help each patient with the compassion they deserve. That's why we call everyone who works at Cleveland Clinic a caregiver — because it's about more than doing the role. Giving world-renowned, heartfelt care is what we do every day.
You want to learn and grow
If you're always looking for ways to strengthen your skills and challenge yourself, you'll find many opportunities to do that at Cleveland Clinic. We want you to be able to sharpen your skills and craft the career of your dreams — whether you're a new graduate or a seasoned professional.
Our Stanley Shalom Zielony Institute for Nursing Excellence oversees the practice and continuing education of nearly 35,000 caregivers throughout Cleveland Clinic. The center also provides scholarships for more than 1,000 of our nurses to pursue undergraduate degrees and advanced nursing degrees.
Whether you're a brand new nurse or bring years of experience with you, our residency program can get you started at Cleveland Clinic on the right foot.
Our personalized one-year residency program will help you dip your toe into the water before you dive into the deep end. You'll have a nurse designated as a success coach who'll be available to you whenever you need them — in person, virtually or through email. They'll answer your questions, help you achieve your goals and sharpen your practice. Our goal is to help you feel confident about the job ahead of you. You're never alone, there is always a team behind you dedicated to quality patient care.
We offer many training, courses and mentorship opportunities so you continue to learn and grow every single day.
After your first year with us, you can choose a career path that's right for you.
Maybe your dream is a leadership position. Or maybe you're interested in specialty or advanced practice nursing. You might be thinking about becoming a clinical expert or enriching the career you have now.
You're never stuck in one spot at Cleveland Clinic. In fact, we encourage both new nurses and those with many years of experience to follow your passions and explore many different career paths with us.
Discover what works best for you. And we'll help you explore that. No matter where you want to take your nursing career, we're ready to help you achieve your goals and find your success.
You enjoy working as a team
If you enjoy and value a team-based approach to patient care, then you'll fit right in. Our nurses are highly regarded and respected caregivers — and you will be, too.
You'll work closely with other highly skilled team members throughout Cleveland Clinic every day. Our hardworking team members support each other. They have each other's backs. They step in and help where they're needed. You'll never feel like you're going it alone here. With every challenge comes unwavering support. And that makes us all stronger.
You want to feel empowered and supported
You can count on Cleveland Clinic to support you. Your emotional, physical, spiritual and social well-being is very important to us. Whether you're a brand new nurse or have years of experience, being a top tier nurse can come with challenges. We'll give you the support you need — both personally and professionally — to do your job well.
We offer free, confidential short-term personal and financial counseling for you and your family members. We also offer free membership to Cleveland Clinic fitness centers and discounted memberships to Weight Watchers for caregivers and dependents who participate in our Employee Health Plan. Enjoy exercising with others? Some of our locations have running and walking groups and morning and evening yoga.
Caring for our caregivers, as well as our patients, is a top priority at Cleveland Clinic.
You want to belong
Feeling like you belong creates a sense of confidence and peace. We want you to feel that way at Cleveland Clinic. That's why we work hard to maintain a diverse culture, where everyone feels valued and respected. Want to learn more about diversity and inclusion? We offer seminars, training and career development programs to help you expand your knowledge and skill sets to deliver equitable care.
Benefits and Pay
Our nurses enjoy a pay and benefits package that's second to none. Here's what to expect:
Employee Health Plan with no copays* for routine care, including primary care visits for internal medicine, family medicine, pediatrics and Ob/Gyn.
No deductibles for procedures or generic medications* and no spousal surcharge.
Complimentary wellness programs.
Opportunity to lower your benefits costs. A healthy lifestyle is rewarded with deep discounts on health insurance premiums. Those who participate in wellness programs save an average of $700 a year. Collective participation keeps our premiums lower than the national average.
Dental Plan options.
Vision Plan options.
Paid maternity and parental leave. 100% pay for 8 weeks for birth mothers. 100% pay for 4 weeks parental leave for both parents following birth or adoption.
Retirement Savings Plans. Includes investment pension (IPP) and savings and investment plan (SIP) with matching dollars up to 3%.
Flexible spending accounts (using pre-tax dollars) for family medical expenses and childcare expenses.
Life insurance and options for supplemental and dependent life insurance.
Short- and long-term disability coverage.
Generous Paid Time Off (PTO) program.
Adoption assistance.
Employee Hardship Fund.
*Using Cleveland Clinic Quality Alliance providers and pharmacies
Tuition reimbursement and loan repayment
There are a variety of select registered nurse roles that are eligible for tuition reimbursement, relocation assistance and student loan repayment. This program is available at all U.S. Cleveland Clinic locations.
For full-time nurses: up to $437.50 per month/lifetime maximum program benefit of $15,750.
For part-time nurses: up to $218.75 per month/lifetime maximum program benefit of $7,500.
*Additional details may apply.
Join Our Team and Make a Difference at Cleveland Clinic
We're looking for nurses who are the definition of excellence in patient care. Who are compassionate human beings always striving to learn and grow. Who treat each other and their patients like family. At Cleveland Clinic, you'll touch lives and hearts. You'll make a difference.
Locations
Cleveland Clinic locations include 19 family health centers, 14 regional hospitals in Ohio, 5 regional hospitals in Florida, a location in Nevada, and 3 international locations — Abu Dhabi, Canada and London.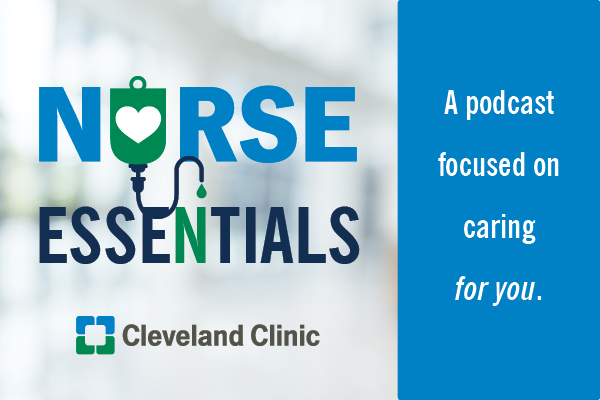 Nurse Essentials: A Podcast Focused on Caring for You
Nurse Essentials is a podcast about all things nursing — from tips for making your next shift easier to advice on how to handle the big challenges you face. Whether you're just starting your practice or have years of experience, we've got you covered.