Summary
Summary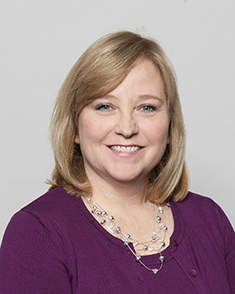 Karen S. Distelhorst, MSN, RN, GCNS-BC, is a clinical nurse specialist in gerontology at Cleveland Clinic South Pointe Hospital. Distelhorst entered the nursing profession in 1986, and has spent the majority of her career caring for the geriatric patient population. In addition to her current role, which she accepted in 2012, Distelhorst's clinical experience includes nurse, case manager, nursing supervisor and clinical nurse specialist positions in the skilled home nursing setting, geriatric clinical nurse specialist positions at Summa Health System and The Traveling Nurse Practitioner in Akron, Ohio, and Barberton Citizen's Hospital in Barberton, Ohio, as well as several staff nurse positions.
Distelhorst also has a rich history in nursing education. For six years, she was an assistant professor of nursing at Malone University in Canton, Ohio, where she instructed both bachelor's and master's courses while also serving as a coordinator of theory and clinical content for junior- and senior-level coursework. Additionally, she was a clinical instructor at The University of Akron. Distelhorst is a member of numerous professional nursing organizations, including the Gerontological Advanced Practice Nurses Association, Transcultural Nursing Society and National Association of Clinical Nurse Specialists.
Education
M.S.N., The University of Akron, Akron, Ohio, 1993
Undergraduate Coursework, Kent State University, Kent, Ohio, 1987-1989
Diploma, Idabelle Firestone School of Nursing, Akron City Hospital, Akron, Ohio, 1985
Certifications
Board Certified Gerontological Clinical Nurse Specialist (GCNS-BC), American Nurses Credentialing Center
Leadership
Leadership
An experienced leader who is well-versed in personnel and operations management as well as staff and community education, Distelhorst is a talented leader who has developed and executed several notable nursing programs throughout her career. These include a dementia management program, geriatric in-home services program and a cross-cultural exchange program between Malone University and University College Lillebaelt in Odense, Denmark.
Clinical Practice & Teaching
Clinical Practice & Teaching
Clinical Practice
Distelhorst is a clinical nurse specialist in geriatrics with additional clinical expertise in medical-surgical nursing.
Teaching
A clinical educator to nurses and nursing students, Distelhorst's teaching experience includes the coordination of clinical content and theory coursework on adult health and mental health, pediatrics and community health. She has served as an assistant professor of nursing or a clinical instructor at the following institutions.
Malone University School of Nursing, Canton, Ohio
University of Akron College of Nursing, Akron, Ohio
Research & Publications
Research & Publications
Throughout her career, Distelhorst has published works on simulation learning and completed research studies on topics such as the relationship between falls and fall risk factors in the elderly homebound population and the accuracy of the patient health questionnaire in the assisted living population. She has also spoken to audiences around the globe on numerous nursing-related topics of interest.
Professional Involvement
Professional Involvement
Member, Transcultural Nursing Society
Member, Gerontological Advanced Practice Nurses Association
Member, National Association of Clinical Nurse Specialists
Past Member, National League for Nurses
Member, Sigma Theta Tau International Honor Society of Nursing; Member, Pi Chi Chapter; Past Faculty Advisor
Past Committee Member, Admission, Retention and Financial Aid Policy Committee, Admission and Progression Committee, School of Nursing BSN Curriculum Committee, Malone University
Past Member, Ohio Association of Advanced Practice Nurses