Summary
Summary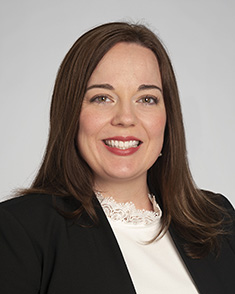 Maureen A. Schaupp, MSN, APRN-CNP, is associate chief nursing officer for advanced practice nursing and nursing quality and practice at Cleveland Clinic. In her role, Schaupp is responsible for the leadership of the health system's more than 2,300 advanced practice nurses, including overseeing and coordinating policy standardization, licensing, scope of practice, integration and utilization. She also leads and optimizes nursing practice and quality for the Nursing Institute, directing strategies for assessing quality-related metrics and outcomes. Schaupp previously served as advanced practice registered nurse (APRN)/physician assistant (PA) director at Cleveland Clinic Fairview Hospital, providing strategic oversight of all APRN/PA practice in the 550-bed acute care hospital and outpatient entities. Prior to that, she held various APRN/PA manager positions.
Schaupp began her nursing career in 2006 as a bedside nurse in the cardiac intensive care unit (CICU) at Fairview Hospital. After becoming a nurse practitioner in 2009, she worked at Cleveland Clinic main campus caring for patients with heart disease. She continues to see patients in the Heart Failure Clinic today. Schaupp earned her bachelor's degree from the University of Dayton and her Master of Science in Nursing at Case Western Reserve University, Frances Payne Bolton School of Nursing. She was a 2018-2019 Duke/Johnson & Johnson Nurse Leadership Fellow, has participated in Cleveland Clinic's Leading in Healthcare program, and frequently serves as a mentor and preceptor to other nursing caregivers. She is a member of the American Association of Nurse Practitioners, Ohio Association of Advanced Practice Nurses, Heart Failure Society of America and American Association of Heart Failure Nurses.
Education
MSN, Adult Nurse Practitioner Certificate, Frances Payne Bolton School of Nursing, Case Western Reserve University, Cleveland, Ohio, 2009
Certificate of Professional Nursing, Frances Payne Bolton School of Nursing, Case Western Reserve University, Cleveland, Ohio, 2005
BS, Exercise Science/Pre-Physical Therapy, University of Dayton, Dayton, Ohio, 2004
Certifications
Certified Adult Nurse Practitioner (APRN-CNP), The American Academy of Nurse Practitioners
Advanced Cardiac Life Support (ACLS), American Heart Association
Basic Cardiac Life Support (BCLS), American Heart Association
Contact Information
Cleveland Clinic
9500 Euclid Avenue / P32
Cleveland, Ohio 44195
216.308.2032
schaupm@ccf.org
Leadership
Leadership
With 15 years of service at Cleveland Clinic, Schaupp has a passion for ensuring high quality healthcare and continuous improvement and has played a vital role in leading readmission reduction initiatives, sepsis core measure compliance, decreasing length of stay, and reducing hospital-acquired pressure injuries. She believes in keeping goals and data at the forefront of all decision-making and process evaluation. As a leader of advanced practice, she has developed teams and service lines, enhancing patient quality and experience by elevating the way care is delivered. She consistently ranks as a top-tier engagement leader in Cleveland Clinic's annual employee engagement survey and is known for her exceptional multidisciplinary collaboration, meaningful caregiver relationships and ability to empower those around her.
Clinical Practice & Teaching
Clinical Practice & Teaching
Clinical Practice
Schaupp's clinical expertise is in cardiovascular nursing.
Teaching
Schaupp often serves as a mentor and preceptor to nursing students and new graduate nurses and is passionate about the advancement and professional development of her nursing colleagues.
Research & Publications
Research & Publications
Throughout her career, Schaupp has been involved in many research studies, including as a co-investigator and site coordinator for National Institutes of Health (NIH) funded clinical trials. Her work has been published in the Journal of Cardiac Failure and she is an avid presenter on various heart failure and advanced practice provider topics.
Professional Involvement
Professional Involvement
Member, American Association of Nurse Practitioners
Member, Ohio Association of Advanced Practice Nurses
Member, Heart Failure Society of America

Committee Member, Early Career Committee (2014)

Member, American Association of Heart Failure Nurses
Honors & Awards
Honors & Awards
Fellow, Duke/Johnson & Johnson Nurse Leadership, 2018-2019
Cleveland Clinic Leading in Healthcare Cohort, 2016