Summary
Summary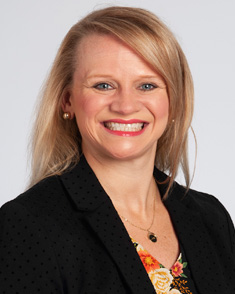 Meredith A. Foxx, MSN, MBA, APRN, NEA-BC, PCNS-BC, PPCNP-BC, CPON, is executive chief nursing officer (ECNO) for Cleveland Clinic health system. A highly accomplished and experienced healthcare leader, Foxx spearheads the health system's nearly 35,000 nursing caregivers within the Stanley Shalom Zielony Institute for Nursing Excellence. In her role, she oversees nursing clinical practice, development, education and outcomes for the institute's inpatient, outpatient, rehabilitation and home care fields, administering and directing nursing integration and operations, as well as financial, regulatory and business activities. Previously, Foxx served as interim ECNO and as associate chief nursing officer (ACNO) for advanced practice nursing and nursing quality and practice. In her dual-ACNO position, Foxx provided clinical oversight and supervision of the scope of practice, recruitment, quality, credentialing, and privileging of nearly 2,000 advanced practice registered nurses (APRNs). She also led nursing quality and practice integration for multiple new hospital acquisitions.
Foxx has served the Cleveland Clinic organization for nearly 20 years as a strategic, trusted healthcare professional dedicated to nursing excellence. She has established innovative initiatives such as nursing Shared Governance Day, which launched in 2006, and achieved many nursing quality and safety successes, including serving as the nursing liaison for the 2019 main campus survey by The Joint Commission, which resulted in 15 notable best practice recognitions. In 2016, she was named Cleveland Clinic's first-ever ACNO of Advanced Practice Nursing. With more than 10 years of APRN leadership, she developed a comprehensive APRN reporting structure, supervised more than 40 inpatient clinical nurse specialists, and drove Cleveland Clinic's APRN growth from 750 APRNs to more than 1,900. Foxx began her nursing career in 1999. Her history also includes six years as a pediatric clinical nurse specialist (CNS) at Cleveland Clinic, one year as an advanced practice provider at Rainbow Babies and Children's Hospital, and staff nurse experience at Cleveland Clinic and the Children's Hospital of Philadelphia. Foxx holds a dual certification as a CNS and as a nurse practitioner in pediatrics. She sits on numerous national and regional nursing boards, associations and committees, and has served as clinical faculty for advanced practice nursing students at several colleges and universities. Foxx is a recipient of Cleveland Clinic's Carolyn T. Neiman APN Award, the Association of Pediatric Hematology/Oncology Nurses' (APHON) Jean Ferguson Excellence in Pediatric Hematology/Oncology Nursing Practice Award and State Advocate of the Year for Ohio by the American Association of Nurse Practitioners (AANP). She was also a 2019 Smart Business Buffalo Award Nominee.
Education
MBA, Case Western Reserve University, Cleveland, Ohio, 2017
MSN, University of Pennsylvania, Philadelphia, Pennsylvania, 2002
BSN, University of Pennsylvania, Philadelphia, Pennsylvania, 1999
Certifications
Certified Pediatric Primary Care Nurse Practitioner (PPCNP-BC), American Nurses Credentialing Center
Certified Clinical Nurse Specialist in Pediatrics (PCNS-BC), American Nurses Credentialing Center
Certified Pediatric Oncology Nurse (CPON), Oncology Nursing Certification Corporation
Basic Cardiac Life Support (BCLS), American Heart Association
Pediatric Advanced Life Support (PALS), American Heart Association
Pediatric Advanced Life Support Instructor
Contact Information
Cleveland Clinic
9500 Euclid Avenue NA24
Cleveland, Ohio 44195
216.704.6719
foxxm@ccf.org
Leadership
Leadership
Foxx is a dedicated, talented and well-known leader throughout Cleveland Clinic, within the nursing profession and across the healthcare industry. Her leadership expertise is noted in organizations such as APHON, the American Nurses Credentialing Center (ANCC) and the Ohio Association of Advanced Practice Nurses, where she most recently served as Northeast Ohio regional co-director and was named treasurer. At Cleveland Clinic, she has initiated and led various shared governance councils, including those focused on image and branding and legislative and health policy. During the COVID-19 pandemic, she played an instrumental role as the executive nurse leader within organization's incident command center. Also, in addition to all she has done to create and establish an advanced practice governance structure and grow APRN practice at Cleveland Clinic, she has led significant efforts to improve nursing quality metrics, policies and procedures, including partnering with Cleveland Clinic's clinical transformation team to improve the quality and safety of care nursing caregivers provide. Her leadership efforts have led to Cleveland Clinic's ongoing ANCC nursing excellence program recognition, including Magnet® and Pathways to Excellence®. Additionally, as a clinical leader, Foxx supported general pediatric and pediatric hematology/oncology units, focusing on staff support, quality improvement, education and research. She aided her colleges and future nurses through precepting, unit-based education and teaching within the higher education setting. Foxx's clinical experience, coupled with her drive to establish Cleveland Clinic's advanced practice nursing program as an industry frontrunner, has made her a trusted and well-respected nurse leader.
Clinical Practice & Teaching
Clinical Practice & Teaching
Clinical Practice
Foxx's clinical expertise lies within the area of pediatric oncology, with additional expertise in caring for pediatric critical care patients in the intensive care setting. She has worked as a staff nurse, nurse practitioner and clinical nurse specialist.
Teaching
Throughout her career, Foxx has served as a skills lab instructor for the University of Pennsylvania Nursing School, an independent nurse education consultant, a lecturer to new staff within Cleveland Clinic's pediatric nursing orientation, and as a certified pediatric nurse review lecturer on the topics of childhood cancer and hematology dysfunction. She has served as a guest lecturer on the topics of advance practice, leadership, and advocacy. She is an instructor for the APHON chemotherapy and biotherapy provider course, and has also served as a clinical faculty member for the following institutions.
Case Western Reserve University, Frances Payne Bolton School of Nursing, Cleveland, Ohio
Ursuline College, The Breen School of Nursing, Pepper Pike, Ohio
University of Akron, Akron, Ohio
Research & Publications
Research & Publications
At the start of her career, Foxx was a research assistant for Children's Hospital of Philadelphia in the area of pediatric oncology. Since then, she has been an integral part of several research studies and often presents locally and nationally on a variety of clinical and professional topics, including oral chemotherapy safety, febrile neutropenia, oncology practice, advanced practice scope, APN leadership and advocacy. She has been a featured speaker at national conferences for APHON and the ANCC's annual Magnet® conference. Similarly, she has presented posters highlighting quality improvement projects within the pediatric nursing practice and advanced practice nursing domains and has served as a manuscript reviewer for the Journal of Pediatric Oncology Nursing and the Journal of the American Association of Nurse Practitioners.
Professional Involvement
Professional Involvement
Member, Association of Pediatric Hematology Oncology Nurses

Chair, Professional Development Committee

Member, American Association of Nurse Practitioners
Member, American Organization for Nursing Leadership
Member, Ohio Association of Advanced Practice Nurses

Northeast Ohio Regional Co-Director (2017-2020)
Treasurer (2020-present)

President, Ohio Chapter, Association of Pediatric Hematology/Oncology Nurses (2012-2015); Co-President (2010-2012)

Board Member Secretary, APHON (2015-2018) and Member of Mentoring Taskforce, Educational Provider Unit Committee
Member, APHON National Conference Planning Committee (2013), Committee Chair (2014)
Abstract Reviewer, APHON National Conference (2012, 2013, 2015)
Member, APHON Nominating Committee (2010-2013)

Liaison, Oncology Nursing Certification Corporation Board (2015-2018) and Member, Finance Committee
Manuscript Reviewer, Journal of Pediatric Oncology Nursing and Journal of American Academy of Nurse Practitioners
Content Expert Panel Member (2006-2014), Vice Chair (2008-2012) and Chair (2012-2014), American Nurses Credentialing Center (ANCC)
Member, Jazz Pharmaceuticals Speaker's Bureau, Erwinaze (2012-2016)
Content Expert, Oral Mucositis Advisory Board
Member and Key Person, Ohio Association of Advanced Practice Nurses (OAAPN), Full Practice Authority Committee
Honors & Awards
Honors & Awards
Buffalo Award Nominee, Smart Business, 2019
State Advocate of the Year (Ohio), American Association of Nurse Practitioners, 2018
Jean Fergusson Excellence in Pediatric Hematology/Oncology Nursing Practice Award, APHON, 2012
Nursing Excellence Award, The Carolyn Neiman APN Award, Cleveland Clinic, 2009
Marcia C. Liebman New Writer Excellence Award, Publishing Division, Oncology Nursing Society, 2009
Nurse of Note, Cleveland Clinic Notable Nursing Magazine, 2009
Employee of the Month, Children's Hospital of Philadelphia, January 2000