Summary
Summary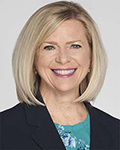 Darlene L. Morocco, MHA, BSN, RN, NE-BC, FACHE, is chief nursing officer (CNO) at Cleveland Clinic Lutheran Hospital. In her role, she leads nursing practice and operations for the 203-bed acute care specialty hospital. Among her strategic focuses are caregiver and patient experience, nursing quality and safety, recruitment and retention. With more than 20 years of healthcare leadership experience, Morocco brings a wealth of knowledge and expertise to her role. Prior to joining Cleveland Clinic, Morocco was a member of the executive nursing leadership team at University of Pittsburgh Medical Center where she served as director for cardiovascular and respiratory care services for nearly five years. During that time, she achieved many notable successes, including improving employee engagement and patient experience scores and decreasing employee turnover and patient readmissions. She developed several clinical advancement programs and devised and implemented many performance improvements, such as a nurse hand-off reporting tool, barcode medication administration, new staffing models, nursing caregiver cross-training and more.
Morocco began her nursing career in 2000 as a staff nurse at Mercy Health St. Elizabeth in Youngstown, Ohio. In 2006, she joined the team at St. Mary's Hospital in Athens, Georgia as director for the intermediate care unit, centralized telemetry, dialysis services and heart failure program. She spent 11 years at St. Mary's, serving in three prominent nursing director positions. Morocco holds a Master of Health Care Administration from Walden University and a Bachelor of Science in Nursing from Youngstown State University. She is a board-certified Nurse Executive and a fellow of the American College of Healthcare Executives.
Education
MHA, Walden University, Minneapolis, Minnesota, 2013
BSN, Youngstown State University, Youngstown, Ohio, 2000 (graduated magna cum laude)
Certifications
Fellow, American College of Healthcare Executives (FACHE)
Board Certified Nurse Executive (NE-BC), American Nurses Credentialing Center
Certified Six Sigma Green Belt
Six Sigma Black Belt-Process Owner
Basic Life Support (BLS), American Heart Association
Graduate, LEAD Athens
Quint Studer Principles Leadership Training
Contact Information
Cleveland Clinic Lutheran Hospital
1730 West 25th Street / 100B
Cleveland, Ohio 44113
216.363.2125
moroccd2@ccf.org
Leadership
Leadership
Morocco is a high-performing, influential leader who is committed to delivering evidence-based care, value and quality while improving the health and well-being of others. She is dedicated to building collaborative teams that deliver safe, high-quality, evidence-based care. As a leader, she aims to create a healthy work environment where employees want to work, patients want to receive care and doctors want to practice. Throughout her career, she has helped create and expand leadership development, physician relations and other employee growth programs. As a nursing director, Morocco has led nursing teams through significant process improvements, workplace productivity enhancements, and continuous improvement efforts. Embracing Cleveland Clinic's mission, vision and core values, Morocco's leadership traits align with the health system's culture of caring and commitment to patient-centered care.
Clinical Practice & Teaching
Clinical Practice & Teaching
Clinical Practice
Morocco's clinical expertise lies within the areas of cardiac and critical care nursing.
Teaching
During her time with University of Pittsburg Medical Center, Morocco mentored 40 percent of staff members in career development opportunities. While at St. Mary's Hospital, she participated in the hospital's internal medicine residency program, where she engaged with residents on performance improvement initiatives related to service, quality and throughput. She also partnered with local nursing schools to develop and supervise a nurse extern program, in which she hired several junior nurses for extern positions. As part of the externship, she created an orientation program and cross training opportunities.
Professional Involvement
Professional Involvement
Member, American College of Healthcare Executives
Member, Western Pennsylvania Chapter, American College of Healthcare Executives
Member, Pennsylvania Organization for Nursing Leadership
Honors & Awards
Honors & Awards
10th Anniversary Essay Contest Winner, Catholic Health East, 2010
Catherine McAuley Award Nominee, Catholic Health East, 2011
Rising Talent Recipient, Catholic Health East, 2015