Summary
Summary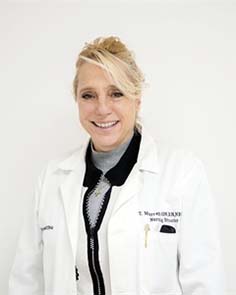 Terri Murray, MSN, RN, NE-BC, is chief nursing officer (CNO) at Cleveland Clinic South Pointe Hospital, where she leads nursing practice and operations. To her role, she brings extensive experience in healthcare management, including finance, unit operations, clinical management, compliance, employee relations, staffing and more. Murray previously served for five years as nursing director for the Respiratory, Head and Neck and Infectious Disease institutes at Cleveland Clinic main campus. During the COVID-19 pandemic, she strategically led the Medical Intensive Care Unit to achieve the highest honor from the American Association of Critical-Care Nurses, the gold-level Beacon Award for Excellence.
Murray entered healthcare as a patient care assistant in 1989 and became a registered nurse at Cleveland Clinic in 1992. She has spent her tenured career at Cleveland Clinic. For three years, she worked as a cardiovascular staff nurse before advancing to a clinical coordinator position. In 2002, she became nurse manager for three 24-bed cardiovascular stepdown units. For 15 years, she led all aspects of the units' nursing operations, ensuring high-quality patient care delivery. Murray holds a Master of Science in Nursing from the University of Phoenix and a Bachelor of Science in Nursing from Ursuline College. She is a board-certified nurse executive and a member of the American Association of Critical-Care Nurses and American Organization for Nursing Leadership.
Education
MSN, University of Phoenix, Tempe, Arizona, 2012
BSN, Ursuline College Breen School of Nursing, Pepper Pike, Ohio Youngstown, Ohio, 1992
Certifications
Board Certified Nurse Executive (NE-BC), American Nurses Credentialing Center
Advanced Cardiovascular Life Support (ACLS), American Heart Association
Basic Life Support (BLS), American Heart Association
Contact Information
Cleveland Clinic South Pointe Hospital
20000 Harvard Road
Warrensville Heights, OH 44122
216.491.6593
murrayt@ccf.org
Leadership
Leadership
Dedicated to making Cleveland Clinic a global leader in the professional practice of nursing, Murray is known for her commitment to supporting nursing caregivers in all aspects of their practice. She is a passionate leader who takes time to focus on every individual's professional growth and well-being. She collaborates with numerous members of the interdisciplinary team to drive results for the organization, such as patient quality outcomes and patient satisfaction. Throughout her career she has contributed to the efficacy and quality of patient care through extensive internal committee and council leadership and participation.
Clinical Practice & Teaching
Clinical Practice & Teaching
Clinical Practice
Murray's clinical expertise lies within the area of cardiovascular/cardiac and pulmonary nursing.
Teaching
Throughout her 20 years in nursing, Murray has served as a dedicated mentor to nursing professionals, as well as a nurse preceptor. She was a qualified ACLS instructor for the American Heart Association.
Research & Publications
Research & Publications
Murray is a skilled public speaker and professional presenter with outstanding communication skills. A published author, her work has appeared in nursing and medical journals, including Critical Care Nurse, Journal of Nursing Care Quality, American Journal of Critical Care and Journal of Cardiovascular Nursing.
Professional Involvement
Professional Involvement
Member, American Association of Critical-Care Nurses
Member, American Organization for Nursing Leadership
Honors & Awards
Honors & Awards
Abby Porter Nursing Leadership Award, Cleveland Clinic, 2019, 2016
Gladys Gibson Award, Cleveland Clinic, 2015
Nancy M. Albert Award for Excellence in Nursing Research, Cleveland Clinic, 2014
Achieved under Murray's leadership:
Gold Beacon Award for Excellence, Cleveland Clinic Main Campus Medical Intensive Care Unit, American Association of Critical-Care Nurses, 2021
Gold Beacon Award for Excellence, Cleveland Clinic Main Campus Cardiovascular Stepdown J51, J53, J62, American Association of Critical-Care Nurses, 2017