Summary
Summary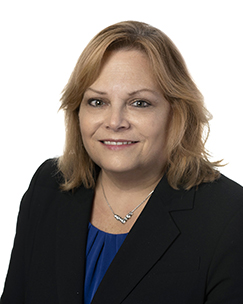 Barbara R. Zinner, DNP, RN, NE-BC, CENP, is vice president of nursing and chief nursing officer for Cleveland Clinic Marymount Hospital, a more than 300-bed acute care hospital specializing in behavioral health, cancer, cardiology, diabetes, and more. With 30 years of experience, Zinner began her career as a staff nurse at Cleveland Veteran's Hospital, followed by St. Vincent Charity Hospital in Cleveland, Ohio, where she was a nurse manager. She joined Marymount Hospital in 1995, and has held various management positions in addition to her role as chief nursing officer, which she assumed in 2012. She has served the Marymount team as critical care educator, director of education and senior director of nursing. Zinner's clinical areas of expertise include critical care, cardiac rehabilitation, medical surgical nursing and the emergency department.
With a strong education-based background, specifically in leadership and organizational development, Zinner has been instrumental in fostering the growth and development of the nurse managers she leads. In 2009, Zinner held a leading program development role in establishing and facilitating the Cleveland Clinic Nurse Leadership Academy, which was designed to aide and accelerate nurse manager growth and development. She developed academy curriculum and orchestrated numerous, large-scale regional forums, among other responsibilities. Zinner is a member of the American Organization for Nursing Leadership and the American Nurses Association. Her strengths lie within the areas of public speaking, developing team member accountability and advocating and facilitating change management. She has led Marymount Nursing to two successful Pathway to Excellence designations in 2013 and 2016.
Education
DNP,

Chamberlain University, College of Nursing, Downers Grove, Illinois

, 2015
MSN, University of Cincinnati, Cincinnati, Ohio, 1996
BSN, Bowling Green State University, Bowling Green, Ohio, 1984
Certifications
Board Certified in Executive Nursing Practice (CENP),

American Organization for Nursing Leadership

Board Certified Nurse Executive (NE-BC), American Nurses Credentialing Center
Contact Information
Cleveland Clinic Marymount Hospital
12300 McCracken Road
Garfield Heights, Ohio 44125
216.587.8220
bzinner@ccf.org
Leadership
Leadership
Zinner's leadership style and personal passion follows her firm belief in the 'growing our own' philosophy as she feels newly graduated nurses are essential to sustaining nursing excellence. With more than a decade in leadership positions, impacting the development of her nursing colleagues throughout her career. As critical care educator, she was responsible for the overall orientation, education and training, as well as continuing education and competency development for all critical care nursing areas at Marymount, including intensive care, emergency department, step-down and the catheterization laboratory. Similarly, as director of education, her responsibilities encompassed education, training and competency development for the entire hospital to maintain a competent workforce.
Clinical Practice & Teaching
Clinical Practice & Teaching
Clinical Practice
Zinner's clinical areas of expertise include critical care, cardiac rehabilitation, medical/surgical and emergency department nursing.
Teaching
Zinner's teaching experience includes serving as a clinical instructor for the University of Akron, where her coursework centered on critical care. Additionally, she was an instructor at the Marymount School of Practical Nursing, which was the first hospital-based practical nursing school in the Greater Cleveland area. She taught on courses on cardiac and respirator topics and also served as the school's administrator for nearly two years.
Professional Involvement
Professional Involvement
Member,

American Organization for Nursing Leadership

Member, American Nurses Association
Honors & Awards
Honors & Awards
Pathway to Excellence® Recognition, American Nurses Credentialing Center, 2012
Top Performer on Key Quality Measures, The Joint Commission, 2012
One of America's 50 Best Hospitals, Healthgrades®, 2013
Get with the Guidelines® - Stroke Silver Plus, American Heart Association/American Stroke Association, 2013