Summary
Summary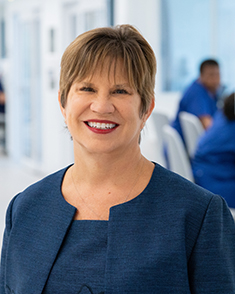 Sheila A. Miller, DNP, MBA, RN, NEA-BC , is chief nursing officer for Cleveland Clinic South Pointe Hospital. With 30 years of nursing experience, Miller is a leader in quality patient care strategies, relationship building and team management. She has experience in varying clinical specialties and has worked at three Cleveland Clinic hospitals as well as Akron General Medical Center in Akron, Ohio, and Cuyahoga Falls General Hospital in Cuyahoga Falls, Ohio. Prior to her current role, she served as chief operating officer of South Pointe Hospital as well as associate chief nursing officer of clinical practice, where she worked to advance and integrate nursing practice across the Cleveland Clinic health system, collaborating with multiple disciplines to improve quality and patient outcomes.
Her professional activities include public speaking and presenting as well as writing for publication. Miller is an avid community service volunteer for multiple organizations, including those aimed at improving health and education. In 1993, she received Case Western Reserve University's Frances Payne Bolton School of Nursing Hann Award for Excellence and Administration.
Education
DNP, Chamberlain College of Nursing, 2016
MSN / MBA, Case Western Reserve University, Frances Payne Bolton School of Nursing and Weatherhead School of Management, Cleveland, Ohio, 1993
ADN, Cuyahoga Community College, Cleveland, Ohio, 1984
Contact Information
Cleveland Clinic South Pointe Hospital
20000 Harvard Road
Warrensville Heights, Ohio 44122
216.761.7039
millers23@ccf.org
Leadership
Leadership
As someone who leads with patient care at the forefront, Miller maintains her commitment to bedside care and a supportive nursing care environment – doing so by meeting organizational goals such as patient satisfaction, and talent and fiscal management. Under her leadership, Cleveland Clinic's South Pointe Hospital received the American Nurses Credentialing Center's Pathway to Excellence® designation (being the second hospital in Ohio to receive), The Joint Commission's Primary Stroke Center certification and is currently on its Journey to Magnet Excellence®. From her previous system-wide leadership role to her tenured experience as a chief nursing officer at two Cleveland Clinic hospitals, well as being chief operating office of South Pointe Hospital and her various director-level positions, Miller's leadership success includes consistent excellence in quality measures and improvement of the professional status of nursing through initiatives such as standardization of policies and procedures, professional practice model development and the implementation of evidence-based standards.
Clinical Practice & Teaching
Clinical Practice & Teaching
Miller's clinical specialties are vast, spanning the areas of critical care, medical/surgical and psychiatric nursing.
Teaching
Since her foray into nursing leadership, Miller has advised and educated current and upcoming leaders in nursing. She served as a mentor within Cleveland Clinic health system's accelerated chief nursing officer program and developed a pilot nurse manager onboarding program that is currently used as the foundation for all system- and institute-wide nurse manager onboarding. She has also acted as a preceptor for graduate nursing students.
Research & Publications
Research & Publications
Miller is an avid public speaker and presenter having presented many times throughout her career, especially on improved performance, nursing peer reviews and processes and her knowledge of psychiatric nursing care. Her expertise covers a variety of topics such as methods to improve care and effects of education on staff knowledge and attitude toward patients with borderline personality.
Professional Involvement
Professional Involvement
Appraiser, ANCC Pathway to Excellence Program
Member, American Association of Nurse Executives
Member, Ohio Organization of Nurse Executives
Member, Sigma Theta Tau International
Honors & Awards
Honors & Awards
Platinum Award, Nurse Leader Rounding, Cleveland Clinic Nursing Institute, 2013
Caregiver Excellence Award, Patient Experience, Huron Hospital, 2011
Gold Level President's Award for Quality, MRSA Surveillance, South Pointe Hospital, 2008
Gold Level President's Award for Quality, Core Measures, South Pointe Hospital, 2007
Hann Award for Excellence and Administration, Case Western Reserve University's Frances Payne Bolton School of Nursing, 1993
Throughout Miller's tenure as chief nursing officer, South Pointe Hospital and Huron Hospital have received the following honors:
Pathway to Excellence® Recognition, American Nurses Credentialing Center, South Pointe Hospital, 2013
Woman's Choice Award for emergency care, Woman's Certified, Inc., South Pointe Hospital, 2013
Guardian of Excellence Award for emergency care, Press Ganey, South Pointe, 2013
Gold Plus Stroke Recognition, American Heart Association/American Stroke Association, South Pointe, 2017
Silver Award for Resuscitation, American Heart Association, South Pointe Hospital, 2016
Top 50 Hospital according to Healthgrades, South Pointe Hospital, 2013
Ranked 6th Hospital in Metro Area, U.S. News and World Report, 2017
Inpatient Diabetes Certification, The Joint Commission, Huron Hospital, 2010 (19th hospital in the country)