Summary
Summary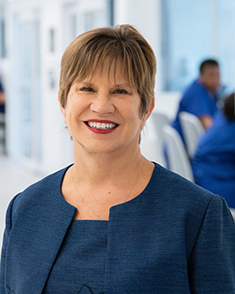 Sheila A. Miller, DNP, MBA, RN, NEA-BC, is chief nursing officer (CNO) for Cleveland Clinic London. In her role, she leads nursing strategy and practice at Cleveland Clinic's 184-bed state-of-the-art hospital in central London and 28,000-square-foot Portland Place Outpatient Centre. Dr. Miller is a global healthcare leader with expertise in quality patient care strategies, relationship building, team management and more. With 35 years in professional nursing, she has spent much of her healthcare career in leadership positions. Since 2009, Dr. Miller has served as a chief nurse for Cleveland Clinic health system. She first held the role at Cleveland Clinic Huron Hospital, followed by Cleveland Clinic South Pointe Hospital and, most recently, at Cleveland Clinic Akron General health system, with interim support at Cleveland Clinic Union Hospital.
Her extensive leadership experience also includes positions such as chief operating officer, associate chief nursing officer, nurse director and nurse manager. Dr. Miller began her nursing career in 1984 as a staff nurse at Lakewood Hospital in Lakewood, Ohio. She also worked at Cuyahoga Falls General Hospital in Cuyahoga Falls, Ohio, and Akron General Medical Center in Akron, Ohio. She is a recipient of the Hann Award for Excellence and Administration from Case Western Reserve University, the Cleveland Clinic Nursing Excellence Lifetime Achievement Award, and the Business Leader of Excellence Award from the Warrensville Area Chamber of Commerce. She is a board-certified nurse executive advanced and holds a Doctor of Nursing Practice degree, as well as master's degrees in nursing and business administration. Dr. Miller often volunteers for community organizations that aim to improve health and education.
Education
DNP,

Chamberlain University, College of Nursing, Downers Grove, Illinois

, 2016
MSN / MBA, Case Western Reserve University, Frances Payne Bolton School of Nursing and Weatherhead School of Management, Cleveland, Ohio, 1993
ADN, Cuyahoga Community College, Cleveland, Ohio, 1984
Contact Information
Cleveland Clinic London
33 Grosvenor Pl
London SW1X 7HY
United Kingdom
Cleveland Clinic
9500 Euclid Avenue / NA4
Cleveland, Ohio 44195
330.344.7676
millers23@ccf.org
Leadership
Leadership
A trusted and respected leader, Dr. Miller is committed to providing superior care to patients and communities through a supportive nursing environment. Under her steadfast leadership, Cleveland Clinic South Pointe Hospital was the second hospital in Ohio to earn the American Nurses Credentialing Center (ANCC) Pathway to Excellence® designation. She also led South Pointe in becoming a designated ANCC Magnet® hospital and a certified Primary Stroke Center by The Joint Commission. Dr. Miller has a proven track record for improving quality measures, patient and caregiver satisfaction, and more. She has enhanced the professional status of nursing through initiatives such as standardization of policies and procedures, professional practice model development and the implementation of evidence-based practice. She takes great pride in helping healthcare organizations succeed by engaging teams and creating systems and processes that make a difference in the way patients are cared for.
Clinical Practice & Teaching
Clinical Practice & Teaching
Clinical Practice
Dr. Miller's clinical specialties are vast, spanning the areas of critical care, medical-surgical and psychiatric nursing.
Teaching
Since her foray into nursing leadership, Dr. Miller has advised and educated current and upcoming leaders in nursing. She served as a mentor within Cleveland Clinic health system's accelerated chief nursing officer program and developed a pilot nurse manager onboarding program that is currently used as the foundation for all system- and institute-wide nurse manager onboarding. She has also acted as a preceptor for graduate nursing students and is the first Executive in Residence to teach graduate nursing courses at Cleveland State University in Cleveland.
Research & Publications
Research & Publications
Dr. Miller is an avid public speaker and presenter. Throughout her career she has given many presentations on topics such as performance improvements, nursing peer reviews and processes, and psychiatric nursing care. Her individual research has covered specific methods to improve empowerment via speaking up, effects of education on staff knowledge and attitude toward patients with borderline personality and more.
Professional Involvement
Professional Involvement
Lead Appraiser, ANCC Pathway to Excellence Program
Member, American Organization for Nursing Leadership
Member, Ohio Organization for Nursing Leadership
Member, Sigma Theta Tau International
Honors & Awards
Honors & Awards
Business Leader of Excellence Award, Warrensville Area Chamber of Commerce, 2018
Lifetime Achievement Award, Cleveland Clinic Nursing Institute, 2018
Platinum Award, Nurse Leader Rounding, Cleveland Clinic Nursing Institute, 2013
Caregiver Excellence Award, Patient Experience, Huron Hospital, 2011
Gold Level President's Award for Quality, MRSA Surveillance, South Pointe Hospital, 2008
Gold Level President's Award for Quality, Core Measures, South Pointe Hospital, 2007
Hann Award for Excellence and Administration, Case Western Reserve University's Frances Payne Bolton School of Nursing, 1993