Summary
Summary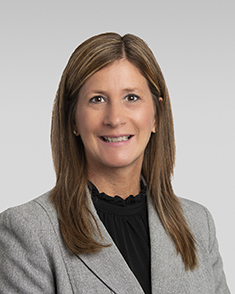 Erica Shields, MBA, BSN, RN, NE-BC, is associate chief nursing officer (ACNO) of emergency services and behavioral health for Cleveland Clinic health system. By standardizing and elevating professional nursing practice, she leads her teams in providing the highest levels of safe, quality care according to licensing and accreditation standards. With nearly three decades in emergency services and more than 20 years as a progressive nurse leader in emergency and inpatient nursing, Shields is highly knowledgeable and experienced. She previously served as senior director of nursing for Cleveland Clinic's east-region emergency departments (EDs) where she was integral to the integration of ED nursing at Martin Health, Indian River and Mercy hospitals. Simultaneously, she served as director of nursing for Cleveland Clinic South Pointe, leading 170 nursing caregivers across emergency, ambulatory and inpatient nursing.
Shields began her healthcare career in 1996 as a staff nurse in the Cleveland Clinic Huron Hospital ED. She progressed to assistant nurse manager and held the role for 13 years. She spent time at Lake Health in northern Ohio as an ED nurse educator and a coordinator for the organization's sexual assault nurse examiner program. She joined South Pointe Hospital in 2013 as a nurse manager and became director of nursing in 2018. Shields co-chairs and sits on several Cleveland Clinic committees and is a member of the Emergency Nurses Association and the Greater Cleveland Organization for Nursing Leadership. She is a board-certified nurse executive by the American Nurses Credentialing Center (ANCC) and has received many awards and accolades throughout her career, including Cleveland Clinic's Nurse of the Year Award in 2017, March of Dimes' Nurse of the Year nominee in 2016 and Cleveland Magazine's Faces of Care Award in 2015. Shields earned her Master of Business Administration from Lake Erie College and her Bachelor of Science in Nursing from Ursuline College.
Education
MBA, Lake Erie College, Painesville, Ohio, 2017
BSN, Ursuline College Breen School of Nursing, Pepper Pike, Ohio, 1996
Certifications
Board Certified Nurse Executive (NE-BC), American Nurses Credentialing Center
Basic Life Support (BLS) for Healthcare Providers, American Heart Association
Contact Information
Cleveland Clinic
9500 Euclid Avenue / JJS1-604
Cleveland, OH 44195
216-296-8909
shielde@ccf.org
Leadership
Leadership
Shields is a dedicated and motivated leader with strong critical thinking skills and an ability to thrive in fast-paced environments. She continuously drives actions that support Cleveland Clinic's strategic initiatives and positively impact patients and caregivers. Known for her collaborative nature, relationship building skills and effective communication, Shields demonstrates trust and integrity. Honesty and transparency are at the forefront of her leadership. She is a sought-after content expert and resource for nurse managers, directors and others, and is a thought leader on topics such as future nursing roles and cultivating a just culture. From performance improvement projects to leading her teams to exceptional patient satisfaction recognition, Shields is dedicated to Cleveland Clinic's commitment to high reliability. Her leadership was pivotal in South Pointe Hospital's attainment of ANCC Magnet® designation in 2017.
Clinical Practice & Teaching
Clinical Practice & Teaching
Clinical Practice
Shields' clinical expertise lies within the area of emergency/trauma nursing.
Teaching
Throughout her career, Shields has sought opportunities to educate and develop others. She is a long-time mentor, supporting and developing nurses with varying experience levels, from the bedside to the leadership table. She has been a resource for many dynamic healthcare leaders and has served in coaching capacities for Cleveland Clinic's Howley ASPIRE Nurse Scholars and Science Intern programs. When she was a nurse educator, Shields coordinated the orientation of Lake Health's new ED nurses, technicians and paramedics, and provided ongoing education of policies, procedures and equipment. She was an instructor of basic life support and geriatric education for emergency medical services.
Professional Involvement
Professional Involvement
Member, Greater Cleveland Organization for Nursing Leadership
Member, Emergency Nurses Association
Honors & Awards
Honors & Awards
Nursing Excellence Team Award – ICU, Cleveland Clinic, 2022
Tier 1 Caregiver Engagement Leader – ED, ICU, Ambulatory Clinic, Cleveland Clinic, 2021
ICU Regional Safety Award Q3, Cleveland Clinic, 2021
Nursing Excellence Team Award – ICU, Cleveland Clinic, 2021
ICU Regional Safety Award Q4, Cleveland Clinic, 2020
ICU Regional Safety Award, Cleveland Clinic, 2019
Tier 1 Caregiver Engagement Leader – South Pointe ED & Ambulatory Clinic, Cleveland Clinic, 2019
Sam & Maria Miller Nurse of the Year Award, Cleveland Clinic, 2017
Nurse of the Year Nominee, March of Dimes, 2016
Tier 1 Caregiver Engagement Leader – South Pointe ED, Cleveland Clinic, 2016
Tier 1 Caregiver Engagement Leader – South Pointe ED, Cleveland Clinic, 2015
Nursing Leadership Award – Cleveland Clinic South Pointe Hospital, 2015
Tier 4 Caregiver Excellence Award – Hospital Throughput, Cleveland Clinic, 2015
Faces of Care Award, Cleveland Magazine, 2015
Inspire By Example: Excellence in Leadership Award, Cleveland Clinic Huron Hospital, 2011
Inspire By Example: Excellence in Leadership Award, Cleveland Clinic Huron Hospital, 2010
Nursing Hall of Fame Nominee, Cleveland Clinic Huron Hospital, 2009