Summary
Summary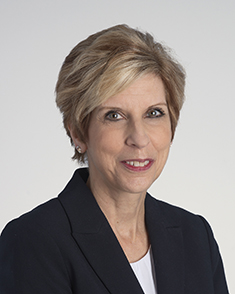 Lisa A. Baszynski, DNP, RN, NE-BC, is associate chief nursing officer (ACNO) for nursing education and professional development at Cleveland Clinic. Dr. Baszynski brings to her role more than a decade of leadership experience in building successful teams and creating new and innovative education strategies and programs. She previously served as Cleveland Clinic's senior director of education and professional development, where she worked to advance education and professional development for ambulatory, hospice and home care, and perioperative nursing. Among her accomplishments, she developed a competency-based, multi-modal education program and growth strategy for enterprise ambulatory practice, as well as a specialty onboarding program. She also established a new home care registered nurse (RN) residency program. During the pandemic, she led cross-training efforts for nearly 8,000 caregivers in preparation for inpatient or alternate skill-level demand and collaborated with pharmacy colleagues to rapidly deploy required education components for vaccine administration.
Dr. Baszynski began her nursing career as a staff nurse at Saint Michael Hospital in Cleveland. She joined Cleveland Clinic in 2003, working in interventional radiology. She was assistant nurse manager for four years, nurse manager for two years, and in 2012, was named assistant nursing director for the Imaging Institute. Dr. Bazynski held director positions until she was appointed ACNO in 2022. She leads Cleveland Clinic's one-of-a-kind Howley ASPIRE nurse scholar program, which is a high school enrichment program for underrepresented students who aspire to be nurses. She is a board-certified nurse executive and a member of the American Nurses Association, National League for Nursing, American Organization for Nursing Leadership and other professional organizations. She holds a doctorate degree in nursing from Capella University and master's and bachelor's degrees in nursing from Indiana Wesleyan University.
Education
DNP, Capella University, Minneapolis, Minnesota, 2022
MSN, Indiana Wesleyan University, Marion, Indiana, 2011
BSN, Indiana Wesleyan University, Marion, Indiana, 2009
Nursing Diploma, St. Vincent Charity School of Nursing, Cleveland, Ohio, 1987
Certifications
Board Certified Nurse Executive (NE-BC), American Nurses Credentialing Center
TeamSTEPPS® Master Trainer, American Hospital Association
Contact Information
Cleveland Clinic
9500 Euclid Avenue / HSB-188
Cleveland, Ohio 44195
216.217.2531
baszynl@ccf.org
Leadership
Leadership
An accomplished, innovative leader, Dr. Baszynski is known for her commitment to nursing excellence and developing high-performing teams. Her greatest strength is her innate ability to build relationships with peers, academic colleagues and healthcare providers across all disciplines. As senior director, she led all aspects of ambulatory and perioperative nursing education and greatly influenced the development of Cleveland Clinic's asset-based, active learning philosophy. Her vision to align with enterprise strategy and health care evolution led to the creation of an innovative, population health-focused, ambulatory nursing specialty. She is a strong advocate for leadership development and has participated in numerous leadership development programs and initiatives, including Cleveland Clinic's Executive Nurse Fellowship.
Clinical Practice & Teaching
Clinical Practice & Teaching
Clinical Practice
Dr. Baszynski's clinical expertise lies within the areas of interventional radiology, surgical/OR, critical care and ambulatory nursing.
Teaching
Dr. Baszynski has spent her entire career educating others. She has developed and implemented numerous education initiatives, training programs and education support teams and has been intimately involved in leadership and coaching. In one of her earliest roles, she served as a nurse preceptor for new nurse hires. Recently, she developed targeted medical assistant education and development. Her desire to educate is far reaching, from potential future nurses in high school to up-and-coming nurses in nursing school to newly graduated nurses and tenured nurses.
Research & Publications
Research & Publications
Throughout her career, Dr. Baszynski has given numerous podium and poster presentations on topics such as population health nursing education, burgeoning the practice gap for new graduate registered nurses, nursing pipeline and mentorship, in-demand education and training programs and more.
Professional Involvement
Professional Involvement
Member, American Nurses Association
Member, Ohio Nurses Association
Member, National League for Nursing
Member, Ohio League for Nursing
Member, American Organization for Nursing Leadership
Member, Greater Cleveland Organization for Nursing Leadership
Member, Association for Nursing Professional Development
Member, American Academy of Ambulatory Care Nursing
Honors & Awards
Honors & Awards
Caregiver Excellence Award, Teamwork, Cleveland Clinic Imaging Institute, 2016, 2015, 2013 and 2011
Hill-Rom Humanity Award for Home Care Residency for New Graduate Nurses, 2020