Summary
Summary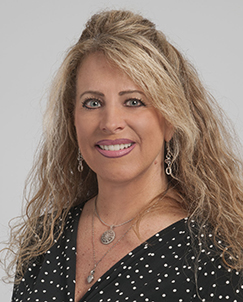 Julie A. Fetto, BSN, MBA, RN, NE-BC, OCN, is the chief nursing officer for Cleveland Clinic Medina Hospital. With more than 35 years of experience in nursing leadership positions, Fetto is a dynamic and strategic leader who brings a wealth of knowledge and expertise to her role. Prior to her current position, Fetto served as director of nursing for Cleveland Clinic's Taussig Cancer Institute, Women's Health Institute and Dermatology/Plastic Surgery Institute. She also served as interim director of the Cleveland Clinic Imaging Institute in 2016, and has held leadership positions in several additional areas of nursing practice, including staffing, palliative care, ambulatory oncology and chemotherapy infusion, and inpatient medical-surgical, oncology, and intensive care nursing.
Her experience spans both academic medical centers and community hospitals. She first became a staff nurse in 1985 for University Hospitals in Cleveland, and within 3 years, set out on her accomplished leadership path by accepting a position as assistant nurse manager. Since then, she has served in various nursing leadership positions. With a passion for caring for extremely ill patients, she has worked tirelessly to advance nursing practice for patients in oncology and palliative care. Her presentation, "Nurses' Comfort Level with Caring for Dying Patients," was selected as a Cleveland Clinic Nursing Research Fund Award recipient in 2008.
Education
MBA, Cleveland State University, Cleveland, Ohio, 2005
BSN, Ursuline College, Pepper Pike, Ohio, 1985
Certifications
Board-Certified Nurse Executive (NE-BC), American Nurses Credentialing Center
Contact Information
1000 E. Washington Street
Medina, Ohio 44256
216.444.9864
fettoj@ccf.org
Leadership
Leadership
In her role, Fetto is responsible for the overall strategic planning of Medina Hospital's nursing initiatives, as well as resource allocation, and budget and operational management of all inpatient and outpatient care and support areas. As a progressive, outcomes-driven, collaborative and serving leader, Fetto's many strengths include financial stewardship, patient experience, employee engagement, continuous improvement, nurse staffing and nursing practice, policy and quality. A dedicated nursing professional, Fetto believes in professional development at all levels of nursing, including her own.
Clinical Practice & Teaching
Clinical Practice & Teaching
Clinical Practice
Fetto's clinical expertise lies within the areas of oncology nursing and palliative care. She is also experienced in medical-surgical, ambulatory and intensive care nursing.
Teaching
Throughout her career, Fetto has served as a mentor and educator to nurses and nursing students. A former End-of-Life Nursing Education Consortium (ELNEC) trained educator, Fetto has made it a career priority to educate nursing staff members about the importance of quality nursing care, especially for palliative care patients and those nearing end-of-life.
Research & Publications
Research & Publications
Fetto offers guidance and education both locally and nationally on various clinical and professional nursing topics, such as "Patient Safety and Change of Shift on a Palliative Medicine Unit." Fetto received a Cleveland Clinic Nursing Research Fund Award (NURF) for her work in the area of determining nurses' comfort levels with caring for dying patients.
Honors & Awards
Honors & Awards
Cleveland Clinic Nursing Research Fund Award, 2008