Overview
Overview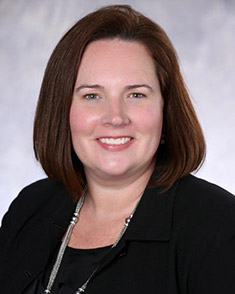 Erin Turner, DNP, RN, is associate chief nursing officer for Cleveland Clinic Florida – Weston. Weston is ranked the number one hospital in the Miami-Fort Lauderdale metro area and a top hospital in Florida, according to U.S. News and World Report. In her role, Turner provides oversight of the hospital, clinic and satellite offices, maintaining daily operations and delivering around-the-clock accountability. She leads and coordinates nursing practice to ensure nursing care is provided according to quality, licensing and accreditation standards.
Turner's tenured career history includes many years in nursing management and leadership. She is also an experienced clinical research nurse and esteemed clinical educator. Turner entered the nursing profession in 1994 as a registered nurse on a clinical research unit at Johns Hopkins Hospital. During her time at Johns Hopkins, she spent 12 years as a nurse manager for an adult medical/telemetry and clinical research unit. She joined Cleveland Clinic in 2012 as a nursing director for medical-surgical services, expanding her role in 2015 with the addition of telemetry and clinical decision units, as well as the staffing pool. Turner holds a Doctorate of Nursing Practice degree and a Master of Science in Nursing Administration degree from Johns Hopkins University, as well as a Bachelor of Science degree from the University of Delaware.
Education
DNP, Johns Hopkins University, Baltimore, Maryland, 2010
MSN in Nursing Administration, Johns Hopkins University, Baltimore, Maryland, 2002
BSN, University of Delaware, Newark, Delaware, 1994
Certifications
Certified Clinical Research Professional (CCRP), Society of Clinical Research Associates (SoCRA), 2010-2012
Contact Information
Cleveland Clinic Florida
3100 Weston Road
Weston, Florida 33331
954.689.5589
turnere@ccf.org
Leadership
Leadership
Throughout her career, Turner has stood out as a savvy and strategic leader. She is known for her ability to thoughtfully plan, organize and evaluate a variety of patient care service areas while educating, mentoring and developing students, caregivers and health care teams. Turner currently leads and directs the nursing team at Weston, providing oversight and management of personnel, daily operations and finances. She also sits on a number of nursing and hospital-wide committees and councils.
Clinical Practice & Teaching
Clinical Practice & Teaching
Clinical Practice
Turner's clinical area of expertise is in medical-surgical nursing with a specialized focus on adult and geriatric nursing care.
Teaching
For more than 10 years, Turner has taught and educated current and aspiring nurses on topics such as health assessment, adult health, leadership and health sciences management. She has served in clinical instructor and adjunct faculty roles at various nursing education institutions, including:
Keiser University, Fort Lauderdale, Florida
Johns Hopkins University, Baltimore, Maryland
Stevenson University, Stevenson, Maryland
Research, Publications & Presentations
Research, Publications & Presentations
Throughout her career, Turner has participated in numerous research and evidence-based practice experiences. For more than 10 years, she served as nurse manager for a combined adult general medicine/telemetry and clinical research unit (Institute for Clinical and Translational Research) funded by the National Institutes of Health. She has also delivered several professional presentations and developed and led research studies, including one on nursing perceptions of disruptive behavior in the workplace and another on the self-assessment of nurses' critical thinking ability pre- and post-implementation of educational workshops that included critical thinking exercises.
Professional Involvement
Professional Involvement
Member,

American Organization for Nursing Leadership
Honors & Awards
Honors & Awards
Nurse Leader Executive Mentorship Program, Johns Hopkins University, 2009
The Shirley Sohmer Research Award, Assessing and Developing Critical Thinking Skills for the Bedside Nurse, Johns Hopkins Hospital, 2005
Sigma Theta Tau, Nu Beta Chapter, Johns Hopkins University, 2001