Summary
Summary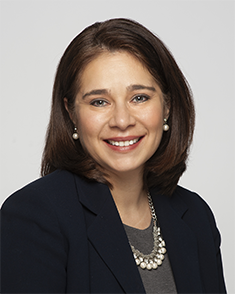 Dr. Marianela "Nelita" Iuppa, DNP, MS, BSN, NEA-BC, RN-BC, FHIMSS, is Cleveland Clinic's associate chief nursing officer for informatics. Since 2004, Dr. Iuppa has been a leading figure in the Office of Nursing Informatics, devising countless automated solutions for mobile computing, electronic nursing documentation, web design, interoperability of systems, data mining, wireless device solutions, business intelligence, clinical decision support and simulation.
A nationally recognized leader in nursing informatics, Dr. Iuppa has served on several top-ranked nursing informatics committees, and as an adjunct professor at two local Universities. She has authored and published journal articles, research studies and book chapters on various nursing informatics topics and has participated as an expert source for various media articles as well as a radio interview on the topic of career pathways for executives in nursing informatics. She is a fellow for the Healthcare Information Management Systems Society (HIMSS) and is board-certified in nursing informatics and as an advanced nurse executive.
Education
DNP, Case Western Reserve University, Cleveland, Ohio, 2010
MS in Nursing Informatics, University of Maryland, Baltimore, Maryland, 2000
BSN, Case Western Reserve University, Cleveland, Ohio, 1999
Certifications
Board Certified, Nursing Informatics (BC), American Nurses Credentialing Center
Board Certified Advanced Nurse Executive (NEA-BC), American Nurses Credentialing Center
Certified in Inpatient Clinical Documentation, EPIC Electronic Medical Record System
Contact Information
Cleveland Clinic
Office of Nursing Informatics
9500 Euclid Avenue / P32
Cleveland, Ohio 44195
216.444.8940
[email protected]
Leadership
Leadership
Designing, developing, implementing and managing nursing and clinical information systems, Dr. Iuppa oversees all projects related to nursing information systems and is the nursing liaison to Cleveland Clinic's Information Technology Division (ITD). A prominent leader, she works to develop and implement new and revised information systems, facilitate programs and policies and establish a climate for excellence in nursing practice.
Clinical Practice & Teaching
Clinical Practice & Teaching
Clinical Practice
Dr. Iuppa has been a nurse at Cleveland Clinic since 2000, and has a broad clinical nursing background in intensive care and pre- and post-operative nursing.
Teaching
Dr. Iuppa enjoys teaching and has served as an associate professor of nursing informatics to many undergraduate nursing students at the following institutions:
Case Western Reserve University, Frances Payne Bolton School of Nursing, Cleveland, Ohio
Kent State University College of Nursing, Kent, Ohio
Research & Publications
Research & Publications
An advocate for sharing information and best practices, Dr. Iuppa has produced many impactful works throughout her career. This includes abstracts, book chapters and more for journals, like the Journal for the Ohio Academy of Science and other publications. She has presented on nursing informatics across the country at various industry association gatherings and conferences.
Professional Involvement
Professional Involvement
Founding Member, Ohio Nursing Informatics Organization (ONIO)
Former Board Member, Mosby/Elsevier Nursing Advisory Board
Member, Healthcare Information Management Systems Society (HIMSS), HIMSS Nursing Informatics Task Force and Nursing Informatics Committee
Reviewer, annual HIMSS conference applications
Member and past Board Member, The Capital Area Roundtable on Informatics in Nursing (ANIA-CARING)
Past Chair, Job Bank and Education Committees, CARING
Member, Informatics Nurses from Ohio
Honors & Awards
Honors & Awards
Cleveland Clinic Innovator Award, 2011 and 2013
Fellow, Healthcare Information Management Systems Society, 2012