Overview
Overview
What is a Specialty Medication?
A specialty medication is one prescribed for a patient with a complex or chronic medical condition, typically requiring additional patient education and support, and often associated with high monthly cost. Specialty medications are not readily stocked in retail or local pharmacies.
Cleveland Clinic Specialty Pharmacy Philosophy
Cleveland Clinic Specialty Pharmacy (CCSP) plays a key role in the health care delivery system. CCSP maintains a deep commitment to service and clinical excellence. Key themes that underlie our quality management program include:
Clinical Integrity. We hold ourselves to high standards of clinical integrity in everything we do. Our clinical programs are consistent, defensible and non-biased. The CCSP demonstrates safe, ethical and compliant practice of pharmacy.
Evidence-Based. An evidence-based approach is the conscientious, explicit and judicious use of current best evidence in making decisions. Our evidence-based approach includes: how we apply forward-looking research to improve pharmacy services, evaluate the effectiveness of our programs, measure and evaluate performance and drive quality improvement.
Voice of the Customer. A critical element to a high level of clinical and service quality is ensuring we collect and understand the practice-specific needs through the voice of the customer. Our primary customers are patients and their caregivers, prescribers/physicians, and health plans.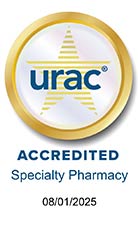 Specialty Medications
Specialty Medications
Cleveland Clinic Specialty Pharmacy (CCSP) is designed for patients who have conditions, including:
Allergy
Autoimmune / Inflammatory Diseases
Cancer (Self-Injectable or Oral Oncology / Hematology)
Cardiovascular
Infectious Diseases
Neurology
Osteoporosis
Why Choose Us
Why Choose Us
Cleveland Clinic is here to be your pharmacy for life. Our specialty pharmacy team consists of pharmacists, pharmacy technicians and nurses that are dedicated to help prepare you to start and to support continuation on these high cost, chronic specialty medications.
Industry Leader. Cleveland Clinic Specialty Pharmacy is one of the largest integrated specialty pharmacies in the country.
Coordinated Care
High Satisfaction.
Accredited and Trusted. Cleveland Clinic Specialty Pharmacy is URAC accredited.
Contact Us
Contact Us
Specialty Pharmacy serves Cleveland Clinic patients and employees throughout six states: Florida, Indiana, Nevada, New York, Ohio, and Pennsylvania.
Medications must be prescribed by a Cleveland Clinic provider and sent electronically to Cleveland Clinic Specialty. Call 216.448.7732 or toll-free 844.216.7732 for additional information.
Hours
Monday – Friday: 7 a.m. – 6 p.m.
Saturday – Sunday: Closed
Closed for New Year's Day, Memorial Day, Independence Day, Labor Day, Thanksgiving and Christmas Day
24/7 Clinical Support On-Call Service