Welcome to Cleveland Clinic's Pharmacy Education
For 100 years, the mission of the Cleveland Clinic has been "to provide better care of the sick, investigation into their problems, and further education of those who serve." The Department of Pharmacy supports our mission through dedication to the training of future pharmacy technicians and pharmacists. We are a world class institution with innovative pharmacy technology, state-of-the-art facilities, and robust pharmacy practice across the continuum of care.
Our caregivers, including our pharmacy learners, are integral members of the healthcare team. We have developed a broad variety of training programs, from our School of Pharmacy Technology to our 27 Pharmacy Residencies to support the care of our patients. Education of future pharmacy caregivers is a top priority for Cleveland Clinic's Department of Pharmacy.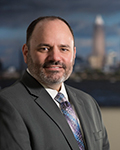 Samuel V. Calabrese, MBA, RPh, FASHP
Chief Pharmacy Officer, Cleveland Clinic