Overview
Overview
A centrally managed operation of 14 clinic, non-retail for own use pharmacies are located on and off Cleveland Clinic's main campus with the mission of delivering timely and accurate prescription services while educating patients on the importance of their medication therapy.
The pharmacies employ some of the best technology and automation in the industry, allowing the pharmacist to focus on patient care and physician support. This team is centered on providing prescription products, compounds, complementary over-the-counter (OTC) supplies, while also providing drug information to patients and providers.
The pharmacies continue to grow in size and output every year filling nearly 400,000 prescriptions. They consistently produce a positive financial contribution while achieving greater than 90% patient satisfaction scores.
Inpatient
Inpatient
Cleveland Clinic Main Campus Inpatient Pharmacy
Cleveland Clinic Main Campus Pharmacy Department consists of over 500 caregivers, which includes pharmacists, pharmacy technicians, pharmacy residents, pharmacy interns, and support staff. The main pharmacy and Children's Hospital satellite operate 24 hours a day, seven days a week. The Heart, Vascular & Thoracic Institute and Taussig Cancer Center satellites operate during day and evening hours, seven days a week.
Ambulatory & Specialty
Ambulatory & Specialty
The Department of Pharmacy provides care for the diverse needs of more than 400,000 patients accessing Cleveland Clinic's ambulatory pharmacies each year. In addition, this management team provides support to nearly 500 individual physician offices & clinics located throughout the Northeast Ohio region and at Cleveland Clinic Main Campus.
Durable medical equipment
The DME services program started in 2007 and is a service offering within all 10 Cleveland Clinic Pharmacies. This team receives referrals from multiple medical and surgical providers to best meet the durable medical equipment and supply needs of patients being discharged. The DME team also partners with CCHS Managed Care to contract with local, state, and national payers to ensure access for most patients. Annual sales grew to near $200,000 with most activity on the hospital's main campus.
Pharmaceutical Patient Assistance Program
The PPAP support area is dedicated to assisting patients and providers obtain financial assistance or access to free prescription medications. The team collaborates with a host of service areas throughout the health system, most notably the Minority Men's Health Clinic and the Social Services Department. PPAP support includes free consultation; limited free drug voucher and co-pay assistance programs; and fund identification through local, state, and national organizations, both private and public.
The Cleveland Clinic Pharmacies in collaboration with various pharmaceutical companies are offering free trial medication vouchers. Each voucher is obtainable electronically on the department's intranet website by the patient's physician, in lieu of actual samples. The single-use vouchers are then presented to any Cleveland Clinic Pharmacy, accompanied by a valid signed prescription from the prescriber and dispensed free of charge to the patient.
Health System Services (HSS) support
The Health System Services (HSS) support area is an ambulatory team that provides pharmacy-related operational and clinical support to nearly 500 patient care areas, including the main campus outpatient clinics and procedure areas, the Family Health Centers and other off-site practice locations.
HSS assists with State and DEA licensure while supporting organizational accreditation and compliance processes through routine readiness surveys. This team also supports the safe and effective use of medications in ambulatory areas by implementing novel pharmacy solutions as well as staffing within the five regional ambulatory surgical center's (ASC) and seven oncology satellites.
The team performed more than 1,500 patient care area inspections, supported more than 26,000 surgical cases within the regional ASCs and compounded more than 30,000 patient specific chemotherapeutic doses in the regional medical practices sites throughout Northeast Ohio.
Ambulatory infusion pharmacies
The Taussig Cancer Institute Pharmacy services the outpatient and inpatient care needs of the Cancer Center. This team is comprised of dedicated, expert pharmacists, clinical specialists, and technicians all focused on appropriate chemotherapy care. The pharmacists are heavily involved in both the review and oversight of all standard chemotherapy and investigative agents used in more than 180 clinical trials. The clinical staff provides direct support to the pediatric hematology oncology service, the leukemia and lymphoma service, and the bone marrow transplant team. The pharmacy compounds more than 50,000 patient specific chemotherapy doses annually and follows each oncology admission very closely.
The Crile Infusion pharmacy satellite is designed to meet the growing needs of our physician office areas that infuse specialty IV medications to patients. This pharmacy team provides direct support and IV medications to multiple institutes with primary emphasis on rheumatology, ophthalmology, and allergy and immunology patients producing tens of thousands of patient-specific medication orders.
The Mellen-Post Acute Care unit pharmacy satellite serves to support both the ambulatory infusion center in the Multiple Sclerosis area and Center for Rehabilitation. Activities include preparing IV medications, order review and restocking functions, and completing the Federal and State required Medication Regimen Reviews (MRR's). After hours support for both the Crile and Mellen satellite pharmacies are provided by the inpatient pharmacy.
Pharmaceutical Care Clinic
The PCC was established as a pharmacy-based outpatient clinic to provide medication management. Presently the vast majority of PCC patients are seen for anticoagulation management.
The PCC provides high-quality patient education and anticoagulant management which results in optimal patient outcomes. Care is provided under an institutional consult agreement. Per referral policy, patients must be referred by CC physicians.
Services are offered on main campus and the Beachwood, Westlake, Lorain, and Solon Family Health Centers. Patients can also be referred to our pharmacists for diabetes, lipid, hypertension and general medication management.
Cleveland Clinic home infusion pharmacy
Cleveland Clinic home infusion pharmacy is focused on the needs of infusion patients through their post-acute care experience. The team serves patients from all areas of the Cleveland Clinic Health System. To meet the needs of high acuity patients, the pharmacy services patients throughout Ohio and the surrounding states.
Our team is engaged in the care of complex patients, including those receiving IV antibiotic therapy, home nutrition support, pain management and Hospice care. The clinical staff support these patients through collaborative work with the infectious disease departments, adult and pediatric nutrition support teams, and interdisciplinary care teams with our home care and hospice colleagues.
Specialty Pharmacy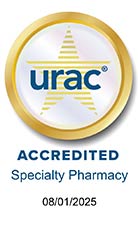 Cleveland Clinic Specialty Pharmacy serves as a concierge, helping to guide patients or caregivers through nearly any issue – or promptly referring them to someone who can. Specialty pharmacy drugs typically are used to treat complex/chronic/rare conditions, require ongoing monitoring for safety, are high cost, require special storage/handling, or are available only through limited distribution. Our staff – including pharmacists, nurses, pharmacy technicians and insurance experts – are all trained by Cleveland Clinic and are committed to our "Patients First" philosophy. Our pharmacists are available 24/7 to answer any questions associated with your care or provide you with information about your order.
Home Delivery
Home Delivery
Thinking of transferring your prescriptions closer to home? Cleveland Clinic Home Delivery Pharmacy can help.
Convenient 90-day supply of medications delivered straight to your home.
Easy online enrollment to get started.
Request refills online without having to pick up a phone.
Choose when you want refills delivered.
No shipping cost.
When to get started:
Start the refill process when you are halfway through your current 30-day supply of medication.
Many insurances will allow orders to be placed up to three weeks in advance for 90-day supplies.
How to get started:
Register each household member for an account through the MyRefills website.
Click "Submit New Prescription" to request a prescription.
Please allow 7-10 business days for all orders to arrive at your home.
Questions?
Contact Cleveland Clinic's Home Delivery Pharmacy at 216.448.4200 if you have questions or need help with enrollment.
Pharmacotherapy
Pharmacotherapy
Acute care services
Pharmacotherapy Specialists provide clinical pharmacy knowledge and experience to specific medical/surgical services throughout the medical center. These acute care specialists are pharmacists with Doctor of Pharmacy degrees and most have specialized residency training. By working directly with physicians and patients, these specialists serve as experts for optimizing drug therapy.
In addition to direct patient care activities with the medical staff, these individuals provide education on the appropriate use of medication to physicians, nurses, students, and other health professionals and are responsible for research in their respective areas. They also have responsibility for therapeutic guideline development, program development in drug monitoring, educating pharmacy residents, and teaching in the Cleveland Clinic Lerner College of Medicine and the Ohio College of Podiatric Medicine. Some of these individuals have teaching responsibilities at local nursing schools. Several acute care specialists have administration responsibilities including residency and student programs, Nursing Unit Base Pharmacist (NUBP) practice model development and implementation and personnel management.
Pharmacotherapy services acute care practice areas
Bone marrow transplant.
Cardiology.
Cardiovascular ICU.
Coronary care unit.
Heart failure ICU.
Heart transplant.
Infectious diseases.
Internal medicine.
Leukemia/lymphoma.
Liver transplant.
Lung transplant.
Medical ICU.
Neonatal ICU.
Nephrology and kidney transplant.
Neurology/neurosurgery ICU.
Pediatric ICU.
Pediatric oncology.
Surgical ICU.
---
Pharmacists documented more than 41,000 interventions with a direct cost savings of $286,000 and a cost avoidance of $1.5 million.
---
Drug Information Center
The Cleveland Clinic Department of Pharmacy Drug Information (DI) Center is a reliable source of objective drug information on medication and medication-related topics. The services of the DI Center are available to health care professionals from CC and CCHS. The DI Center is also responsible for the Formulary and Drug Therapy Guide, Pharmacotherapy Update Newsletter, Adverse Drug Reaction (ADR) Monitoring and Reporting, and the Adult IV Medication Guidelines. Additionally, the Center coordinates all of the Formulary Specialty Panel and Pharmacy and Therapeutics Committee meetings, minutes, and implementation of decisions.
The Cleveland Clinic Pharmacy and Therapeutics Committee consists of the parent committee, six specialty panels (SP) (Cardiovascular/Thrombosis, Neurosciences, Hematology/Oncology, Critical Care/Surgery/Anesthesia, Transplant, Antimicrobial Review) and two sub-committees (Pediatrics and Medication Systems). The SPs are responsible for evaluating formulary requests, developing guidelines and restrictions, reviewing cost/utilization issues, adverse drug reaction monitoring, and developing/reviewing outcomes projects and drug use evaluations. Each SP meets quarterly, chaired by a member of the medical staff along with a "Lead Clinical Pharmacy Specialist" serving as secretary. The SP structure has provided a heightened awareness by physician members of formulary issues including medication safety and costs which results in insightful recommendations to the P&T.
Safety
Safety
Medication Safety Services coordinates a comprehensive program dedicated to assuring excellence in medication safety and quality. Medication Safety Services facilitates the continuous evaluation of the medication management system to implement strategies that reflect medication safety best practices and mitigate or eliminate actual and potential system vulnerabilities. Medication Safety Services also ensures compliance with all applicable accreditation and regulatory standards.
Medication Safety Services staff are responsible for the review, collation and analysis of all medication related events. The staff provides continual follow-up and monitoring of interventions and medication error trends ensuring that all medication related events are categorized and recorded into the appropriate databases. Medication Safety Services staff is also responsible for reporting significant medication safety findings and trends to the Medication Systems Subcommittee, Pharmacy and Therapeutics Committee, the Patient Safety Committee and Department of Pharmacy Quality Council.
Medication Safety Services staff also play an integral role in identifying and defining priorities for quality improvement activities. This includes structuring and coordinating planned interventions to correct procedural deficiencies and to enhance or implement safety systems. Medication Safety Services staff assists with assuring appropriate follow-up and system application of specific process improvements related to internal and external improvement concepts. The staff also identifies and assists with stock and formulary medication safety related improvement processes.
Additionally, Medication Safety Services ensures timely communication of regulatory/accreditation issues to appropriate parties. The staff also assists with collection and consolidation of accreditation/regulatory compliance data and assists internal accreditation teams.
Support
Support
Recruitment
Pharmacy Services assumes responsibility for the development and implementation of tactical and strategically focused recruiting programs for the professional and technical staff throughout the Cleveland Clinic Health System. This service provides overall management of the recruitment processes and systems employed to respond to organizational needs. Establishing and planning programs and activities to effectively coordinate, manage and provide leadership of the overall staffing function system wide is part of our responsibility. Working with management to ensure timely understanding of current and future workforce needs along with implementing improvements to staffing processes helps us to become more effective. Develop and implement effective recruitment and hiring procedures and practices that will result in attracting and retaining the highest qualified candidates.
Informatics
Cleveland Clinic Pharmacies has a dedicated group of personnel that provide clinical informatics, automation, and information systems support.
The informatics team provides system build, system maintenance, and troubleshooting support for the Willow system across the Cleveland Clinic Health System, which encompasses community hospitals and clinics in Ohio, Florida, and London, United Kingdom. They work closely with the information technology division on all MyPractice Epic projects whenever medications or pharmacy is involved.
The automation team supports the implementation, training, and troubleshooting of both the centralized and decentralized automated dispensing technologies. All computers, printers, and interfaces between our systems, web-designed applications, and SharePoint sites are created and maintained by the pharmacy information systems group.
The pharmacy informatics team also supports more than 25 ambulatory pharmacies and the associated automation and technology utilized at these sites.
Over 7,000,000 medication doses are removed from the decentralized cabinets annually by physician and nursing personnel. Over 32 pharmacy interfaces are maintained in order to route data appropriately for inpatient and outpatient systems.
Pharmacy contracting and purchasing
The Pharmacy Contracting and Purchasing service area reports to Cleveland Clinic's Supply Chain Management department, but closely supports pharmacy operations and financial reporting throughout the health system. The purchasing and contracting team is responsible for pharmaceutical contract negotiation and maintenance. The team also coordinates pharmacy's cost savings improvement and physical inventory processes. Additionally, the team is responsible for replenishment buying and pharmaceutical requisition fulfillment for main campus and the FHC accounts.
Finance, billing & reimbursement
On average, each month, pharmacy produces almost 750,000 of technical charges totaling $40 million which flow through CC billing systems for Inpatient and Hospital Outpatient Services. Pharmacy processes 35-40% of all technical charges at Cleveland Clinic totaling 10% of technical gross revenue dollars. Billing and reimbursement supports all pharmacy inpatient and outpatient services, and is responsible for timely and accurate charge entry, error tank maintenance, chargemaster and coding updates, denial management, inter-departmental cost transfers, customer service and drug pricing inquiries.
For all of the Cleveland Clinic outpatient pharmacies, we support all revenue cycle functions from insurance pre-certification, decentralized pharmacy billing services, through accounts receivables collections.