Overview
Overview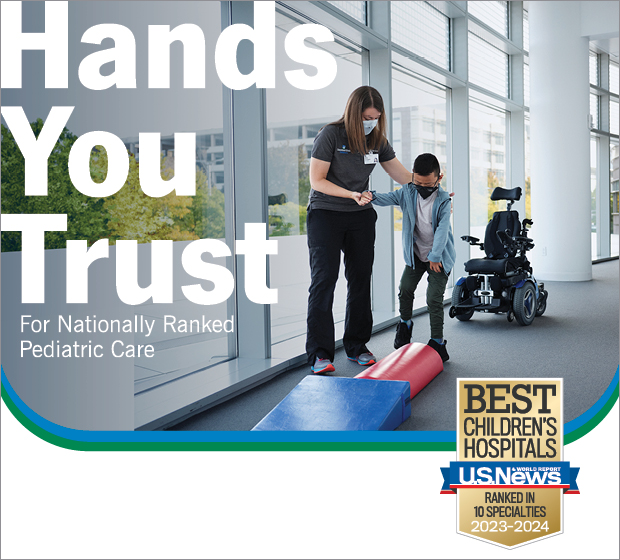 At Cleveland Clinic, our pediatric neurology specialists oversee more than 10,000 patient visits each year. Our neurology staff, a team of nationally and internationally respected members all board-certified in both pediatrics and neurology, offers state-of-the-art care for an array of neurological disorders. Our neurosurgery staff is devoted to the comprehensive and most advanced surgical treatment of children with neurological disorders and adults with congenital disorders.
Both the neurology and neurosurgery programs work in close collaboration with other pediatric disciplines to provide multidisciplinary care for our patients.
Our Pediatric Neurology team works closely with the pediatricians and pediatric specialists at Cleveland Clinic Children's, offering advanced medical care and rehabilitation services for acute illnesses and injuries, as well as chronic and disabling conditions.
Patient Resources
What We Treat
What We Treat
Coordinated care begins with our Center for Pediatric Neurology and Neurosurgery, within Cleveland Clinic's Neurological Institute. Here, specialists collaborate with Cleveland Clinic Children's to provide comprehensive advanced care for all pediatric neurological disorders. Our team comprises additional Neurological Institute centers, including our Epilepsy Center, Department of Psychiatry and Psychology, Center for Pediatric Behavioral Health and Sleep Disorders Center, which also work to provide every child and family with specialized, effective diagnoses and treatment for all neurological conditions.
Our multidisciplinary team offers state-of-the art care for a wide range of pediatric neurological conditions, including brain malformations, brain tumors, cerebral palsy and spasticity, epilepsy, headache, hydrocephalus, metabolic and mitochondrial disease and stroke.
Specialists board-certified in pediatrics, neurology and pediatric neurosurgery work in partnership with a number of other pediatric specialists to treat a wide range of nervous system diseases and disorders in children. These may include:
Congenital Myopathies.
Dystonia.
Hereditary Neuropathies.
Programs
Programs
Pediatric Neuromuscular Disease Program
The Pediatric Neuromuscular Disease Program diagnoses and treats conditions such as:
Muscular dystrophy.
Spinal muscular atrophy.
Congenital myopathies and myasthenia gravis.
Hereditary neuropathies and other polyneuropathies.
Affected children have access to the latest therapies, including drug trials, plasmapheresis and immunoglobulin when indicated.
Pediatric Movement Disorders and Spasticity Program
The Pediatric Movement Disorders and Spasticity Program treats conditions such as:
Tourette syndrome.
Ataxia.
Spasticity.
Cerebral palsy.
Myelomeningocele.
Therapies include botulinum toxin injections, deep brain stimulation, physical therapy, orthopaedic interventions, intrathecal baclofen infusion and selective dorsal rhizotomy.
Pediatric Neurometabolic and Genetic Disorders Program
The Pediatric Neurometabolic and Genetic Disorders Program provides diagnosis and treatment for the complex genetic and metabolic disorders that underlie many pediatric neurological and developmental issues. Areas of particular focus include:
Central nervous system white matter disorders.
Underlying genetic and metabolic disorders in the setting of learning and developmental disabilities and epilepsy.
Disorders of amino and organic acid metabolism.
Lysosomal storage diseases.
Pediatric Cerebrovascular Disorders Program
The Pediatric Cerebrovascular Disorders Program offers advanced imaging, comprehensive diagnostic and therapeutic interventions for all forms of neonatal and childhood stroke including:
Central nervous system vasculitis.
Stroke associated with cardiac disease or interventions.
Neonatal stroke.
Vasculopathy of neurofibromatosis.
Children with acute stroke are cared for in a Pediatric Intensive Care Unit staffed full-time by experienced pediatric intensivists in conjunction with our pediatric neurologists.
Pediatric Neurocardiology Program
The Pediatric Neurocardiology Program offers care for children with a wide variety of congenital and acquired heart diseases, including the management of associated neurological conditions and complications of these disorders, as well as comprehensive neuromuscular and neurometabolic evaluation for children with unexplained cardiomyopathy or children undergoing heart transplantation.
Neonatal and Fetal Neurology Program
The Neonatal and Fetal Neurology Program offers prenatal consultation for a wide range of neurological disorders detected in utero by fetal ultrasound, MRI or amniocentesis. Consultation and treatment also are provided for a variety of newborn conditions, including hypoxic-ischemic encephalopathy, neonatal seizures, stroke, CNS malformations and brachial plexopathies.
Neurocutaneous Disorders Program
The Neurocutaneous Disorders Program provides multidisciplinary care for a large population of children with neurocutaneous disorders such as:
Neurofibromatosis.
Tuberous sclerosis.
Sturge-Weber syndrome.
Cleveland Clinic received designation from the Children's Tumor Foundation as one of only 33 affiliate neurofibromatosis clinics nationally.
Pediatric White Matter Disorders and Multiple Sclerosis Program
The Pediatric White Matter Disorders and Multiple Sclerosis Program offers advanced diagnosis and treatment of multiple sclerosis and white matter disease in children. Distinction among the many genetic, metabolic and acquired forms of pediatric white matter disease is facilitated by collaboration with pediatric neurology team members who are world-renowned specialists in the clinical and laboratory diagnosis of this group of disorders.
Cyclic Vomiting Program
The Cyclic Vomiting Program evaluates and treats children with unexplained episodic vomiting. This program is the only one in Northeast Ohio and one of the only three in the country. The consultation includes an evaluation by a neurometabolic specialist and metabolic gastroenterologist. Experts in pediatric headache, psychology and psychiatry are an integral part of the team.
Pediatric and Adolescent Headache Program
The Pediatric and Adolescent Headache Program treats patients affected by both acute and chronic headaches, especially those with refractory headaches who have failed previous attempts at therapy.
In addition, a three-week inpatient rehabilitation program is offered to those whose headaches have resulted in excessive school absences and overuse of medication. Collaboration with other specialties, including psychology and rehabilitation, enhances outcomes. An infusion suite is available on an urgent basis for those experiencing headache crises.
Pediatric Autonomic Disorders Program
The Pediatric Autonomic Disorders Program provides state-of-the-art care for children with orthostatic hypotension or intolerance and syncope or other autonomic disorders affecting function of the sweat glands, peripheral nerves, heart or endocrine system. This multidisciplinary program is a result of the collaboration among Cleveland Clinic adult and pediatric neurologists and cardiologists, offering sophisticated diagnostic testing and advanced treatment.
Myelomeningocele Clinic
The Myelomeningocele Clinic is a multidisciplinary program offering the best available care for children with spina bifida. It is one of only a few such programs recognized by the Ohio Bureau for Children with Medical Handicaps. Our team consists of pediatric specialists in neurology, urology, orthopaedics, orthotics, gastroenterology, and physical and occupational therapy. A dedicated nurse ensures that patients' tests and visits are coordinated to minimize unnecessary visits. Consultants to this clinic specialize in neurosurgery, ophthalmology, psychology and social work. Cleveland Clinic's spina bifida program has functioned continuously since it started in 1978.
Community Pediatric Neurology Program
The Community Pediatric Neurology Program offers expanded service closer to home for children with neurological disorders. The coverage area includes Cleveland Clinic's main campus as well as its regional hospitals and family health centers. This outreach ensures convenient access to neurological services for families in our community.
Pediatric Neuro-Oncology Program
The Pediatric Neuro-Oncology Program provides comprehensive services to children suffering from cancers that affect the developing brain and spinal cord.
Cleveland Clinic's brain tumor and neuro-oncology team is an established international leader in the diagnosis, treatment and research of tumors of the brain, spine and nerves as well as their effects on the nervous system. The team utilizes the latest diagnostic and treatment modalities to provide pediatric and adolescent patients the most advanced care available and to extend hope for an improved quality of life.
Pediatric Epilepsy Program
The Pediatric Epilepsy Program is a multidisciplinary program that offers advanced treatment of epilepsy in children. The program has access to the latest in high-resolution, noninvasive imaging technology and sophisticated post-processing software to co-register and analyze data from multiple tests to better localize the seizure focus and develop a targeted treatment plan.
Pediatric Sleep Program
The Pediatric Sleep Program specializes in treating infants, children and adolescents with sleep problems. Specialists in child neurology, pulmonary medicine, pediatrics, child psychology and ear nose and throat surgery are available to treat a variety of disorders including bedtime struggles, nighttime awakenings, night terrors, sleepwalking, snoring, sleep apnea, bed-wetting, narcolepsy and nocturnal seizures.
Pediatric Neurosurgery Program
The Pediatric Neurosurgery Program provides comprehensive services to children suffering from diseases that affect the developing brain and spinal cord. We treat a wide range of neurological disorders, including:
brain and spine tumors.
hydrocephalus.
spina bifida.
tethered cord.
craniofacial malformations.
Child & Adolescent Psychiatry Program
The Child & Adolescent Psychiatry Program provides a full spectrum of mental health services for child and adolescent patients. The staff is expert in the clinical evaluation and treatment of pediatric patients and their families in times of adjustment or crisis.
Inpatient consultations are performed at Cleveland Clinic Children's, outpatients in the P Building, and children and youth psychiatrically hospitalized at Fairview Hospital in a new state-of-the-art unit in a safe and secure community setting.
Pediatric Behavioral Health Program
Cleveland Clinic Children's offers an array of specialized psychological services for children, adolescents and their families. Consultation may be helpful for children who are having difficulty adjusting to hospitalization or illness, or where psychological, behavioral, or emotional factors may play a part in a child's illness or actions.
Our Doctors
Appointments & Locations
Appointments & Locations
Make an Appointment
To schedule an appointment with a Center for Pediatric Neuroscience specialist, please call 216.636.5860 or 866.588.2264.
Our Pediatric Neurology team works closely with the pediatricians and pediatric specialists at Cleveland Clinic Children's, offering advanced medical care and rehabilitation services for acute illnesses and injuries, as well as chronic and disabling conditions. For more information on our specialists and services, visit Cleveland Clinic Children's.
Virtual Visits
Whether you're a new or existing patient, you can get an initial evaluation or follow-up care from a Center for Pediatric Neurosciences specialist using your phone, tablet or computer. This means there's no travel or parking, less waiting and significant time savings. Call 216.636.5860 to schedule a virtual visit for you or a loved one and get details on cost and set-up instructions.
MyChart
MyChart connects you to your child's health care team from the comfort and safety of home. With this secure, online tool you can manage appointments and complete pre-visit tasks, communicate with providers, and keep track of test results and medications.
Locations
Clinical Trials
Clinical Trials
An Open Label Phase 2 Safety and Efficacy Study of EPI-743 (Vincerinone) in Children with Pearson Syndrome-IRB 14-889
Pearson syndrome is an inherited mitochondrial deletion syndrome characterized by infantile sideroblastic anemia and exocrine pancreatic dysfunction. This is an open-label subject controlled study of EPI-743 in subjects with Pearson Syndrome. Data obtained on study drug will be compared with 12-month subject data prior to initiation of therapy. The primary endpoint of the study will be transfusion avoidance which will be determined by calculating the change in blood volume transfused over the 12 months on study drug with the preceding 12 months. Changes in neuromuscular, pancreatic, renal and hepatic function will also be compared prior to and following administration of EPI-743. Given the rarity of disease—fewer than 100 known cases—we will target an enrollment of 10 subjects.
Principal Investigator: Sumit Parikh, MD 216.444.1994
Databases & Registry
Assess Specific Kinds of Children Challenges in Neurology Devices - 09-555
This study sponsored by the FDA will evaluate scientific and medical issues pertaining to children undergoing treatment with a medical device. The ASK CHILDREN study is intended to aid in future development of various prostheses. The FDA seeks to use the information obtained to identify more efficient strategies in the evaluation and review of these devices regulated by the Agency. This study will focus primarily on children ages 7-15 with neurological devices such as VP shunt, the Cochlear implant, DBS for dystonia, Spinal Cord stimulator post spinal cord injury, VNS for epilepsy.
Primary Investigator: Neil Friedman, MBChB 216.444.6772
Vascular effects of infection in pediatric stroke.
The purpose of the study is to examine the association between infection and arterial ischemic stroke (AIS) in children aged 1 month to the 19th birthday, 480 will be enrolled over three years at 25 sites.
Primary Investigator: Neil Friedman, MBChB 216.444.6772
CDKL5 Registry-IRB 14-478
The purpose of this study is to gather medical information from patients seen at CDKL5 Centers of Excellence across the country, each housing a multi-disciplinary clinic. Medical data collected as part of the study will be used to better understand the condition and optimize care for patients with CDKL5-related disease. Such centers can also better ascertain how the condition unfolds, allowing the group to understand the natural history of the disease. At least 15-20 people will take part in this study annually at the Cleveland Clinic.
Principal Investigator: Sumit Parikh, MD 216.444.1994
North American Mitochondrial Disease Consortium (NAMDC)-IRB 10-592
NORTH AMERICAN MITOCHONDRIAL DISEASE CONSORTIUM(NAMDC )is a consortium consisting of several different clinical and research sites that have provided services to patients or have been involved with clinical research patients with mitochondrial disorders. Each of the sites will enroll patients diagnosed mitochondrial diseases into the project, which consists of a patient data registry and a tissue sample biobank. At enrollment, each patient must submit his/her name, diagnosis (proof of diagnosis) and contact information to the registry. Patients who have enrolled in the registry will have the option to join the biobank by submitting one or more samples.
Principal Investigator: Sumit Parikh, MD 216.444.1994
Natural History of Pearson Syndrome IRB 13-988
The purpose of this 3-year, multi-site, non-randomized, prospective, observational study is to characterize the natural history of Pearson Syndrome.Pearson Syndrome is a rare mitochondrial disorder due to a large-scale mitochondrial DNA (mtDNA) deletion. It is not fully understood why single mtDNA deletions lead to primary marrow involvement in some or an evolution to Kearns-Sayre Syndrome (KSS) or Chronic Progressive External Ophthalmoplegia (CPEO)in others. Because of its rarity and phenotypic variability, a natural history study is critically important to characterize the onset, progression, and clinical variability in these patients. These studies are likely to improve care and possibly patient outcomes. Furthermore, proactive characterization of Pearson Syndrome is a prerequisite to identify meaningful and reliable outcome measures necessary for future therapeutic clinical trials.
Principal Investigator: Sumit Parikh, MD 216.444.1994
Medical Professionals
Medical Professionals
Refer a Patient
Pediatric Neurology & Neurosurgery offers direct referral lines to ease the process of making a patient referral.
To refer a patient to the Neurological Institute via phone, please call our dedicated physician referral hotline at 216.445.8455. An intake coordinator will handle your call directly. If you are unable to reach an intake coordinator, please leave a message and they will return your call within the work day (if left before 1 p.m. ET) or the next work day (if left after 1 p.m. ET).
To refer a patient to the Neurological Institute via fax, please download and complete our physician referral form and fax to 216.636.2596.
DrConnect
Stay connected to patients you refer to Cleveland Clinic through online updates and electronic medical records.
Resources
Resources
Helping you understand your child's disease is a very important part of our job. Our goal is to provide you with the best information, because the more you know about the diagnosis and treatment, the most you will benefit.
Our team of specialists collaborates with the Cleveland Clinic Pediatric Institute & Cleveland Clinic Children's to provide the most advanced care for all pediatric neurological disorders.
Podcasts
Neurological conditions in children can range from mild cases of sleep disturbances or headaches to more severe brain malformations, epilepsy and genetic and metabolic disorders. Listen to free audio files from Cleveland Clinic's Center for Pediatric Neurology and Neurosurgery about epilepsy, headaches and sleep disorders in children and adolescents.
Fact Sheets
Webchat Transcripts