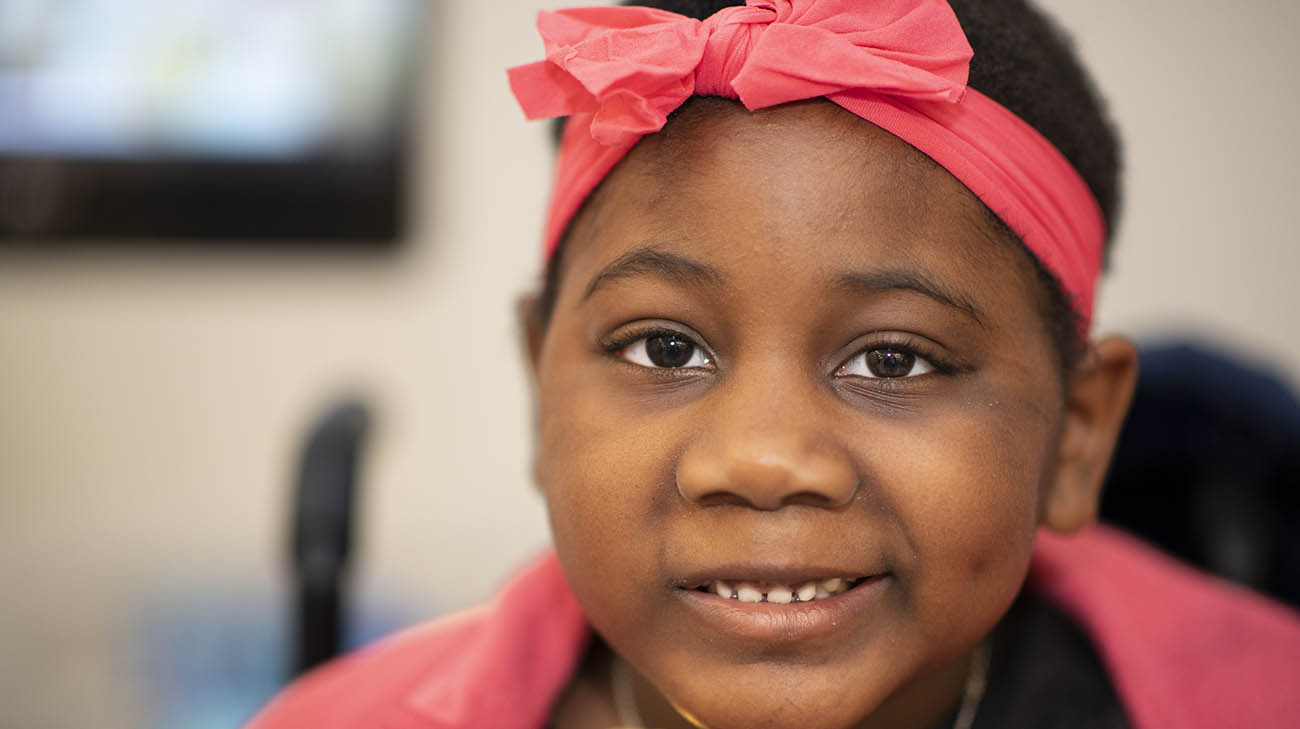 Watching her play with big sister, Baylee, outside their South Carolina home, or chatting with classmates at school, 7-year-old Brantlee Bates' parents reflect on how far she's come after having a rare brain surgery.
"If you met her now, for the first time, you would never know what she went through," says mom Cecilia, 18 months after Brantlee underwent a life-preserving brain procedure called a disconnective hemispherectomy at Cleveland Clinic. "She still doesn't have all her strength back in her right hand, but she can run and jump like a typical kid."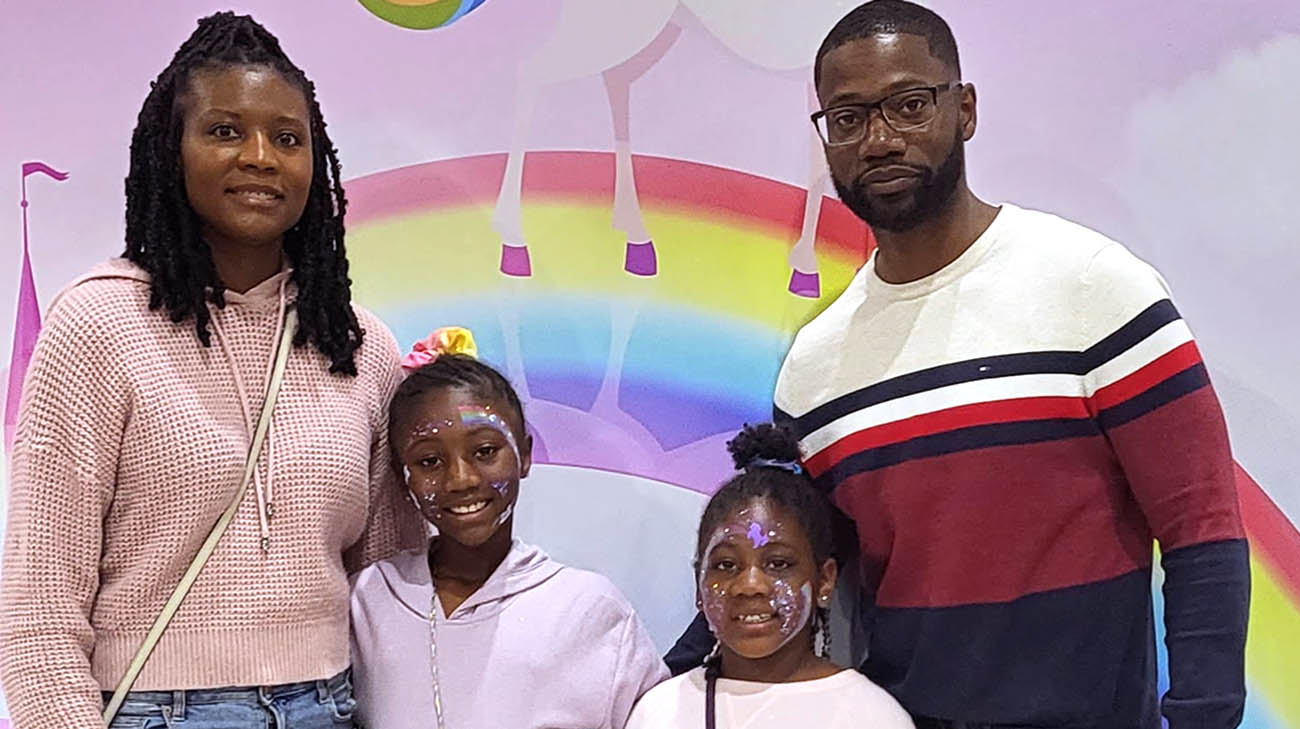 (left to right) Cecilia, Baylee, Brantlee and Dwayne Bates enjoying family time back home in South Carolina. (Courtesy: Cecilia Bates)
Due to the effects of Rasmussen's syndrome, an inflammatory neurological disease that affected the left side of her brain, Brantlee suffered from severe epileptic seizures that impaired her vision, speech and the use of her right hand, arm and leg. When the first seizure occurred in 2020, Cecilia and her husband, Dwayne, sought medical treatment for their daughter locally.
However, medication and autoimmune therapy either provided temporary relief or didn't work. The seizures, which initially occurred days or weeks apart, worsened and became much more frequent. At one point she was experiencing 20 seizures a day. They consistently affected Brantlee, impairing her peripheral vision and preventing her from attending school.
Says Dwayne, "Over time, we started to see weakness on the right side of her body and more frequent seizures. It got to the point where they were one or two minutes apart. If it couldn't be stopped, we knew it could progress to the other side of her brain and body."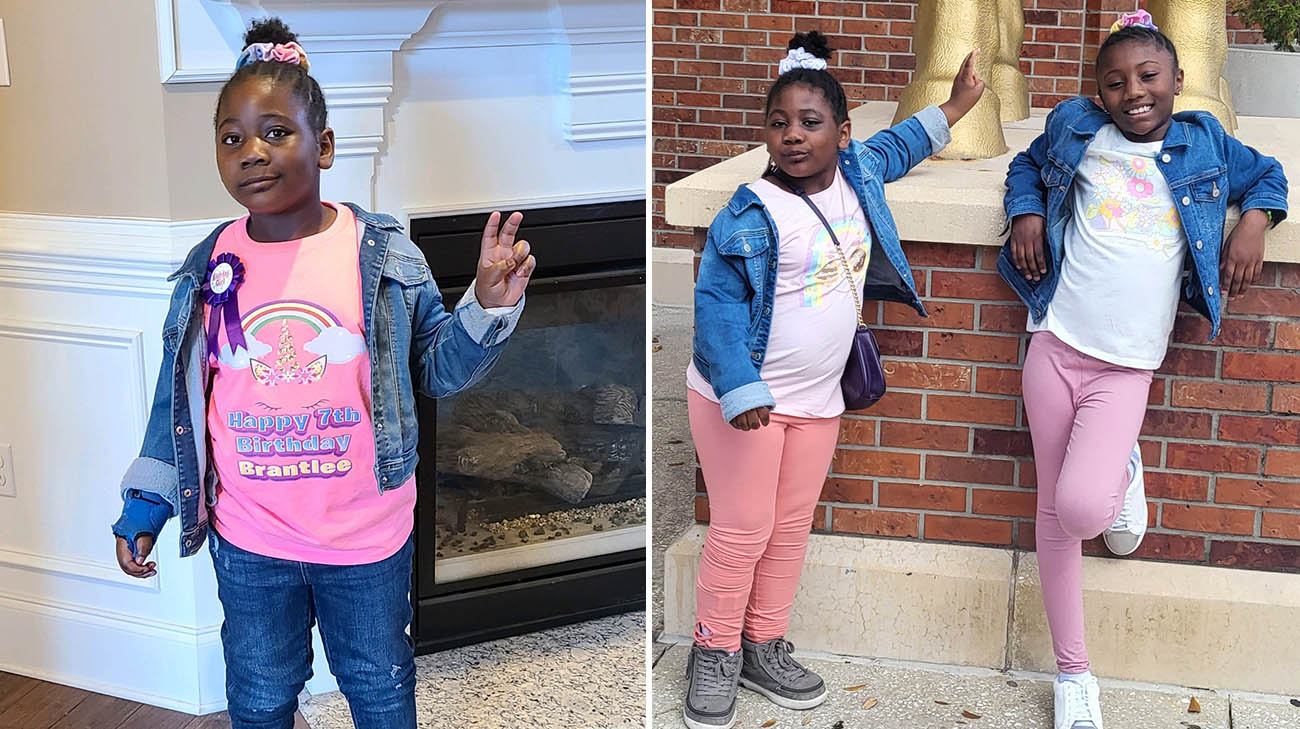 Brantlee is still working on strengthening her right hand, but she's made great strides with therapy and enjoys playing outside and hanging out with her sister, Baylee. (Courtesy: Cecilia Bates)
Cecilia, an operating room nurse in a hospital near their home, discussed Brantlee's situation with a surgeon she worked with, who was from Cleveland. He recommended Brantlee be examined by Elaine Wyllie, MD, one of the world's preeminent epilepsy specialists and a pioneer in championing early surgery to infants and children with uncontrolled seizures.
Soon after the family's arrival in Cleveland, Dr. Wyllie and a team of epileptologists and radiologists, conducted numerous tests on Brantlee. The findings from a myriad of scans including an electroencephalogram (EEG), magnetic resonance imaging (MRI) and a positron emission tomography (PET) were presented to the Epilepsy Center's review board, which included neurosurgeon William Bingaman, MD.
"When we met Brantlee, she was experiencing seizures almost nonstop throughout the day, while also losing strength on the right side of her body," states Dr. Wyllie. "Medications were failing, and it appeared surgery would be necessary. As Brantlee's parents embraced this path, they inspired us with their courage and acceptance."
According to Dr. Bingaman, who is Vice-Chairman of the Cleveland Clinic Neurological Institute and Head of the Section of Epilepsy Surgery, the team's consensus was that removing a small abnormality in Brantlee's left frontal lobe would possibly stop the seizures and prevent progression of the disease.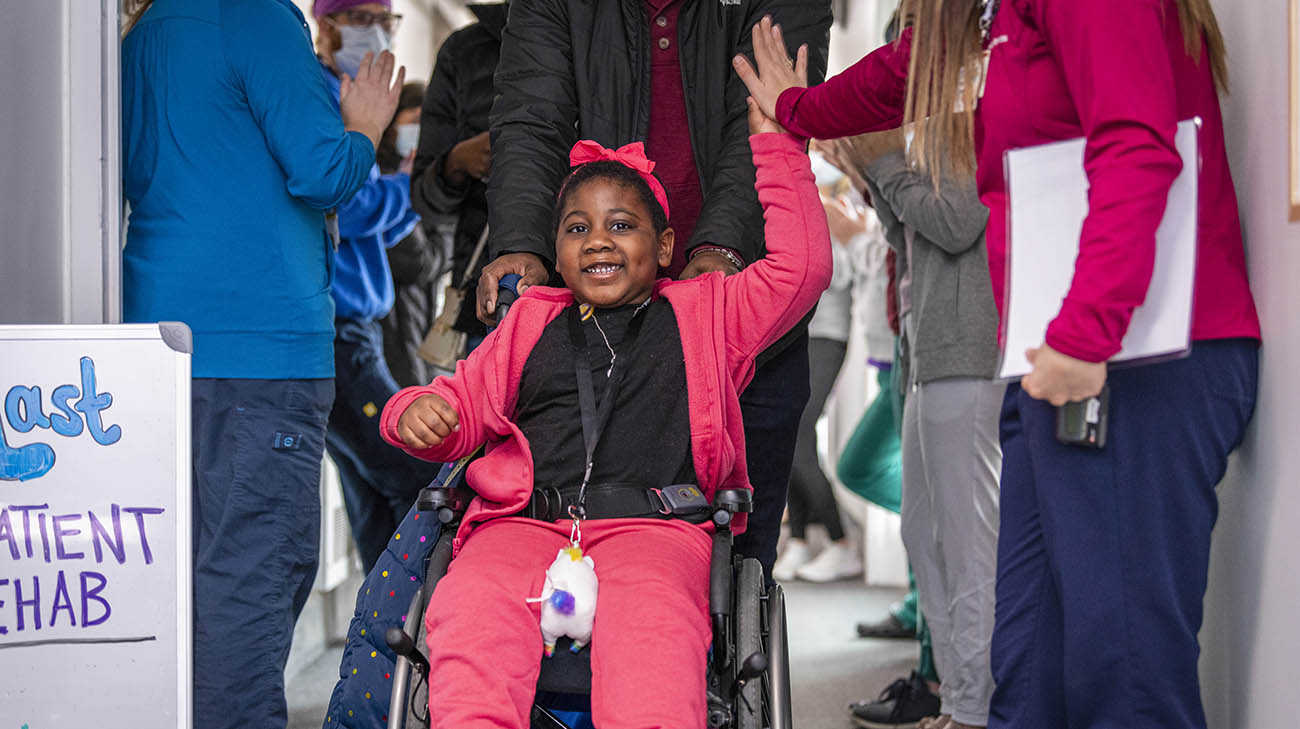 Caregivers at Cleveland Clinic Children's Hospital for Rehabilitation gave Brantlee a celebratory clapout the day she was discharged to go home. (Courtesy: Cleveland Clinic)
Dr. Bingaman performed the craniotomy, removing a three-inch section of Brantlee's brain. The family returned home, and for a while, Brantlee had minimal to no seizure recurrence. However, after a month, the seizures returned and began to intensify.
At that point, Dr. Bingaman and team knew a disconnective hemispherectomy was the best solution to stop the seizures and give Brantlee a better quality of life. The procedure entails removing part of and disconnecting the remaining malfunctioning half of the brain from the other half and from the rest of the body.
Understandably, says Dr. Bingaman, who has performed more than 500 hemispherectomies, many parents and patients find it hard to believe removing a large section of brain matter won't have devastating consequences.
"The regenerative power of the brain is amazing," states Dr. Bingaman. "Especially in young children, when their brains are still developing, it manages to adapt and the child can relearn many motor, sensory and cognitive functions."
After her surgery, Brantlee spent a few months in rehab relearning how to walk, talk and use her right arm and hand. (Courtesy: Cleveland Clinic)
Understanding a hemispherectomy was the best chance for their daughter to thrive, Cecilia and Dwayne authorized the surgery which was completed in five hours without complications. Cecilia says immediately after the procedure Brantlee's seizures stopped and haven't returned.
After recovering in the hospital for a week, Brantlee was transferred to Cleveland Clinic Children's Hospital for Rehabilitation, where she spent a few months relearning how to walk, talk and use her right arm and hand. She continues undergoing physical therapy sessions at a facility near her home in South Carolina, but she requires no medication.
Her parents are amazed by her progress and delighted their daughter is living a healthy life once again. "Dr. Wyllie and the entire team in Cleveland have been such a blessing to us," notes Cecilia.
Related Institutes: Cleveland Clinic Children's , Neurological Institute
Patient Stories
Patient Stories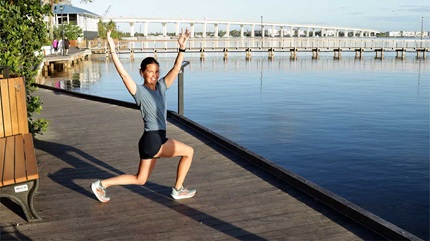 Jun 6, 2023
"Had I not listened to my body and took the time to get checked out, I might have gone another six months to a year as the tumor kept growing,"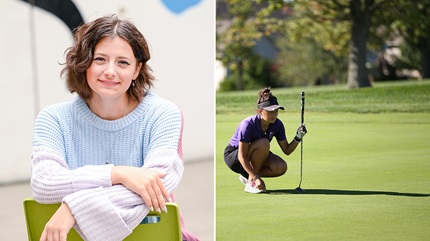 Jun 1, 2023
"I don't remember everything that happened before surgery, but right before fully going out, I remember things being very fun"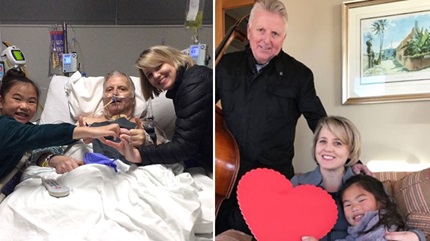 May 31, 2023
"Donors and caregivers. They're the real heroes. They sacrifice so much, and we wouldn't be here without them."