Overview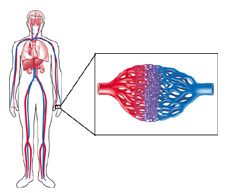 As the heart beats, it pumps blood through a system of blood vessels, called the circulatory system. The vessels are elastic tubes that carry blood to every part of the body
Arteries carry blood away from the heart.
Veins return blood back to the heart.
Vascular Disease includes any condition that affects your circulatory system, such as peripheral artery disease. This ranges from diseases of your arteries, veins and lymph vessels to blood disorders that affect circulation.
The following are conditions that fall under the category of "Vascular Disease":
Arterial Disease
Peripheral Artery Disease
Like the blood vessels of the heart (coronary arteries), your peripheral arteries (blood vessels outside your heart) also may develop atherosclerosis, the build-up of fat and cholesterol deposits, called plaque, on the inside walls. Over time, the build-up narrows the artery. Eventually the narrowed artery causes less blood to flow, and a condition called ischemia can occur. Ischemia is inadequate blood flow to the body's tissue. Types of peripheral arterial disease include:
Peripheral artery disease: A blockage in the legs can lead to leg pain or cramps with activity (claudication), changes in skin color, sores or ulcers and feeling tired in the legs. Total loss of circulation can lead to gangrene and loss of a limb.
Intestinal ischemic syndrome: A blockage in the blood vessels leading to the gastrointestinal system
Renal artery disease: A blockage in the renal arteries can cause renal artery disease (stenosis). The symptoms include uncontrolled hypertension (high blood pressure), congestive heart failure, and abnormal kidney function.
Popliteal Entrapment Syndrome: a rare vascular disease that affects the legs of some young athletes. The muscle and tendons near the knee compress the popliteal artery, restricting blood flow to the lower leg and possibly damaging the artery.
Raynaud's Phenomenon consists of spasms of the small arteries of the fingers, and sometimes, the toes, brought on by exposure to cold or excitement.
Buerger's Disease most commonly affects the small and medium sized arteries, veins, and nerves. Although the cause is unknown, there is a strong association with tobacco use or exposure. The arteries of the arms and legs become narrowed or blocked, causing lack of blood supply (ischemia) to the fingers, hands, toes and feet. Pain occurs in the arms, hands, and more frequently the legs and feet, even at rest. With severe blockages, the tissue may die (gangrene), requiring amputation of the fingers and toes. Superficial vein inflammation and symptoms of Raynaud's occur commonly in patients with Buerger's Disease.
Carotid Artery Disease
Venous Disease
Veins are flexible, hollow tubes with flaps inside, called valves. When your muscles contract, the valves open, and blood moves through the veins. When your muscles relax, the valves close, keeping blood flowing in one direction through the veins.
If the valves inside your veins become damaged, the valves may not close completely. This allows blood to flow in both directions. When your muscles relax, the valves inside the damaged vein(s) will not be able to hold the blood. This can cause pooling of blood or swelling in the veins. The veins bulge and appear as ropes under the skin. The blood begins to move more slowly through the veins, it may stick to the sides of the vessel walls and blood clots can form.
Blood Clots
A clot forms when clotting factors in the blood cause it to coagulate or become a solid, jelly-like mass. When a blood clot forms inside a blood vessel (a thrombus), it can dislodge and travel through the blood stream, causing a deep vein thrombosis, pulmonary embolis, heart attack or stroke.
Blood clots in the arteries can increase the risk for stroke, heart attack, severe leg pain, difficulty walking, or even the loss of a limb.usually caused by:
Aortic Aneurysm
An aneurysm is an abnormal bulge in the wall of a blood vessel. Aneurysms can form in any blood vessel, but they occur most commonly in the aorta (aortic aneurysm) which is the main blood vessel leaving the heart:
Fibromuscular Dysplasia (FMD)
Fibromuscular dysplasia (FMD) is a rare medical condition. Patients with FMD have abnormal cellular growth in the walls of their medium and large arteries. This can cause the arteries with the abnormal growth to look beaded. The arteries may also become narrow (stenosis).
Other vascular conditions include:
Blood clotting disorders are disorders that make the blood more likely to form blood clots (hypercoagulable) in the arteries and veins. These conditions may be inherited (congenital, occurring at birth) or acquired during life and include:
Elevated levels of factors in the blood which cause blood to clot (fibrinogen, factor 8, prothrombin)
Deficiency of natural anticoagulant (blood-thinning) proteins (antithrombin, protein C, protein S
Elevated blood counts
Abnormal Fibrinolysis (the breakdown of fibrin)
Abnormal changes in the lining of the blood vessels (endothelium)
The lymphatic system is a circulatory system that includes an extensive network of lymph vessels and lymph nodes. The lymphatic system helps coordinate the immune system's function to protect the body from foreign substances. Lymphedema is an abnormal build-up of fluid that causes swelling, most often in the arms or legs. Lymphedema develops when lymph vessels or lymph nodes are missing, impaired, damaged or removed.
Primary lymphedema is rare and is caused by the absence of certain lymph vessels at birth, or it may be caused by abnormalities in the lymphatic vessels. Secondary lymphedema occurs as a result of a blockage or interruption that alters the lymphatic system.
Secondary lymphedema can develop from an infection, malignancy, surgery, scar tissue formation, trauma, deep vein thrombosis (DVT), radiation or other cancer treatment. Doctors vary in quality due to differences in training and experience; hospitals differ in the number of services available. The more complex your medical problem, the greater these differences in quality become and the more they matter.
Resources
Clearly, the doctor and hospital that you choose for complex, specialized medical care will have a direct impact on how well you do. To help you make this choice, please review our Miller Family Heart, Vascular & Thoracic Institute Outcomes.
Cleveland Clinic Heart, Vascular & Thoracic Institute Vascular Medicine Specialists and Surgeons
Choosing a doctor to treat your vascular disease depends on where you are in your diagnosis and treatment. The following Heart, Vascular & Thoracic Institute Sections and Departments treat patients with all types of vascular disease, including blood clotting disorders:
Section of Vascular Medicine: for evaluation, medical management or interventional procedures to treat vascular disease. In addition, the Non-Invasive Laboratory includes state-of-the art computerized imaging equipment to assist in diagnosing vascular disease, without added discomfort to the patient. Call Vascular Medicine Appointments, toll-free 800-223-2273, extension 44420 or request an appointment online.
Department of Vascular Surgery: surgery evaluation for surgical treatment of vascular disease, including aorta, peripheral artery, and venous disease. Call Vascular Surgery Appointments, toll-free 800-223-2273, extension 44508 or request an appointment online.
You may also use our MyConsult second opinion consultation using the Internet.
The Heart, Vascular & Thoracic Institute also has specialized centers and clinics to treat certain populations of patients:
Learn more about experts who specialize in the diagnosis and treatment of vascular and arterial disease.
See: About Us to learn more about the Sydell and Arnold Miller Family Heart, Vascular & Thoracic Institute.
Contact
If you need more information, click here to contact us, chat online with a nurse or call the Miller Family Heart, Vascular & Thoracic Institute Resource & Information Nurse at 216.445.9288 or toll-free at 866.289.6911. We would be happy to help you.
Becoming a Patient
Treatment Options
Additional information about vascular treatment options can be found at:
Treatment Guides
Diagnostic Tests
Diagnostic tests are used to diagnose your abnormal heartbeat and the most effective treatment method.
Webchats
Our webchats and video chats give patients and visitors another opportunity to ask questions and interact with our physicians.
Videos
Interactive Tools
Resource Links
*A new browser window will open with this link. The inclusion of links to other websites does not imply any endorsement of the material on those websites nor any association with their operators.
Why choose Cleveland Clinic for your care?
Our outcomes speak for themselves. Please review our facts and figures and if you have any questions don't hesitate to ask.
Cleveland Clinic is a non-profit academic medical center. Advertising on our site helps support our mission. We do not endorse non-Cleveland Clinic products or services. Policy