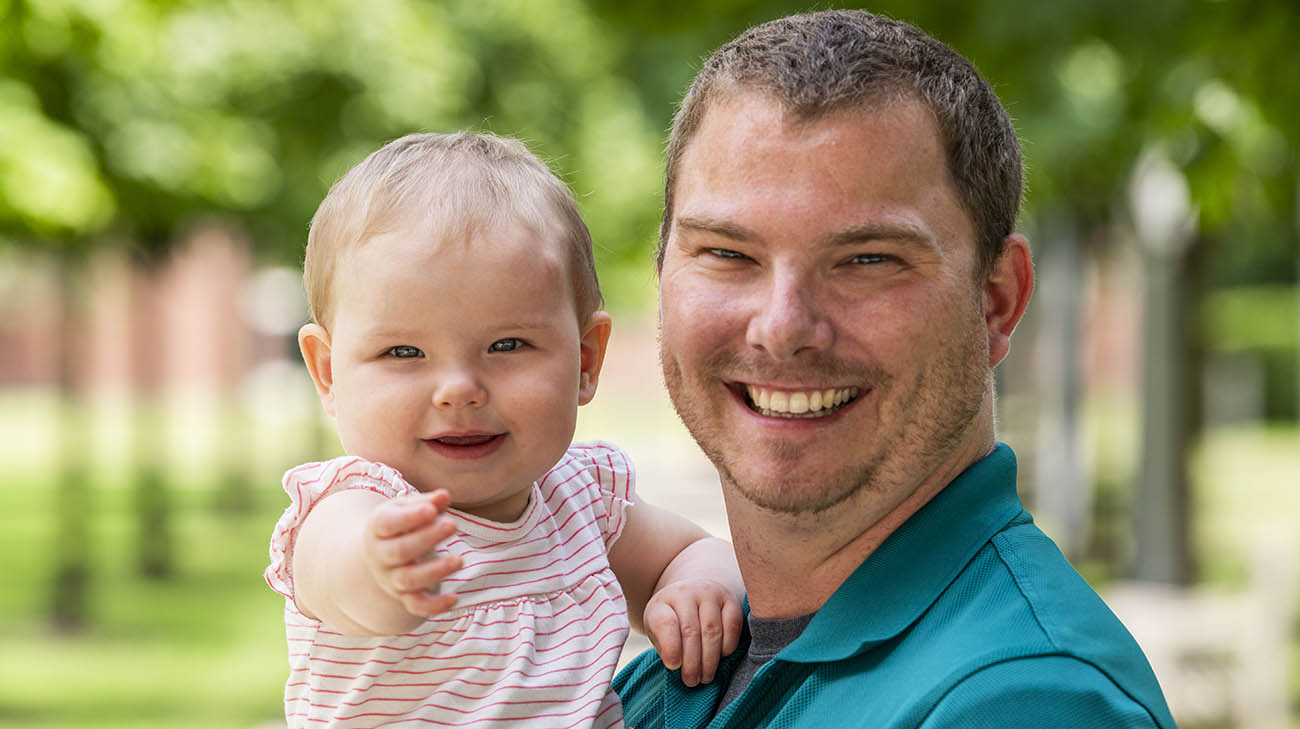 Three days after brain surgery, with her face pale and head wrapped in gauze, 3-month-old Charlotte Misko seemed destined for a long, slow recovery.
As mom Bethany and dad, Zeb, watched over her in Cleveland Clinic Children's pediatric intensive care unit (PICU), Zeb's mobile device began ringing. A family member was initiating a video call to check on Charlotte's condition, generating the service's distinctive and familiar ringtone.
Suddenly, Charlotte popped up, smiled and tried to reach for the device, evidently eager to see who would soon appear on the screen. Says Bethany, "It was really that smile and her movement that were the first signs to us that she was back and going to be her normal baby self again." Adds Zeb, "That moment brought us so much joy. We knew our baby was going to be OK."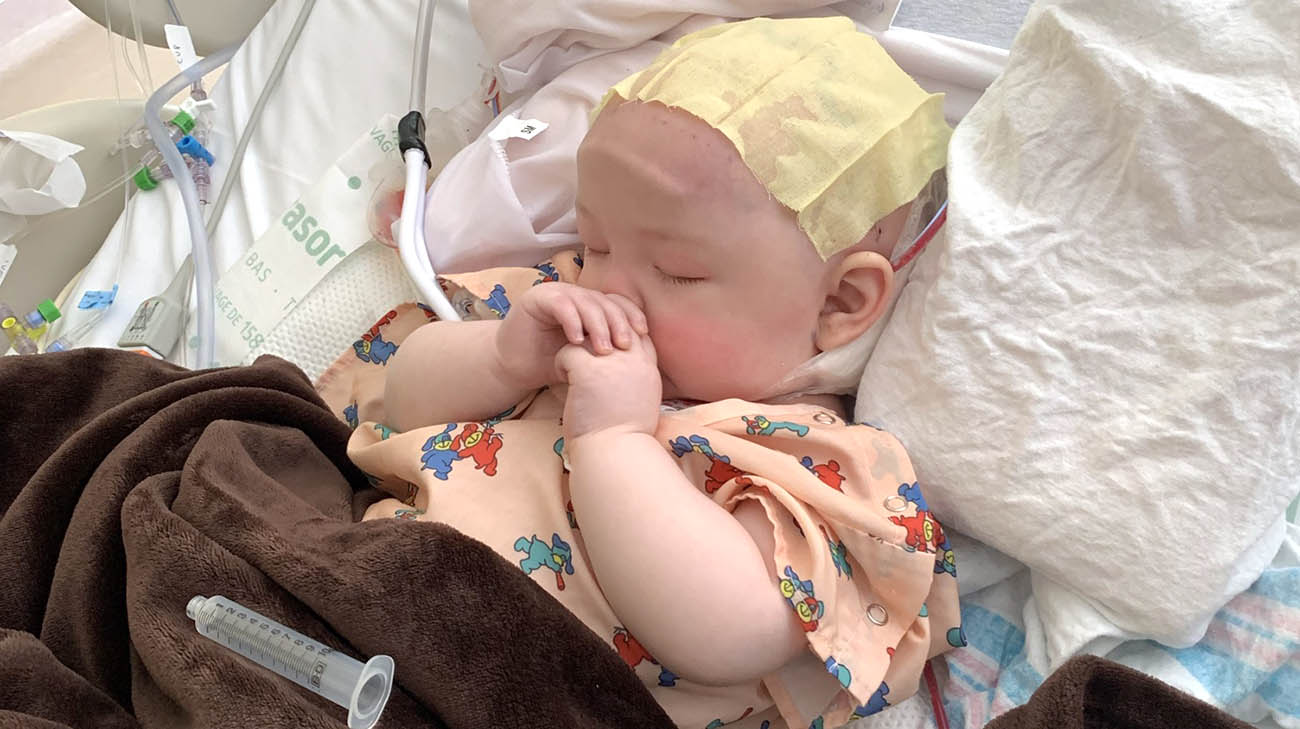 Charlotte underwent an open cranial surgery to treat a rare condition called saggital craniosynostosis. (Courtesy: Zeb and Bethany Misko)
Charlotte underwent a 9-hour surgical procedure to treat a rare condition called sagittal craniosynostosis. It occurs when a baby's skull bones fuse too early, causing a severely misshapen head. While some patients can be treated by undergoing a less invasive surgery and helmet therapy, others – like Charlotte – require open cranial surgery. Surgeons remove a large section of the skull, carefully remodel the bones and then delicately place them back into the head to expand the available space and correct the deformity.
Coincidentally, as no definitive genetic markers have yet been found for the condition, Charlotte's dad, Zeb, underwent the same procedure when he was a baby, more than 27 years ago. He recovered and has experienced no ill effects in the years hence.
"After the diagnosis, it was a sad moment for us that our newborn daughter would have to go through major surgery," says Zeb. "But knowing I went through it and turned out OK, and that there have been 27 years of medical advancements since then, we felt peace of mind that everything would be OK."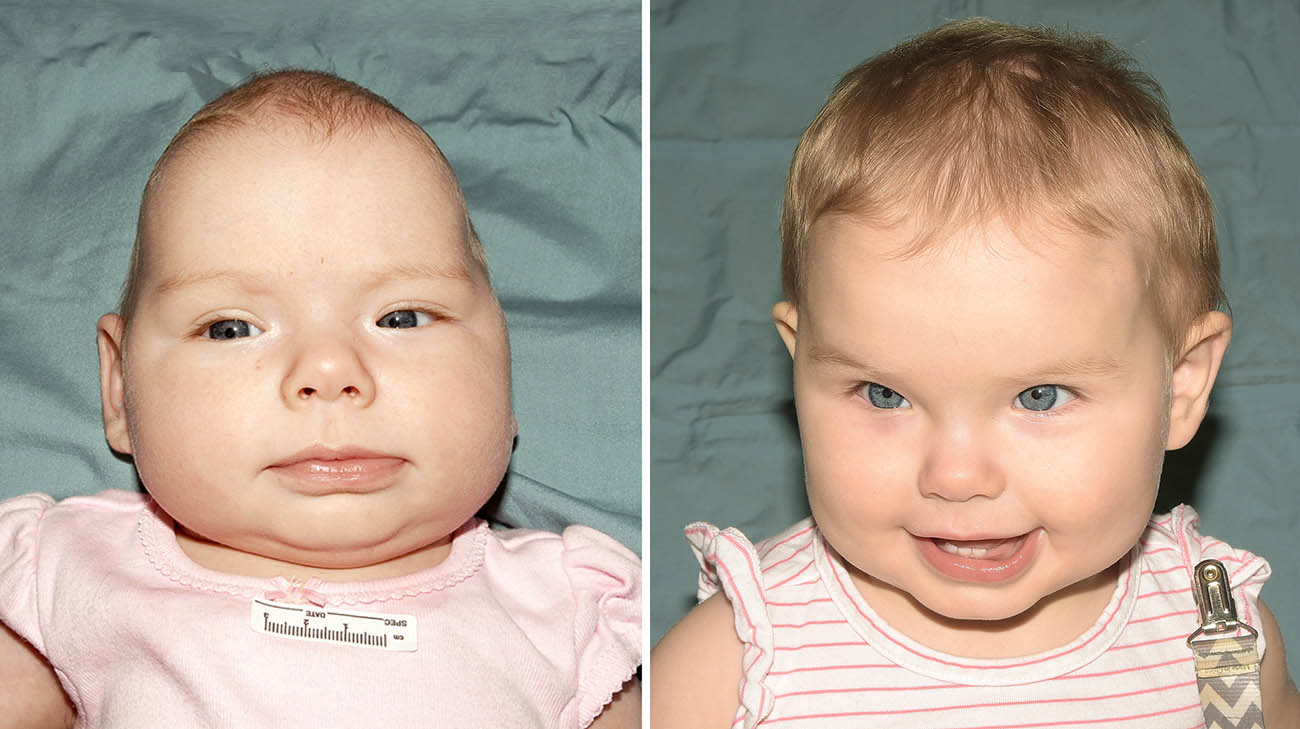 Charlotte before surgery (left). Charlotte after surgery (right) showing a significant difference in the shape of her head. (Courtesy: Cleveland Clinic)
A surgical team led by neurosurgeon Violette Recinos, MD, and plastic surgeon Bahar Bassiri Gharb, MD, PhD, carefully planned and executed the operation, which Dr. Bassiri describes as "remodeling Charlotte's head" from an elongated, rugby ball-like shape, to one that will allow her brain and skull to grow naturally.
As the operation began, the team carefully peeled back the anterior and posterior skin, exposing the bones of the skull. They then made an incision in a zigzag shape, so when Charlotte's hair would grow back it would be more likely to cover the scar.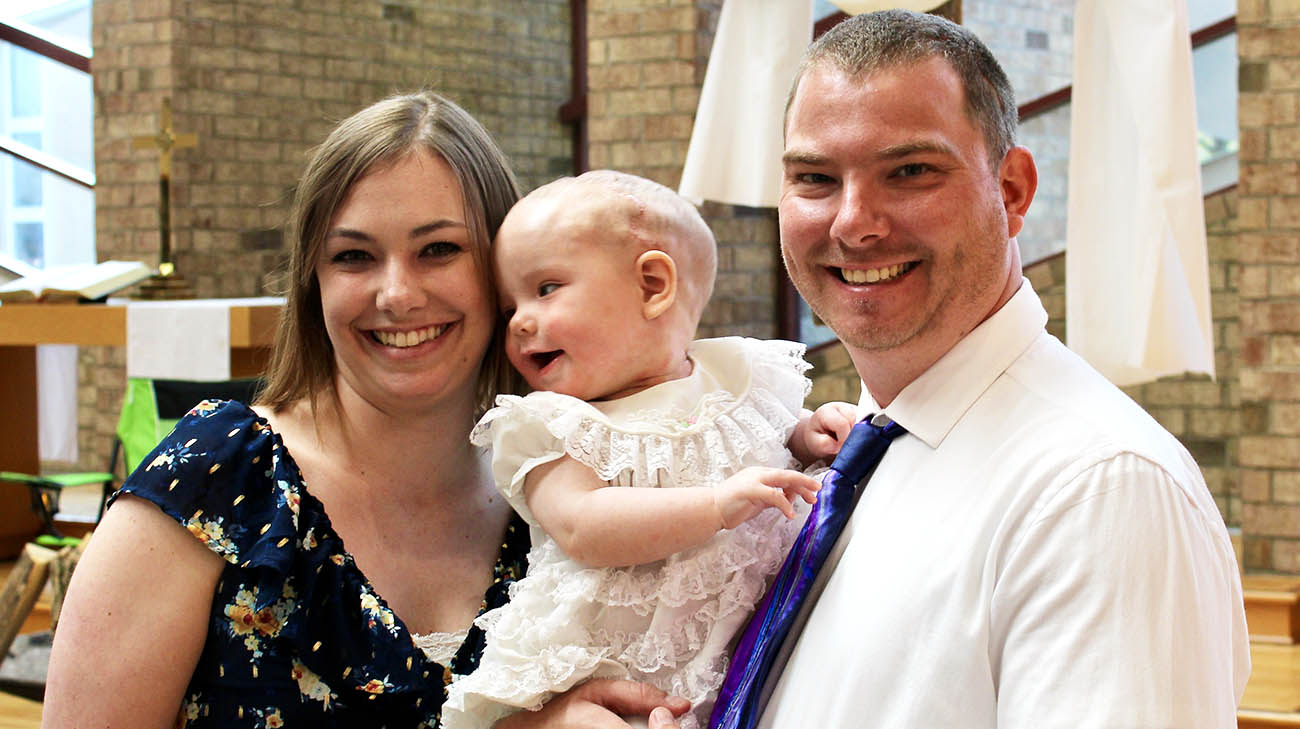 Bethany, Charlotte and Zeb at church, after Charlotte underwent surgery at Cleveland Clinic. (Courtesy: Zeb and Bethany Misko)
Then, Dr. Bassiri carefully marked the places on the skull where the incisions would be made. Dr. Recinos performed the necessary osteotomies, which involved cutting pieces of bone to remove or reshape them.
At that point, Dr. Bassiri put the pieces of Charlotte's skull back together, like a jigsaw puzzle. "We were careful to do this in a way that would make the head shape more round," she explains. "We created a new shape while expanding the skull in order for the brain to grow into it."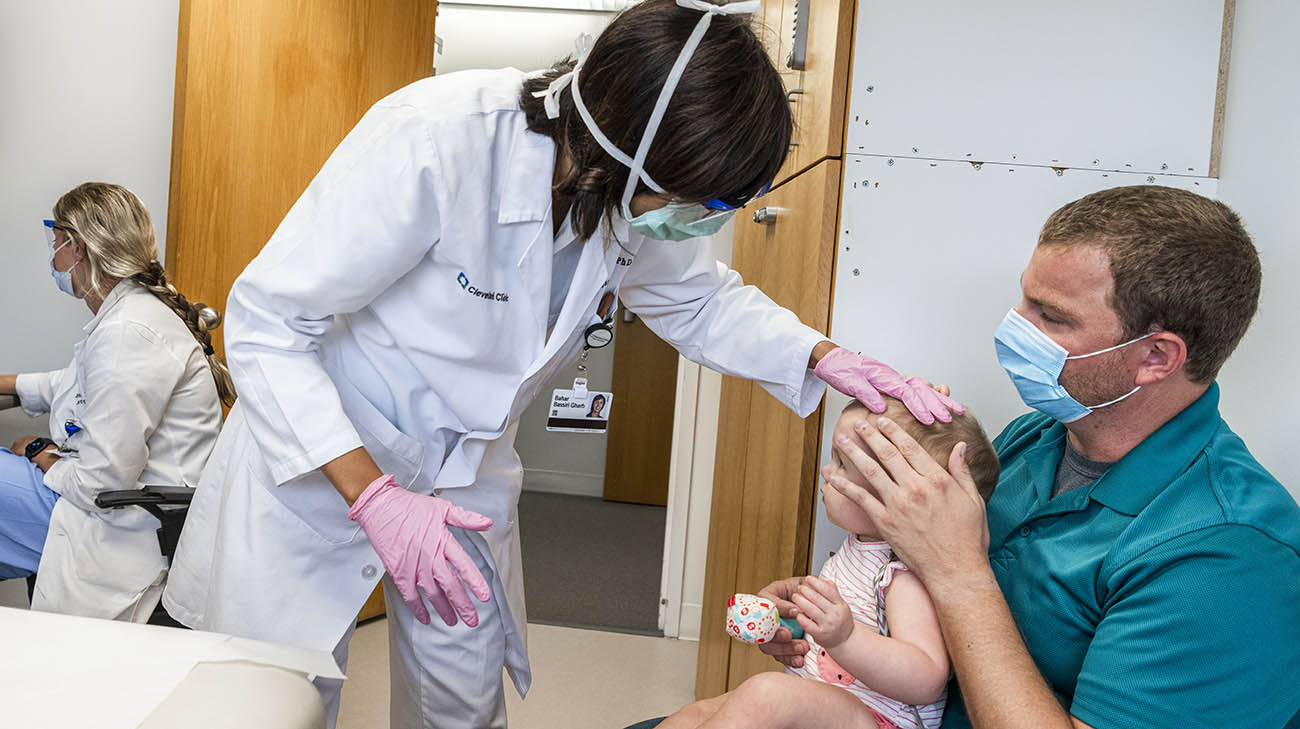 Dr. Bassiri performing an exam during one of Charlotte's follow-up appointments. (Courtesy: Cleveland Clinic)
After the team completed the process, they sutured the skin back in place. Bethany, a pharmacy practice resident, recalls the shock when she and Zeb first saw Charlotte after surgery.
"The first time we saw her after surgery was probably the scariest," recalls Bethany. "She looked like a little doll hooked up to every tube and pressure cuff under the sun, with a gauze hat on her head. Her face was so pale and swollen, but we knew she was OK."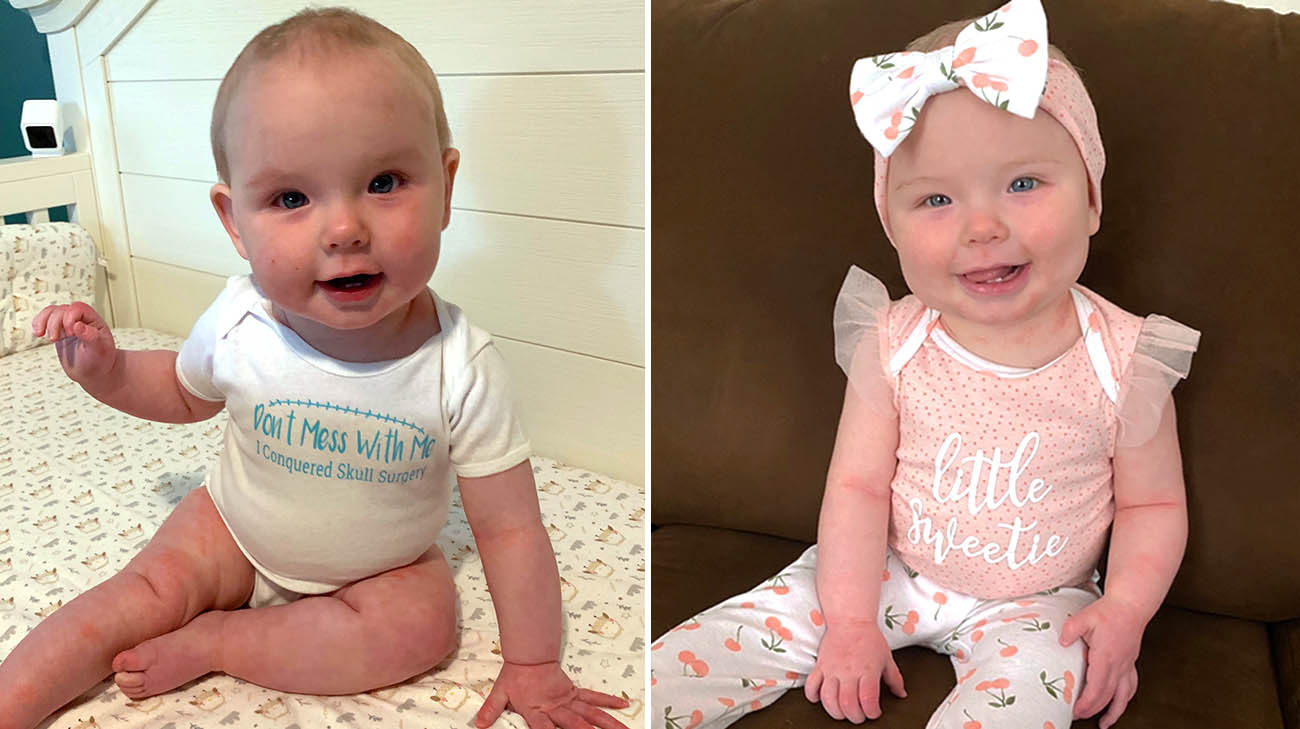 Charlotte has been doing well after surgery and continues reaching most developmental milestones. (Courtesy: Zeb and Charlotte Misko)
Charlotte has been thriving ever since. Regular checkups reveal she is reaching most developmental milestones. When friends and family gathered for her first birthday on August 10, 2021, Charlotte showed off her newfound ability to (almost) walk!
Dr. Bassiri encourages parents who believe their newborn has a cranial deformity to learn more about it quickly, as procedures to correct the condition are less invasive in the first few weeks and months of life.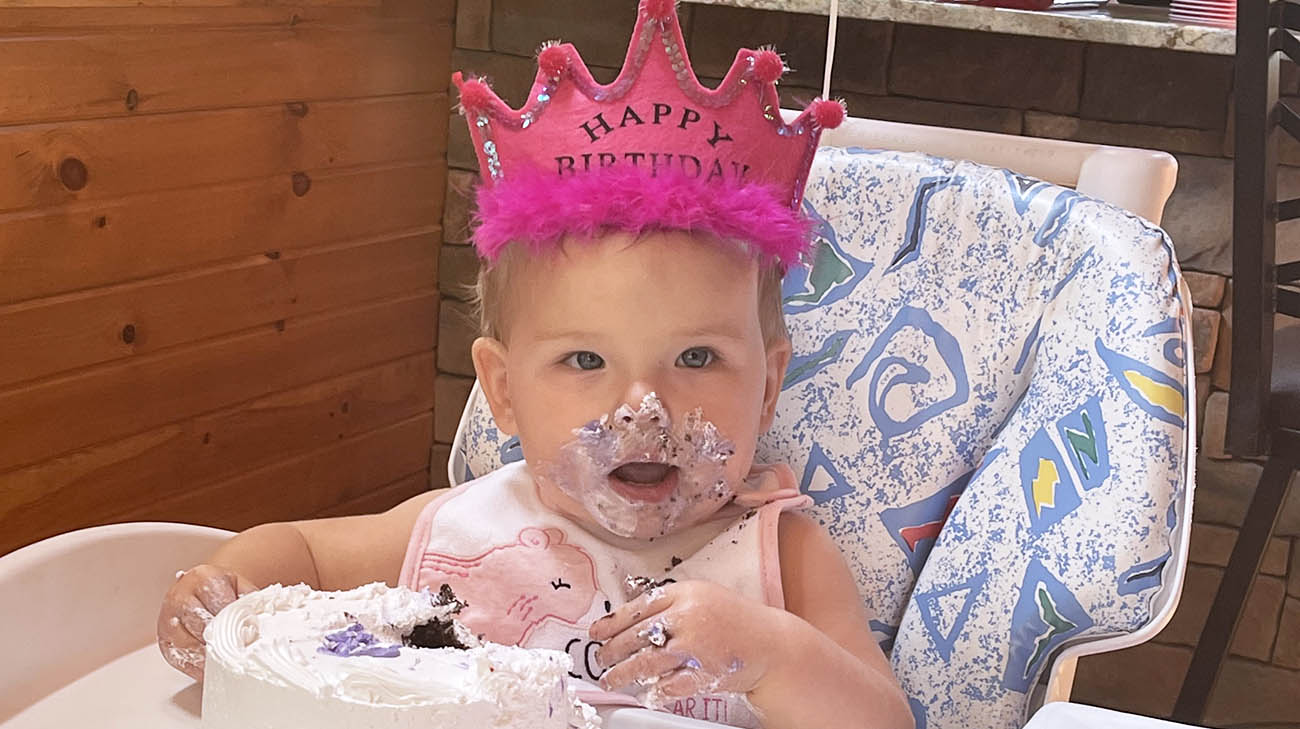 Charlotte loved digging into her smash cake at her first birthday party. She turned 1-year-old on August 10, 2021. (Courtesy: Zeb and Bethany Misko)
"This is often a diagnosis made by parents first, especially if they have other kids and see the shape of the (baby's) head does not look normal to them," she explains. "Insist to see a specialist, because we have all the instruments needed to make (any procedure) safe and to minimize possible complications."
"Charlotte is doing fantastic. Crawling everywhere at the speed of light," notes Zeb, who believes his success from surgery nearly three decades earlier gave him confidence that Charlotte's recovery would be similar. "We're happy to see so much progress in such a short amount of time."
Related Institutes: Neurological Institute, Dermatology & Plastic Surgery Institute, Cleveland Clinic Children's
Patient Stories
Patient Stories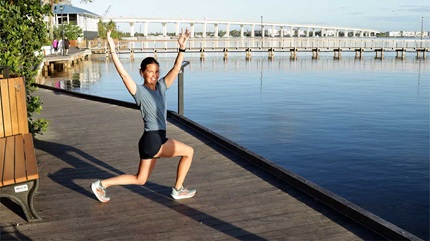 Jun 6, 2023
"Had I not listened to my body and took the time to get checked out, I might have gone another six months to a year as the tumor kept growing,"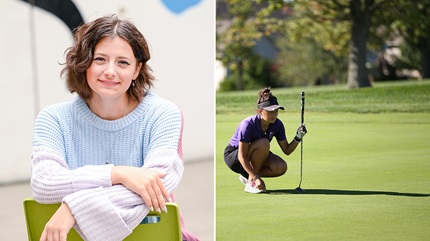 Jun 1, 2023
"I don't remember everything that happened before surgery, but right before fully going out, I remember things being very fun"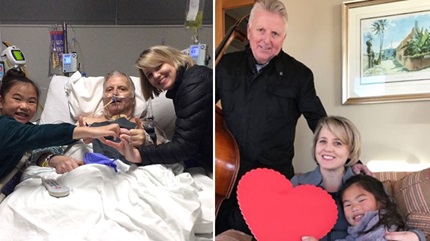 May 31, 2023
"Donors and caregivers. They're the real heroes. They sacrifice so much, and we wouldn't be here without them."