Summary
Summary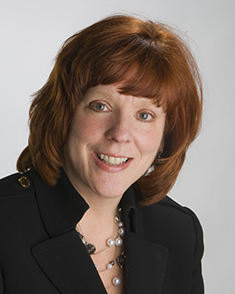 Barbara Yingling, MAed, BSN, RN, is chief nursing officer and senior vice president of patient care services for Cleveland Clinic Mercy Hospital. With more than 25 years of progressive healthcare leadership, Yingling is an accomplished nurse leader. She has served in her current role since 2011, leading nursing strategy, practice and quality and providing operational oversight for nursing, respiratory therapy and pharmacy. In 2013, she also became the hospital's patient safety officer, providing strategic direction for patient care departments as well as clinical leadership for all patient care areas. As part of her responsibilities, she oversees the development of organizational policies and regulatory requirements, ensuring state and federal regulatory compliance as well as appropriate financial performance.
Throughout her 22 years with Mercy Hospital, Yingling has fulfilled roles as a critical care nurse, director of nursing staff development and assistant chief nursing officer. Her experience also includes positions at Doctors Hospital and Massillon Community Hospital, both located in Massillon, Ohio. She has served as an adjunct faculty member at Malone University in Canton, Ohio, and received her diploma of nursing at Massillon Community Hospital in 1983, where she was class president for two years. She holds a bachelor's degree in nursing and a master's degree in education and management. In 2007, Yingling was inducted into the Sigma Theta Tau International Honor Society of Nursing. She is a 2011 graduate of Leadership Stark County and serves as a board member for the Walsh University Board of Directors, Beacon Charitable Pharmacy and Regina Health Center.
Education
MAed, Walsh University, North Canton, Ohio, 1996
BSN, Walsh University, North Canton, Ohio, 1992
Diploma of Nursing, Massillon Community Hospital School of Nursing, Massillon, Ohio, 1983
Certifications
Healthcare Finance Certificate, American Organization for Nursing Leadership
Just Culture Accountability Champion Certificate, Outcome Engenuity
Patient Safety Review Course Certificate, National Patient Safety Foundation
Former Critical-Care Registered Nurse (CCRN), American Association of Critical-Care Nurses
Former Nursing, Continuing Education and Staff Development Certificate, American Nurses Credentialing Center
Former Advanced Cardiovascular Life Support (ACLS-CPR) Instructor, American Heart Association
Former Basic Life Support (BLS-CPR) Instructor, American Heart Association
Contact Information
Cleveland Clinic Mercy Hospital
1320 Mercy Drive Northwest
Canton, OH 44708
330.933.7650
[email protected]
Leadership
Leadership
Yingling is responsible for more than 1,200 full-time caregivers and is known for her ability to effectively interact and engage with her colleagues, including physicians and administrators. As a leader, she believes in both patient and caregiver advocacy. She has a passion for project management and a reputation for accomplishing demanding system integration initiatives and managing quality and patient safety activities. Throughout her career, she has directed and managed numerous patient safety projects across multiple care disciplines, including electronic nursing documentation, barcode scanning and medication administration, clinical throughput, emergency department wait times, computerized physician order entry and more. She is also a trained continuous improvement facilitator.
Clinical Practice & Teaching
Clinical Practice & Teaching
Clinical Practice
Yingling's clinical expertise lies within the area of critical care nursing.
Teaching
Yingling has a passion for training and developing nursing professionals. From 2000 to 2004, she served as director of nursing staff development at Mercy Hospital, coordinating nursing education and competency activities. For several years, she also taught critical care and medical-surgical nursing courses to sophomore and senior level nursing students at Malone University as an adjunct faculty member.
Professional Involvement
Professional Involvement
Board Member, Walsh University Board of Directors
Board Member, Beacon Charitable Pharmacy
Board Member, Regina Health Center
Past Board Member, Women's Impact of Stark County
Past Board Member, Western Stark County Free Clinic
Past Board Member, Walsh University Nursing Advisory Board
Honors & Awards
Honors & Awards
Leadership Stark County Graduate, 2011
Sigma Theta Tau International Honor Society of Nursing: PI CHI Chapter, 2007
Massillon Community Hospital School of Nursing Class President, 1982, 1983