Summary
Summary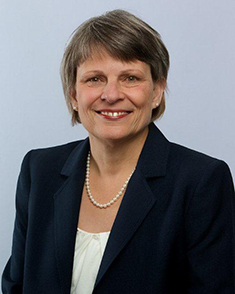 Ann M. Williamson, PhD, RN, NEA-BC is chief clinical and nursing officer for Cleveland Clinic Abu Dhabi (CCAD). With more than 35 years in the nursing profession, Dr. Williamson joined CCAD in 2014. Arriving prior to hospital activation, she helped lead a growth in nursing and clinical staff from approximately 50 to more than 1800. Under Ann's leadership a shared governance structure and professional practice model were established in 2015 patterned after the Zielony Institute's. In 2017 CCAD applied for Magnet designation and will submit their document in August 2018. Working with talented and capable directors from all over the world, along with physician and Health Authority of Abu Dhabi (HAAD) support, CCAD hired the first nurse practitioners and physician assistants in the country in 2016. Additionally, the team implemented a professional recognition program for frontline Caregivers that reduced turnover by 45% from 2015 to 2016.
Prior to CCAD, Ann served as associate vice president for nursing at University of Iowa Health Care and chief nursing officer at University of Iowa Hospitals and Clinics for six years. During this time, she implemented numerous strategies to elevate academic and clinical preparation of the nursing workforce. Ann also led the achievement of two successful Magnet® designations. Additionally, she provided leadership for allied health areas including social work, respiratory care, rehabilitation therapies, case management, chaplaincy and patient relations.
From 1992 to 2008, Dr. Williamson held a number of leadership positions at University of California, San Francisco (UCSF) Medical Center, as well as a without salary appointment at the UCSF School of Nursing. In the international arena, she has participated in academic medical center site visits in New Zealand and China and hosted U.S. visitors from China, Korea, Thailand, Singapore, Japan and India.
Education
Ph.D., University of California, San Francisco, California, 1999
M.S.N., University of Texas, Austin, Texas, 1985
B.S.N., University of North Carolina, Chapel Hill, North Carolina, 1978
Certifications
Board Certified Nurse Executive Advanced (NEA-BC), American Nurses Credentialing Center
Contact Information
Cleveland Clinic Abu Dhabi
Abu Dhabi, UAE
971 2 410 8384
williaa@clevelandclinicabudhabi.ae
Leadership
Leadership
Dr. Williamson is responsible for the general oversight of all activities surrounding Cleveland Clinic Abu Dhabi's nurses and allied health professionals. With more than 28 years of management and leadership experience, she has fulfilled a number of high-level executive positions and roles throughout her tenured career, including senior leadership for nursing, nursing education, nursing administration and hospital operations in three large, complex, dynamic academic health centers. She is well versed in areas such as operations, staffing, budgeting and finance, renovation, capital improvement and equipment projects and beyond.
Clinical Practice & Teaching
Clinical Practice & Teaching
Clinical Practice
Dr. Williamson's clinical expertise lies within the areas of home health nursing, pediatric, orthopedic and emergency nursing.
Teaching
A long-time nursing educator, Dr. Williamson has taught and developed numerous professional nursing courses. Most recently, she developed an online course in UCSF's Master of Science in Healthcare Administration and Interprofessional Leadership program. She has served as an adjunct clinical professor, associate dean for practice and associate clinical professor and lecturer. Her experience encompasses the following institutions.
University of Iowa College of Nursing, Iowa City, Iowa
University of California, San Francisco, School of Nursing, San Francisco, California
University of North Carolina, School of Nursing, Greensboro, North Carolina
Research & Publications
Research & Publications
Dr. Williamson's published works have appeared in the Journal of Advanced Nursing, Topics in Emergency Medicine, Journal of Nursing Administration and more. Her presentation experience is vast and her nursing research efforts entail studies such as nursing care hours and associated patient outcomes and unit level workload impacts on patient safety. She is an avid journal reviewer and for 13 years served as an expert witness and medical defense reviewer in a number of medical-related legal cases.
Professional Involvement
Professional Involvement
Member, Emirate Nurses Association
Member, American Organization of Nurse Executives
Member, California Nurses Association and American Nurses Association
Member, American Association of Critical-Care Nurses
Member, Sigma Theta Tau International Honor Society of Nursing
Past Delegate, University of Iowa International Relations, Carver College of Medicine and UI Health Care
Past Chair, American Heart Association, Johnson County Heart Walk
Past Council Member, Institutional Advisory Council, American Burn Association
Reviewer, American Journal of Critical Care, Academic Emergency Medicine, American Journal of Nursing
Proposal Reviewer, Handbook of Human Factors and Ergonomics in Healthcare and Patient Safety, Lawrence Erlbaum Associates, Inc., Publishers
Past Member, Lumetra Quality and Informatics Advisory Committee (appointed) and Governance Advisory Council, CalNOC and Statewide Operations Team
Fellow, Center for Nursing Classification and Clinical Effectiveness, University of Iowa College of Nursing and Wharton Fellows Program in Management for Nurse Executives, Johnson and Johnson
Course Fellow, Medical Informatics MBL/NLM, Marine Biological Laboratory, National Library of Medicine
Pre-Doctoral Fellow, Agency for Health Care Policy and Research, Institute for Health Policy Studies
Honors & Awards
Honors & Awards
2017 Lifetime Achievement Award, Cleveland Clinic Zielony Institute of Nursing
2011 Woman of Influence, Corridor Business Journal, 2011
100 Great Iowa Nurse, Iowa Nurses Association, 2011
Chancellor's Award for Exceptional University Management, University of California, San Francisco, 2007
UCSF Medical Center PRIDE Award, University of California, San Francisco, 2006