Summary
Summary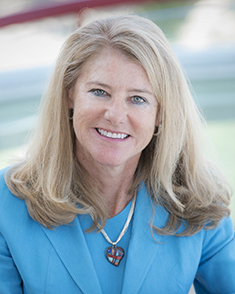 Deborah C. Small, DNP, RN, NE-BC is chief nursing officer for Cleveland Clinic London, Cleveland Clinic's six-story, 198,000-square-foot hospital in Central London that is set to open in 2021. With more than 30 years in the nursing profession, her career spans five states, nine hospitals and several professional and community organizations. She has held varying leadership roles from system-wide management as associate chief nursing officer for clinical practice and research to clinical management in cardiac, medical/surgical, critical care and surgical services nursing.
With a strong administrative, academic and clinical background, her career successes include the development and implementation of patient satisfaction programs, safety and positive healthcare initiatives and Cleveland Clinic's system-wide professional nursing practice model. Bringing added value to the leadership team, Dr. Small is knowledgeable in shared governance programs, the American Nurses Credentialing Center's Magnet® accreditation, and quality management and performance improvement processes, including regulatory agency standards like those of The Joint Commission.
Education
DNP Case Western Reserve University, Cleveland, Ohio, 2015
MS in Nursing Administration, Duquesne University, Pittsburgh, Pennsylvania, 1994
Business Certificate, Duquesne University, Pittsburgh, Pennsylvania, 1994
BSN, University of North Carolina at Greensboro, Greensboro, North Carolina, 1978
Certifications
Board Certified Nurse Executive (NE-BC), American Nurses Credentialing Center
Contact Information
Cleveland Clinic London
105 Victoria St.
London SW1E 6QT
United Kingdom

Cleveland Clinic
9500 Euclid Avenue / NA4
Cleveland, Ohio 44195
216.372.1959
smalld@ccf.org
Leadership
Leadership
With leadership competencies in strategic business development, service line management, quality improvement, evidence-based healthcare and customer satisfaction, Dr. Small has fostered a management style that emphasizes creativity and the ability to inspire, challenge and motivate others. In her current role, she is responsible for the strategic planning, direction and operationalizing of Cleveland Clinic London's comprehensive, integrated nursing practice. Additionally, she interacts with the organization's medical executive committee and board of governance to formulate policies and practices regarding nursing care. Dr. Small began her management career at North Broward Hospital in Pompano Beach, Florida, and Wake Medical Center in North Carolina.
Clinical Practice & Teaching
Clinical Practice & Teaching
Dr. Small's clinical practice lies within the area of critical care nursing, with additional experience in medical/surgical nursing.
Teaching
Throughout her career, Dr. Small has served as a legal nurse consultant and taught medical/surgical and critical care nursing, including care delivery in the clinical setting and the instruction of skilled development in the laboratory setting. She has served as an adjunct professor and clinical instructor at the following institutions:
University of Akron College of Nursing, Akron, Ohio
Carlow University School of Nursing, Pittsburgh, Pennsylvania
Research & Publications
Research & Publications
Dr. Small has presented locally and nationally for various organizations, including the American Organization for Nursing Leadership, Voluntary Hospitals Association, American Heart Association and more. She has also contributed to publications such as The Online Journal of Issues in Nursing and others, with her works highlighting topics like patient-centered care, the 'point of care' system and the organization of nursing information, and staff nurses' perceptions of unit base quality assurance. Additionally, she has worked with numerous staff members on various evidence-based practice projects.
Professional Involvement
Professional Involvement
Founding Board Member, North Carolina Great 100 Nurses Program
President, Greater Cleveland Organization of Nurse Executives
Past President, Northeast Ohio Organization of Nurse Executives
Board Member, Ohio Organization of Nurse Executives
Member, Northeast Ohio Nursing Initiative, Akron University Dean's Roundtable
Member,

American Organization for Nursing Leadership

Member, Sigma ThetaTau International and Phi Eplison Chapter
Member, Healthcare Executives Association Northeast Ohio
Honors & Awards
Honors & Awards
Cleveland Clinic Lifetime Achievement Award, 2017
Ohio Organization of Nurse Executives Leadership Award Nominee, 2013
YWCA Professional Women in Leadership, 2012
Leadership Portage County, 2007
The Coleman Foundation Community Service Award, 2006
Ohio Hospital Association Albert Dyckes Health Care Worker of the Year AGMC Nominee, 2004
Wake Medial Center Leadership and Service Award, 1989
Throughout Small's tenure as chief nursing officer, Fairview Hospital has received the following honors:
Full Accreditation, The Joint Commission, 2012-2015
Magnet® Designation, American Nurses Credentialing Center, 2009
Full Accreditation (highest commendations on noted best practices), American College of Surgeons Commission on Cancer Network, 2011-2014
Full Accreditation, Breast Program, National Accreditation Program for Breast Centers (NAPBC), 2012-2015
Full Certification, American College of Surgeons for Level II Trauma Center, 2012-2015
Chest Pain Accreditation, Society of Chest Pain Centers, 2010-2013
Baby-Friendly designation, World Health Organization, 2012-2017
Women's Choice Award, U.S. News Best Hospitals, 2013
Excellence Award, Lactation Care, International Board of Lactation Consultant Examiners and International Lactation Consultant Association, 2013
Ranked four within Cleveland-area hospitals' Top 10, U.S. News and World Report, 2011; and Ranked five, 2013
Get with the Guidelines® - Stroke Silver Plus Award, American Heart Association/American Stroke Association, 2013
Clinical Excellence Distinguished Award, Healthgrades® for Women's Health, Prostatectomy, and Pulmonary Care, 2011
Gold Medal of Honor (100 percent recovery, organ donations), U.S. DHHS, 2010
Top 100 Hospitals, Thompson Reuters, 2010