Summary
Summary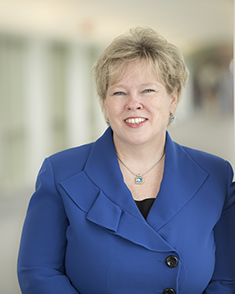 Mary McGreal Sauer, DNP, MBA, BSN, RN, NEA-BC is chief nursing officer and vice president of patient care services for Cleveland Clinic Avon Hospital. Throughout her career, Sauer has successfully proven her ability to develop, organize and lead diverse healthcare teams to achieve operational, fiscal and organizational success. In her current role, Sauer has actively demonstrated her knowledge and expertise through the execution of several noteworthy projects. These include the development of a highly successful culture of safety, such as implementing various prevention strategies to significantly reduce hospital-acquired infections like CLABSI and CAUTI; sustained improvement in employee engagement and patient experience scores, specifically in the areas of communication and responsiveness; and, the design and development of a new 126-bed acute care hospital.
With 40 years of progressive leadership experience, Sauer has a broad background in the management of people and services, and extensive specialty knowledge in the areas of critical care, post-acute care and medical-surgical nursing. She began her career at Fairview Hospital in 1979 as a registered nurse and quickly became a known nurse leader, having fulfilled various leadership roles throughout her career – from nurse manager and director of nursing to chief nursing officer. She is a member of several professional organizations, has been published in the Journal of Nursing Administration and has received notable recognitions, such as the Cleveland Clinic Nursing Lifetime Achievement Award in 2015, and the YWCA Women of Excellence award in 2011.
Education
DNP, Chamberlain University, Chicago, Illinois, 2017
MBA, California Coast University, San Ana, California, 2007
BSN, Akron University, Akron, Ohio, 1985
Diploma, Fairview General Hospital School of Nursing, Cleveland, Ohio, 1979
Contact Information
Cleveland Clinic Avon Hospital
33300 Cleveland Clinic Blvd.
Avon, Ohio 44011
216.312.9622
masaue@ccf.org
Leadership
Leadership
Sauer is a progressive leader with a broad background based in the management of people and services. She has excellent interpersonal skills, a strong work ethic, and a commitment to ongoing learning. She has demonstrated expertise in service excellence, project management, performance improvement, recruitment and retention, and coaching and mentoring. She holds patient safety, regulatory compliance and physician relations in high regard, effectively leading her nursing teams in multiple areas of success from re-designations of Joint Commission certifications (primary stroke, acute rehabilitation and congestive heart failure) to achieving the first Ohio hospital 'Baby Friendly' designation from the World Health Organization in 2012.
Clinical Practice & Teaching
Clinical Practice & Teaching
Sauer's clinical experience lies within the areas of medical-surgical nursing, critical care and post-acute care.
Research & Publications
Research & Publications
Throughout Cleveland Clinic health system and beyond, Sauer has addressed audiences on important issues regarding patient care. These include creating a safe and secure patient environment through visiting hours, the recruitment, retention and revitalization of medical/surgical nursing, and interdisciplinary work redesign for the rehabilitation unit.
Professional Involvement
Professional Involvement
President, Greater Cleveland Organization of Nurse Executives
President, Welcome House, Inc. Board of Trustees
Member,

American Organization for Nursing Leadership

Chapter Leader, Ohio Organization of Nurse Executives
Past Member, American College of Healthcare Executives
Past Member, Healthcare Executives Association of Northeast Ohio
Board Chair, Welcome House Home Health Care
Honors & Awards
Honors & Awards
Cleveland Clinic Lifetime Achievement Award, Cleveland Clinic, 2015
Women of Professional Excellence Award, Young Women's Christian Association, 2011
Janice G. Murphy Award, Excellence in Leadership, Cleveland Clinic, 2009
As chief nursing officer, Sauer led Lakewood Hospital in achieving the following recognitions:
Pathway to Excellence® re-designation, American Nurses Credentialing Center (ANCC), 2013
Re-designation certifications for Primary Stroke Center, Acute Rehab Center and Heart Failure Center, The Joint Commission, 2012
Baby Friendly designation, World Health Organization, 2012
Get with the Guidelines® - Stroke Gold Plus (Bronze, Silver Plus), American Heart Association, 2012
o Heart Failure Readmission Rate award for significant decrease, Aligning Forces for Quality/Robert Wood Johnson, 2012