Summary
Summary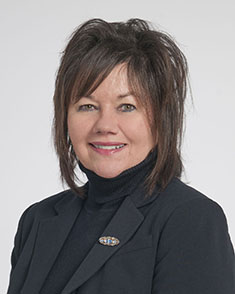 Barbara Morgan, MSN, RN, NE-BC, is associate chief nursing officer (ACNO) of emergency services for Cleveland Clinic health system, and director of nursing for Cleveland Clinic's main campus emergency department. In her roles, Morgan provides strategic and operational leadership for the health system's emergency nursing services, while overseeing clinical and nursing operations at Cleveland Clinic main campus. Driven to influence outcomes and quality, Morgan is a highly skilled board-certified nurse executive who has extensive leadership experience in complex academic medical centers in a variety of clinical areas, including emergency services, ambulatory care and acute care.
Throughout her tenured nursing career, Morgan has developed a highly influential reputation of nursing excellence. She is experienced in designing and opening freestanding emergency departments, urgent care and trauma centers. She has a long history of successfully developing new nursing programs, roles, and teams in an effort to provide enhanced, comprehensive patient care. And, among many other successes, she has led several emergency and intensive care nursing teams through JCAH and CMS surveys, effectively maintaining regulatory compliance and survey readiness. Morgan is a member of the national Emergency Nurses Association, Sigma Theta Tau International Society of Nursing and several Cleveland Clinic steering committees, councils and process improvement initiatives.
Education
MSN, Case Management Program, Ursuline College, Pepper Pike, Ohio, 2000
BSN, The Ohio State University, Columbus, Ohio, 1977
Certifications
Board Certified Nurse Executive (NE-BC), American Nurses Credentialing Center
Contact Information
Cleveland Clinic
9500 Euclid Avenue, E19
Cleveland, Ohio 44195
216.445.8975
morganb2@ccf.org
Leadership
Leadership
Morgan is a proactive leader who values transparency, communication and coaching to develop staff, while achieving performance goals and adherence to regulatory standards. Her leadership style is one that is organized, highly motivated and goal-oriented. She excels at maintaining effective nursing operations in the midst of organizational change and has the ability to lead complex projects from concept to implementation. Often taking a dual-approach to achieving organizational goals, Morgan believes in implementing both short-term and long-term goal-oriented strategies. She is a strong advocate for positive cultural change and by collaborating, cultivating vision and building strong relationships, she aims to rally staff around important initiatives.
Clinical Practice & Teaching
Clinical Practice & Teaching
Clinical Practice
Morgan is a board certified nurse executive (NE-BC) whose clinical expertise lies in the areas of emergency services and critical care nursing.
Teaching
Morgan has served as a mentor and educator to nurses of all levels – from helping new nursing graduates gain clinical expertise to developing nurse managers who are dedicated to the pursuit of high-quality clinical outcomes and patient experiences.
Professional Involvement
Professional Involvement
Member, Emergency Nurses Association
Member, Sigma Theta Tau International Society of Nursing