Summary
Summary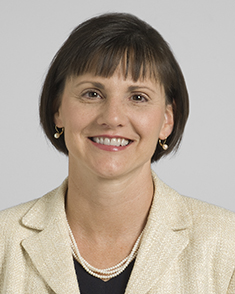 Kimberly D. Hunter, DNP, MSN, MBA, RN, NEA-BC, is Associate Chief Nursing Officer of Cleveland Clinic main campus and the director of nursing for Cleveland Clinic's Neurological Institute, and Orthopaedic and Rheumatologic Institute. In her role, Dr. Hunter is responsible for the nursing practice of nine Cleveland Clinic institutes, overseeing 569 inpatient beds on main campus, numerous ambulatory clinics, and approximately 1,700 caregivers, ensuring the delivery of quality patient care in accordance with the strategic goals of Cleveland Clinic. Additionally, she is responsible for the clinical operations of the Neurological Institute, which encompasses 122 inpatient beds, all neurosurgery, neurology, and Stroke Center outpatient areas and more than 400 allied health caregivers. Similarly, she leads clinical operations for the Orthopaedic and Rheumatologic Institute inpatient and ambulatory areas, which include 34 beds and 150 caregivers. Among other notable recognitions, Dr. Hunter has been instrumental in the main campus' attainment of ANCC Magnet® re-designation in 2013 and 2018, as well as completion of four successful Joint Commission hospital surveys, three Joint Commission Comprehensive Stroke Center surveys, and the AACN Beacon Award for the Neuro ICU.
Dr. Hunter's professional background boasts more than 30 years of healthcare management experience, including nearly 20 years at two of the top-ranked hospitals in the U.S. – Cleveland Clinic and Mayo Clinic. While at Cleveland Clinic for the past 13 years, she previously served as the Director of Nursing Operations and Clinical Information at Nicklaus Children's Hospital in Miami, where she was responsible for allocating nursing resources, central staffing operations, nurse admitting office and house supervisory coverage. Before that, she worked at Mayo Clinic for 5 years, holding leadership roles as an Operations Administrator and Senior Systems Engineer. During her time at Mayo Clinic, she led administrative functions for numerous clinical divisions, provided operational expertise, managed annual budget planning, analyzed financial performance and developed and operationalized several new strategic programs. Dr. Hunter's robust career experience also includes 6 years in healthcare consulting and physician practice management, where she provided services to both physician practices and major hospital networks, advancing the business of healthcare. During her time as a consultant, she supported institutions such as Management Directions of North Carolina, Principal Health Care of the Carolinas, Inc., Coastal Physician Group, Medaphis Physician Services Corporation, and FIS Associates, Inc.
Education
DNP, Chamberlain University, College of Nursing, Downers Grove, Illinois, 2017
MBA, University of Tennessee, Knoxville, Tennessee, 1993
MSN, University of North Carolina, Chapel Hill, North Carolina, 1987
BSN, University of North Carolina, Chapel Hill, North Carolina, 1984
Certifications
Board Certified Nurse Executive Advanced, American Nurses Credentialing Center
Basic Cardiac Life Support, American Heart Association
Contact Information
Cleveland Clinic
9500 Euclid Avenue / T-13
Cleveland, Ohio 44195
216.444.1809
hunterk@ccf.org
Leadership
Leadership
With extensive experience in both clinic and hospital-based leadership, Dr. Hunter's expertise is centered on continuous improvement, leadership development, nursing operations, nurse retention and systems thinking. On a daily basis, she strives to ensure uniform quality and adherence to nursing practice standards, while creating a continuous improvement environment that promotes innovative and safe patient care delivery. At Cleveland Clinic, her leadership has proven to directly improve nursing engagement and patient outcomes. She has led expansions of Cleveland Clinic's neurological intensive care, step-down and acute stroke units, as well as inpatient acute rehabilitation units. She has also served many years as a nurse leader for the Nursing Medical Branch of Cleveland Clinic Incident Command Center and was instrumental in the recent COIVD-19 pandemic planning, including surge planning and upskilling of ambulatory nurses, creating the first drive-through testing center, establishing cohort units and more. A present and engaged nurse leader, Dr. Hunter represents main campus nursing on many system-wide committees and councils. At Nicklaus Children's Hospital, examples of her leadership include the implementation of a Nightingale web-based scheduling system and a patient acuity system. At Mayo Clinic, she led a workgroup that allocated and designed a clinical space to support patient care and administrative functions prior to a new facility transition. She also led a multidisciplinary team that redesigned a preoperative evaluation process for patients, facilitated a lab and nursing service excellence team, and more.
Clinical Practice & Teaching
Clinical Practice & Teaching
Clinical Practice
Dr. Hunter's clinical experience lies within the areas of adult acute care and pediatric nursing.
Teaching
Dr. Hunter spent 6 years advancing nursing education as an assistant professor of nursing at the University of Tennessee in Knoxville, Tennessee. As an educator, she provided accredited, university-level classroom and clinical instruction on topics such as physical assessment and wellness, fundamentals of nursing, and pediatric nursing to more than 250 nursing students in pursuit of bachelor's degrees in nursing. Additionally, for 7 years, as a staff educator and staff nurse at East Tennessee Children's Hospital, she organized and implemented a 3-month orientation program for graduate nurses, which included presentations, curriculum development and scheduling. She also assisted in the implementation of numerous ongoing employee education programs. During her time at Mayo Clinic, Dr. Hunter also taught training and development classes, such as 'Using Data to Make Decisions' and 'Team Building.'
Research & Publications
Research & Publications
Throughout her career, Dr. Hunter has shared her clinical and leadership knowledge with healthcare experts around the globe. Through professional publications and regional and national conference presentations and more, she has provided expertise on topics such as 'Tiered Huddles: Connecting Empathy and Excellence,' 'Lean Leadership: A Neuroscience Unit's Amazing Transformation,' 'Evaluation of Patient Flow and Staffing Effectiveness,' 'Pain in Toddlers: Nurses' Assessments and Interventions,' and more. Her evidence-based clinical successes have been featured in industry publications, such as Applied Nursing Research, Advances in Pain Research and Therapy and Basic Pathophysiology.
Professional Involvement
Professional Involvement
Member, American Organization for Nursing Leadership
Member, Beta Gamma Sigma Honor Society
Member, Sigma Theta Tau International Honor Society
Honors & Awards
Honors & Awards
Executive Nurse Fellow, Commonwealth Fund, 1991 (one of 25 nurses selected nationwide)