Summary
Summary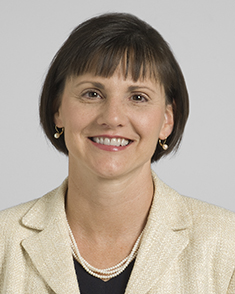 Kimberly D. Hunter, DNP, MBA, RN, NEA-BC, is associate chief nursing officer of Cleveland Clinic main campus and the director of nursing for Cleveland Clinic Neurological Institute. On a daily basis, Hunter strives to ensure uniform quality and adherence to nursing practice standards, while creating a continuous improvement environment that promotes innovative patient care delivery. Her professional background is robust, encompassing many senior-level leadership and management positions at well-known healthcare organizations, including Miami Children's Hospital and Mayo Clinic Scottsdale.
With responsibilities that impact more than 3,000 full-time nursing employees, Hunter is an efficient – and effective – leader. An integral nursing team member at Cleveland Clinic since 2007, she has led the Neurological Institute nursing leadership team through two successful Joint Commission Primary Stroke Center recertification surveys, as well as the expansion of the neurological intensive care, step-down and acute stroke, and inpatient acute rehabilitation units. Additionally, Hunter represents Cleveland Clinic main campus on many system-wide committees and councils and is an avid member of several professional associations.
Education
DNP, Chamberlain College of Nursing, 2017
MBA, University of Tennessee, Knoxville, Tennessee, 1993
MSN, University of North Carolina, Chapel Hill, North Carolina, 1987
BSN, University of North Carolina, Chapel Hill, North Carolina, 1984
Certifications
Board Certified Nurse Executive Advanced (NEA-BC), American Nurses Credentialing Center
Contact Information
Cleveland Clinic
9500 Euclid Avenue / T-13
Cleveland, Ohio 44195
216.444.1809
hunterk@ccf.org
Leadership
Leadership
With 30 years of healthcare experience, Hunter has been a notable leader throughout multiple health care settings. As director of nursing operations and clinical information for Miami Children's Hospital, she implemented a patient acuity system that drove inpatient unit staffing on a shift-by-shift basis, leading to positive hours per patient day results. Additionally, as operations administrator at Mayo Clinic Scottsdale, she provided administrative oversight for four clinical divisions, working closely with physician chairs and institutional leaders to develop and operationalize new programs and lead financial performance analysis. Her experience also includes senior management consulting for Management Directions of North Carolina, and more.
Clinical Practice & Teaching
Clinical Practice & Teaching
Clinical Practice
Hunter's clinical experience lies within the areas of acute care and pediatric nursing.
Teaching
Providing classroom and clinical instruction on physical assessment and wellness, fundamentals of nursing and acute care nursing, Hunter has served as an assistant professor of nursing. Additionally, as a staff educator, she also implemented a three-month orientation program for graduate nurses.
University of Tennessee, Knoxville, Tennessee
Children's Hospital, Knoxville, Tennessee
Research & Publications
Research & Publications
From pain in toddlers to sickle cell anemia, Hunter is a published author and versatile presenter. Throughout her career, she has delivered numerous presentations on pediatric pain and pediatric nursing at regional, national, and international conferences. Hunter is a firm believer in evidence-based practice and her healthcare industry contributions are reflective of that philosophy.
Professional Involvement
Professional Involvement
Member, American Association of Neuroscience Nurses
Member, American Organization of Nurse Executives
Member, Beta Gamma Sigma Honor Society
Member, Sigma Theta Tau International Honor Society
Honors & Awards
Honors & Awards
Executive Nurse Fellow, Commonwealth Fund, 1991 (one of 25 nurses selected nationwide)