Summary
Summary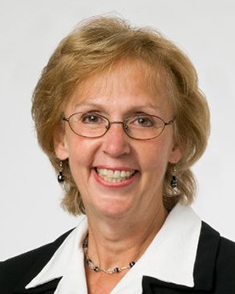 Susan L. Collier, DNP, RN, NEA-BC, is vice president of nursing and chief nursing officer for Cleveland Clinic's Hillcrest Hospital. She is a highly motivated and intuitive leader with strengths in human relations, serving leadership, organizational and program development, project management and creative problem solving, which have served her well throughout her career. With a history of building strong partnerships and focusing on strategic relations, some of Collier's career successes include the creation of a hospital-wide nursing congress and the reduction of nurse vacancy rates by 50 percent.
Collier has received many professional honors throughout her career, including recognition as one of the "Best of the Best" nurses by The Plain Dealer in 2001, and a recipient of the Lifetime Achievement Award by the Northeast Ohio Nursing Initiative of The Center for Health Affairs in 2013. Having special interests in critical care, case management, nurse empowerment and patient safety, she belongs to numerous professional associations and actively participates on many councils and committees. Collier has been a nurse for more than 40 years, working for Cleveland Clinic as well as Meridia Huron Hospital and Meridia South Pointe Hospital before the organizations became part of the Cleveland Clinic health system in 1997.
Education
DNP, Case Western Reserve University, Cleveland, Ohio, 2014
Johnson & Johnson-Wharton Fellows Program in Management for Nurse Executives, Wharton School and Leonard Davis Institute of Health Economics, University of Pennsylvania, Philadelphia, Pennsylvania, 2003
MS in Nursing Case Management, Ursuline College, Pepper Pike, Ohio, 2000
BSN, Cleveland State University, Cleveland, Ohio, 1986 (cum laude)
Diploma, Huron Road Hospital School of Nursing, East Cleveland, Ohio, 1977
BA in English, Cleveland State University, Cleveland, Ohio, 1976
Certifications
Board Certified Advanced Nurse Executive (NEA-BC), American Nurses Credentialing Center
Contact Information
Cleveland Clinic Hillcrest Hospital
6780 Mayfield Road
Mayfield Heights, Ohio 44124
216.312.3354
[email protected]
Leadership
Leadership
Collier is a service-oriented leader with a track record of proven success in many imperative nursing functions, including nursing operations, management and leadership. With strengths in creative problem solving, she effectively overcomes challenges, utilizes resources, and devises solutions to meet established objectives and drive high-quality outcomes. She has fulfilled many leadership positions throughout her career, including four nurse manager positions, multiple director positions, interim chief operating officer for Cleveland Clinic South Pointe Hospital and associate chief nursing officer of care management for Cleveland Clinic health system.
Clinical Practice & Teaching
Clinical Practice & Teaching
Clinical Practice
Collier's clinical expertise lies within the areas of intensive care and intensive care step-down, neurological critical care, dialysis, and medical/surgical nursing.
Teaching
Collier is a supporter of ongoing learning, and as a devoted mentor, she has brought hands-on, real-world experience to numerous registered nurses pursuing their Master's of Science in Nursing degrees, as well as those working toward their Doctor of Nursing Practice. She has also spent much one-on-one time with individual nurses working to complete their Bachelor's of Science in Nursing education. Additionally, Collier briefly taught students at both Ursuline College, in Pepper Pike, Ohio, and Malone College, in Canton, Ohio, on the topics of case management and the challenges of the chief nursing officer role.
Research & Publications
Research & Publications
From commencement speeches to poster presentations and more, Collier enjoys presenting on various healthcare and nursing topics. She has given presentations on executive rounding, good music to prevent errors (medication use safe improvement committee), new models in intensive care unit design and more, and has been published in Heart & Lung and the Journal of Heart and Lung Transplantation.
Professional Involvement
Professional Involvement
Member, Ohio Organization for Nursing Leadership
Member, Greater Cleveland Organization for Nursing Leadership (past president)
Member, American Association of Critical Care Nursing
Participant, Leadership Lake County
Sigma Theta Tau International Honor Society of Nursing
Member, American Association of Critical Care Nursing
Ursuline School of Nursing Advisory Board
Lakeland Community College Nursing Advisory Board
Cleveland State University visiting Committee


Honors & Awards
Honors & Awards
Lifetime Achievement Award, Stanley Shalom Zielony Institute for Nursing Excellence, Cleveland Clinic Health System, 2015
Distinguished Alumni Award, Cleveland State University, 2013
Lifetime Achievement Award, Northeast Ohio Nursing Initiative of The Center for Health Affairs, 2013
'Best of the Best' Nurse Recognition, Cleveland Plain Dealer, 2001
Outstanding Academic Achievement, Ursuline College, 2000
Runner-up, Rochester Institute of Technology/USA Today Quality Cup for Stress Test Performance Improvement Team, 1999
Scholarship Recipient, Elizabeth Husni Memorial Scholarship, Meridia Health System, 1998
Woman of Professional Excellence, YWCA of Cleveland, Greater Cleveland Women of Achievement, 1997
Employee of the Year, Customer Service Excellence, Meridia Health System, 1995
Nursing Honor Society, Cleveland State University Department of Nursing, 1987
Excellence in Clinical Nursing, Cleveland State University Department of Nursing, 1986
Academic Achievement, Huron Road Hospital Nurses Alumni Association, 1977
Throughout Collier's tenure as chief nursing officer, she has led Cleveland Clinic's South Pointe and Hillcrest Hospitals in receipt of the following honors:

Achieved initial Magnet recognition for Cleveland Clinic Hillcrest Hospital, in 2014 and earned redesignation in 2019
Baby Friendly designation, Cleveland Clinic Hillcrest Hospital, World Health Organization, 2012
Get with the Guidelines® - Stroke Gold Plus (Silver Plus) and recognition on the Target: Stroke Honor Roll, Cleveland Clinic Hillcrest Hospital, American Heart Association, 2012
President's Quality Award, Nurse Recruitment and Retention, Cleveland Clinic South Pointe Hospital, 2002
President's Quality Awards for CHF Performance Improvement, Stress Test Performance Improvement and Specialty Bed Utilization, Cleveland Clinic South Pointe Hospital, 1998