Summary
Summary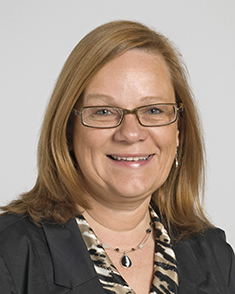 Esther I. Bernhofer, PhD, RN-BC, CPE is a nurse scientist in the Office of Nursing Research and Innovation. Dr. Bernhofer's program of research is in acute and chronic pain management, pain management education, values-based practice, and rest. With more than 35 years in the nursing profession in a variety of clinical roles, many of her accomplishments have ultimately been centered on caring for patients who are struggling with pain and helping them to manage it. Prior to her current position, Dr. Bernhofer worked throughout the Cleveland Clinic health system as a pain education specialist within the nursing quality and safety team, a pain management and education coordinator within the areas of inpatient medicine and digestive disease, and as a pain resource nurse within general medicine.
Before joining the Cleveland Clinic organization in 2005, Dr. Bernhofer fulfilled roles in homecare and medical/surgical nursing, and Lamaze and child birthing. She has worked for organizations such as Kelley Homecare Services in Independence, Ohio, Marymount Hospital in Garfield Heights, Ohio, and the Visiting Nurse Association in Cleveland, Ohio. Dr. Bernhofer has a passion for continuing education and professional development, and as a researcher, is always in pursuit of new knowledge. She is a member of several professional organizations, serves in leadership roles and speaks several times a year at national, regional, and local conferences and education settings.
Education
Ph.D. in Nursing, Frances Payne Bolton School of Nursing, Case Western Reserve University, Cleveland, Ohio, 2012
B.S.N. to Ph.D, Master's bridge studies, Frances Payne Bolton School of Nursing, Case Western Reserve University, Cleveland, Ohio, 2008
B.S.N., University of Akron, Akron, Ohio, 1981
Certifications
Board Certified Registered Nurse (RN-BC) in Pain Management Nursing, American Nurses Credentialing Center
Certified Pain Educator (CPE), American Society of Pain Educators (ASPE)
Contact Information
Cleveland Clinic
Office of Nursing Research and Innovation
9500 Euclid Avenue / P33
Cleveland, Ohio 44195
216.445.5269
bernhoe@ccf.org
Leadership
Leadership
Dr. Bernhofer is the nursing pain management expert that other healthcare colleagues turn to. She follows a leadership style that encourages her colleagues to remember that their efforts – whether it's the research work they are doing, the direct interaction they have with a patient, or the way in which they are educating one another – have the potential to positively impact at least one patient, which is reward in and of itself. A forward-thinker, Dr. Bernhofer has been able to progress pain management at Cleveland Clinic by coordinating pain management education classes across the enterprise, establishing a nursing pain mentor program, and by mentoring and providing nurses with evidence-based practice information to assist them in helping patients manage pain. Dr. Bernhofer has served in leadership roles in professional organizations such as the American Society for Pain Management Nursing and the American Pain Society and continues leading in the research and development of new evaluation instruments that measure clinicians' pain management knowledge and values.
Clinical Practice & Teaching
Clinical Practice & Teaching
Clinical Practice
Dr. Bernhofer's clinical experience lies within the areas of pain management, homecare and medical/surgical nursing.
Teaching
Dr. Bernhofer is an avid mentor and educator, teaching nurses throughout Cleveland Clinic health system by way of the organization's pain management education classes, nursing research workshops, and nursing grand rounds. She also offers additional educational instruction, support and guidance through pain education initiatives, new nurse orientation classes and guest lectures at local organization and Cleveland Clinic events.
Research & Publications
Research & Publications
With a number of research studies and publications produced throughout her career, Dr. Bernhofer is well-versed in the creation of evidence-based works designed to positively impact the healthcare industry. Focusing most of her work within the area of pain management, Dr. Bernhofer's written pieces such as 'hospital lighting and its association with sleep, mood and pain in medical inpatients' have appeared in scholarly journals like the Journal of Advanced Nursing as well as other publications. For example, The Plain Dealer and Reuters also featured Bernhofer's hospital lighting piece. Additionally, she is a local and national presenter and has spoken at numerous industry association conferences and organization meetings.
Professional Involvement
Professional Involvement
Member, International Association for the Study of Pain; Section Member, Acute Pain and Pain Education
Chair of Education Committee, American Society of Pain Management Nurses
Member, Council for the Advancement of Nursing Science
Lead Nurse Planner, Education Advisory Board, American Pain Society; Section Member, Nursing and Pain Management Education
Member, Midwest Nursing Research Society; Research Sections Member, Pain and Symptom Management
Member, Sigma Theta Tau International, Alpha Mu chapter
Reviewer, Journal of Advanced Nursing , Clinical Nursing Research, Pain Management Nursing, and McMaster University's health information research unit
Honors & Awards
Honors & Awards
American Society for Pain Management Nursing (ASPMN) Research poster award winner, 2016
Faces of Care Award, Cleveland Magazine, 2016
Clinical Practice Award, American Society for Pain Management Nursing (ASPMN), 2012
Nancy M. Albert Excellence in Nursing Research Award, Cleveland Clinic, 2011
Nurses Educational Funds Scholarship Winner for Doctoral Studies, 2011-2012
Graduate Assistantship in Areas of National Need (GAANN) Fellow, 2007-2010