Summary
Summary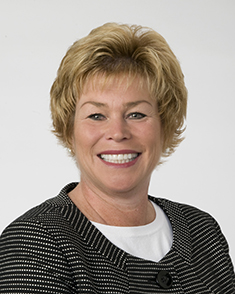 Dawn A. Bailey, BSN, MAOM, RN, NEA-BC, is vice president, nursing and chief nursing officer for Cleveland Clinic's Euclid Hospital. With a long-standing, tenured career at Cleveland Clinic, Bailey has accrued many years of leadership and management experience in both complex tertiary care and within the community hospital setting. In her current position, Bailey's accomplishments are vast, including exceptional employee engagement scores, multiple certifications and recognition as a top performer on key quality metrics from The Joint Commission, and implementation of a unit-based skin care nurse program that reduced hospital acquired pressure ulcer prevalence by approximately 75 percent.
Having specialty interests in patient satisfaction and human resource management, Bailey also has a strong clinical background in a wide variety of patient care specialties from internal medicine to pulmonary medicine and more. Prior to accepting a position as director, acute care nursing at Euclid Hospital in 2002, Bailey served more than 20 years at Cleveland Clinic's main campus location as a staff nurse, clinical instructor, head nurse, nurse manager, director of patient care services and director of medicine and maternal child nursing.
Education
MA in Organizational Management, The University of Phoenix, San Francisco, California, 1996
BSN, Erie Institute of Nursing, Villa Maria College, Erie, Pennsylvania, 1981
BS, Mercyhurst College, Erie, Pennsylvania, 1981
Certifications
Board Certified Nurse Executive Advanced, American Nurses Credentialing Center
Contact Information
Cleveland Clinic Euclid Hospital
18901 Lakeshore Boulevard
Euclid, Ohio 44110
216.444.3059
dbailey@ccf.org
Leadership
Leadership
A serving leader, Bailey aims to create a culture that supports all aspects of the nursing profession. She strives for a results-oriented environment that culminates in outstanding, quality care and an exceptional patient experience. Through clear, concise communication of relevant facts among care providers, and a shared governance model that includes nursing practice, quality and patient safety, professional development, research and evidence-based practice councils as well as unit-based, and role-specific councils, Bailey leads her team on principals that advance both the nurse and patient care.
Clinical Practice & Teaching
Clinical Practice & Teaching
Clinical Practice
Bailey's clinical experience lies within the areas of internal medicine, pulmonary medicine, infectious disease, gerontology, nephrology, gastroenterology, endocrinology and ophthalmology.
Teaching
For three years, Bailey served as a clinical instructor for Cleveland Clinic's Department of Medical Nursing. In this role, she was responsible for all orientation and staff development activities for 56 staff members on a 38-bed pulmonary/endocrinology/ophthalmology nursing unit.
Research & Publications
Research & Publications
An experienced presenter and publisher of many printed professional works, Bailey has written and spoken on topics ranging from developing better critical paths in healthcare through the combination of best practices and a quantitative approach, implementing a system for care of patients with latex allergies, and the effect of a nursing intervention on caregivers' satisfaction with information received during the hospital stay.
You can view Dawn's research, publications and presentations below by year or you can download a PDF of her work.
Professional Involvement
Professional Involvement
Member, American College of Healthcare Executives
Member, American Organization of Nurse Executives
Member, Greater Cleveland Organization of Nurse Executives
Secretary, Board of Trustees, Euclid Hunger Center
Member, Cleveland Clinic East Region Board of Trustees
Honors & Awards
Honors & Awards
Bruce Hubbard Stewart Fellow Award, Cleveland Clinic, 1997-1998
Throughout Bailey's tenure as chief nursing officer, Euclid Hospital has received the following honors:

Pathway to Excellence® Recognition, American Nurses Credentialing Center, 2013
Gold Level President's Award for Quality, Cleveland Clinic, 2006
Top Performer on Key Quality Measures, The Joint Commission, 2011
Primary Stroke Center Certification, The Joint Commission, 2010
Disease-specific Certification for Hip and Knee Joint Replacement, The Joint Commission, 2012
Disease-specific Certification for Basic Heart Failure, The Joint Commission, 2012
Outstanding Employee Engagement Achievement Award, Cleveland Clinic, 2011-2013
Highest Health System Nursing Employee Engagement, Cleveland Clinic, 2011-2013