Summary
Summary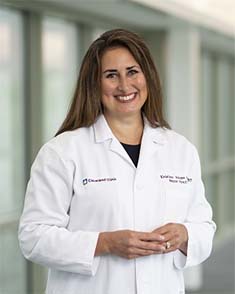 Kristine Weiss Adams, MSN, CNP, is associate chief nursing officer, care management and ambulatory services for Cleveland Clinic health system. In her role, Adams is responsible for leading and coordinating nursing practice within all Cleveland Clinic ambulatory and home care areas. She directs care management, care coordination, ambulatory, and post-acute nursing practice as related to quality, safety, regulatory compliance and operational activities while collaborating with executive leadership in the development and implementation of strategic operations. Additionally, Adams is also Senior Director of Cleveland Clinic's Chronic Disease Clinics, which are community clinics that aim to reduce hospitalizations and patient re-admissions. Focusing on Cleveland Clinic's four eastern Ohio region clinics, Adams specializes in establishing consistent standards, staffing, service models, and more in the nurse practitioner-ran clinics.
Adams began her career in 1992 as a staff nurse at Sparrow Hospital in Lansing, Michigan. She joined Cleveland Clinic Fairview Hospital in 2008, and became a nurse practitioner in 2010. She has worked in numerous nursing specialty areas at various hospitals, as well as the free clinic setting, which has given her a thoughtful perspective on the way in which care is and should be provided to the most vulnerable patient populations. Throughout her career, Adams has served on several steering committees and councils in areas such as nursing quality, legislation and policy, research, shared governance, engagement, and more. She was a 2013 recipient of the Greater Cleveland Nurse's Association Faces of Care Award, and the 2007 recipient of Cleveland Clinic's Louise McNamara Award for Excellence in Leadership and Clinical Nursing. Adams is a clinical faculty member for advanced practice nursing students at Kent State University in Kent, Ohio.
Education
MSN, Adult Nurse Practitioner, Kent State University, Kent, Ohio, 2010
BSN, The Ohio State University, Columbus, Ohio, 1992
Certifications
Certified Adult Nurse Practitioner (CNP)
Contact Information
9500 Euclid Avenue / P8-210-A
Cleveland, Ohio 44195
216.509.1818
kradam@ccf.org
Leadership
Leadership
As an advanced practice nurse with more than 25 years of progressive leadership experience, Adams is experienced in the management of both people and services. She demonstrates excellent interpersonal skills, has a strong work ethic and is committed to ongoing learning. Furthermore, she has the proven ability to develop, organize and lead diverse healthcare teams to achieve operational, fiscal and organizational goals. As APN/PA Manager for Fairview Hospital, Adams was instrumental in restructuring pre-admission testing to utilize APNs and PAs at their highest level of licensure. When she served as Nursing Research and Quality Specialist for Cleveland Clinic Fairview Hospital, she helped the organization achieve its first ANCC Magnet® designation in 2008, as well as re-designation in 2013. Additionally, Adams was among the first providers at Cleveland Clinic to see patients in Healthspot, a telemedicine format, and she was also responsible for bringing the Express Care Online telemedicine platform to Cleveland Clinic's Taussig Cancer Institute.
Clinical Practice & Teaching
Clinical Practice & Teaching
Clinical Practice
Adams' clinical expertise lies within the areas of primary care, especially for underserved populations.
Teaching
Throughout her career, Adams has served as a mentor and educator to staff nurses, student interns and high school students on bedside research projects and research programs. Additionally, Adams is a clinical faculty member at Kent State University in Kent, Ohio, where she provides instruction for students in the university's nurse practitioner program.
Research & Publications
Research & Publications
Adams has served as both a primary investigator and co-investigator in several research studies on a variety of clinical and professional topics, such as hypothermia and pain correlation in post-operative abdominal surgery; non-verbal pain assessment; developing an innovation unit; and, blood transfusions. She is currently working with a physician team and the FDA to develop a new device to help manage emergency epistaxis in anticoagulated patients. Adams has also served as a podium and panel presenter at several national conferences, presenting on topics in oncology, patient discharge, and how to leverage advanced practice nurses and physician assistants at their highest level of licensure.
Professional Involvement
Professional Involvement
Member, Care Management Society of America
Member, Ohio Association of Advanced Practice Nurses
Member, American Association of Advanced Practice Nurses
Member, Sigma Theta Tau – Epsilon Chapter
Honors & Awards
Honors & Awards
Alumni Community Service Award, The Ohio State University, 2016
Faces of Care Award, Greater Cleveland Nurse's Association, 2013
Louise McNamara Award for Excellence in Leadership and Clinical Nursing, Cleveland Clinic, 2007
Nominee, Cleveland Clinic Nursing Hall of Fame, 2006
Alumni Choice Award for Clinical Excellence, The Ohio State University, 1992