Summary
Summary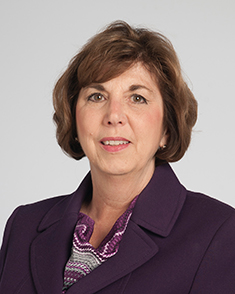 Mary Beth Thoburn, BSN, MBA, RN, NEA-BC, is chief nursing officer for Cleveland Clinic Fairview Hospital. A tenured nurse veteran, Thoburn has spent nearly 40 years in the nursing profession, including more than two decades in nursing leadership positions. Throughout her esteemed career, she has become a distinguished expert in areas such as hospital/nursing operations, budget management, performance improvement, clinical research, new clinical program implementation, service expansion, and hospital/nursing unit construction. She is also extremely well versed in the American Nurses Credentialing Center's Magnet Recognition® program and has a very thorough, comprehensive understanding of healthcare's complex regulatory environment.
Thoburn began her nursing career in 1979 as a staff nurse at University Hospitals of Cleveland. Thoburn worked her way up the leadership ladder, and in 2006, following 5 years as director for University Hospital's Pediatric Center for Drug Research, she joined Cleveland Clinic health system. Thoburn is a board certified nurse executive-advanced and a member of numerous regional and national nursing associations and organizations, including the American Organization for Nursing Leadership, the Ohio Association of Nurse Executives, and the Academy of Medical-Surgical Nurses.
Education
Executive MBA in Healthcare, Baldwin Wallace College, Berea, Ohio, 1999
BSN, University of Akron, Akron, Ohio, 1985
Diploma, St. Vincent Charity School of Nursing, Cleveland, Ohio, 1979
Certifications
Nurse Executive Advanced-Board Certified (NEA-BC), American Nurses Credentialing Center
Basic Life Support, American Heart Association
Contact Information
Cleveland Clinic
Fairview Hospital
18101 Lorain Avenue
Cleveland, Ohio 44111
216.476.7274
mathob@ccf.org
Leadership
Leadership
A compassionate, influential and energetic leader, Thoburn has spent 25 years in nursing leadership positions across diverse practice settings. She began her leadership path as a nurse manager in pediatric critical care, followed by several nurse director positions in areas such as clinical research, adult critical care, emergency services and acute care. She is known for her exceptional leadership in building high functioning, high performing nursing teams; developing new leaders; facilitating change to improve performance; efficiently and effectively expanding care services; and, creating care environments in which interdisciplinary teams thrive. Thoburn is also a Tier I employee engagement leader within Cleveland Clinic health system.
Clinical Practice & Teaching
Clinical Practice & Teaching
Clinical Practice
Thoburn is an advanced board certified nurse executive (NEA-BC) whose clinical expertise lies in the area of pediatric critical care, as well as adult critical-care nursing, emergency services and acute-care nursing.
Teaching
For years, Thoburn has served as a mentor and educator to nurses and healthcare teams across various disciplines. An expert in leader training and education, she has spent much of her career coaching and developing up-and-coming healthcare leaders.
Professional Involvement
Professional Involvement
Member,

American Organization for Nursing Leadership

Member, Ohio Association of Nurse Executives
Member, Academy of Medical-Surgical Nurses
Member, Sigma Theta Tau International Honor Society
Past Member, Society of Critical Care Medicine
Past Member, Healthcare Executives Association of Northern Ohio
Past Board Member, Cleveland Rape Crisis Center
Research & Publications
Research & Publications
Thoburn's works are often shared at nursing and healthcare conferences regionally and nationally. Some of her latest presentations, which cover topics like reducing combat care in nursing, and addressing violence and victim advocacy in healthcare, were front-and-center at recent annual American Organization for Nursing Leadership and Ohio Organization of Nurse Executives conferences, as well as the Institute for Healthcare Improvement's annual National Patient Safety Congress.
Honors & Awards
Honors & Awards
Nursing Excellence Leadership Award, Cleveland Clinic, 2016