Summary
Summary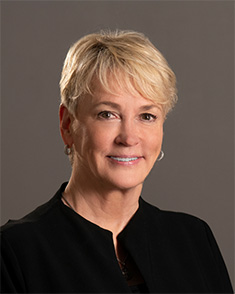 Joan M. Kavanagh, PhD, RN, NEA-BC, FAAN, is associate chief nursing officer for the Office of Nursing Education and Professional Development at Cleveland Clinic. With clinical, administrative and nursing leadership experience that spans nearly 40 years, Kavanagh's professional knowledge and expertise is vast, including consultation to hospitals in Abu Dhabi as well as a technical nursing school in Egypt. In her current position, she leads the integration, standardization and advancement of nursing education and professional development throughout the health system.
At the onset of her Cleveland Clinic career in 2005, she co-founded the Deans' Roundtable Faculty Initiative, a collaborative program that has significantly impacted the preparation of nursing students for the workforce. As part of this program, Kavanagh helped devise a faculty allocation tool, a robust electronic database designed to pair nurses with available part-time nursing faculty positions in Northeast Ohio. Kavanagh's dynamic success with this tool earned her Cleveland Clinic's Innovator Award in 2007, and significantly impacted the organization's 2008 re-designation of the American Nurses Credentialing Center's Magnet® recognition. Most recently, Kavanagh developed and launched Cleveland Clinic's first-ever New Graduate Registered Nurse (NGRN) residency program making Cleveland Clinic one of the only healthcare institutions in the United States with this unique offering.
Education
PhD, in nursing education (student), NOVA Southeastern University, Ft, Lauderdale, Florida, 2018
MSN, Case Western Reserve University, Frances Payne Bolton School of Nursing, Cleveland, Ohio, 1979
BSN, The Catholic University of America, Washington, D.C., 1977 (cum laude)
Certifications
Advanced Nursing Executive (NEA-BC), American Nurses Credentialing Center
Contact Information
Cleveland Clinic
9500 Euclid Avenue / HSB-111
Cleveland, Ohio 44195
216.986.4876
[email protected]
Leadership
Leadership
Having significantly grown the Office of Nursing Education and Professional Development, Kavanagh's enterprise-wide nursing education strategy integrates organizational learning and performance into clinical education, research and advanced practice. She is an instrumental leader in Cleveland Clinic's preparation for the future of nursing, actively impacting nurse retention, new graduate preparedness and the ability for nurses to practice at the top of their profession. Through her expertise, Cleveland Clinic received a U.S. Department of Labor grant to create an on-site registered nurse program for Cleveland Clinic employees at a local community college. Additionally, her career encompasses various director-level positions at several organizations, including service as the diabetes control and complications research coordinator at Cleveland's University Hospitals.
Clinical Practice & Teaching
Clinical Practice & Teaching
Clinical Practice
Kavanagh's clinical experience lies within the areas of emergency, critical care and medical-surgical nursing, and diabetes management.
Teaching
In addition to overall curriculum development, Kavanagh has instructed courses ranging from pharmacology and physical assessment to nursing care of patients with cardiovascular disorders. She has served as a clinical preceptor, clinical nurse specialist, National Institutes of Health trial coordinator and medical/surgical nursing instructor. Her experience includes:
Ursuline College, Breen School of Nursing, Cleveland, Ohio
Frances Payne Bolton School of Nursing, Case Western Reserve University, Cleveland, Ohio
University Hospitals and Case Western Reserve University, Cleveland, Ohio
Research & Publications
Research & Publications
Kavanagh has produced many presentations and publications throughout her career. Her publication contributions include innovative strategies for mitigating the nursing faculty shortage, education on the navigation of the electronic medical record for nursing students and new nurses, and cardiovascular assessment and physiology. Assessment, development and maintenance of clinical competency are among her areas of interest. Additionally, she serves as a member of the editorial staff for Cleveland Clinic's Notable Nursing publication and is executive editor of the Faculty Initiative Newsletter.
Professional Involvement
Professional Involvement
Member, Advisory Board, Chamberlain College of Nursing, Cleveland, Ohio
Member, Advisory Board, Sigma Theta Tau International and Chamberlain College of Nursing Center for Excellence in Nursing Education
Member, The National and Ohio Leagues for Nursing
Member, American Association of Nurse Executives
Member, American Federation of Television and Radio Announcers
Member, Advisory Board, Notre Dame College School of Nursing, S. Euclid, Ohio
Co-Chair, Deans' Roundtable Consortium, Cleveland Clinic
Cleveland Clinic Liaison, Cuyahoga Community College
Reviewer, National League for Nursing Accrediting Commission Nursing Program Accreditations
Representative, Northeast Ohio Nursing Initiative Online Clinical Placement Tool Pilot Project
Honors & Awards
Honors & Awards
Health Care Hero Leadership in Nursing Award, Crain's Cleveland Business, 2012
Magnet® Honors Award for Deans' Roundtable Faculty Initiative, American Nurses Credentialing Center, 2010
Innovator Award for Faculty Allocation Optimization Tool, Cleveland Clinic, 2007
Sigma Theta Tau International Honor Society of Nursing, Kappa Chapter, The Catholic University of America, 1977