Overview
Overview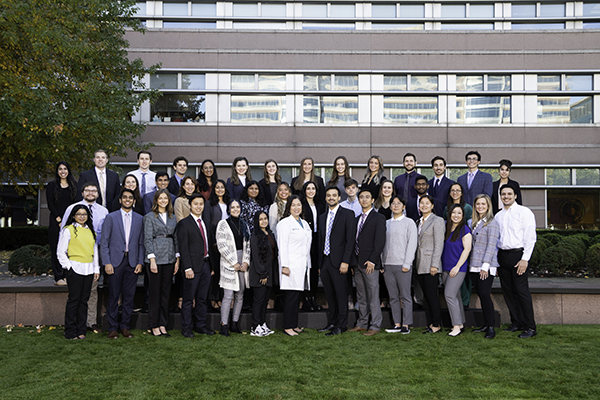 Do you need a delayed start date or would like to apply outside the application cycle? Reach out to MOSTFellowship@ccf.org for more information.
Applications for 2023-2024 MOST Fellowship Program open November 1st 2022
Cleveland Clinic and Stanford have signed a collaboration agreement. Cleveland Clinic's medical scribe fellowship was successfully launched for the 2019-2020 academic year. Our program is partnering with Dr. Steven Lin and Dr. Valerie Teng of Stanford University's medical scribe fellowship. We're excited to expand both programs with joint-initiatives and cross-institutional scholarship opportunities.
Are you a prospective healthcare student looking to observe and participate in direct patient care? The Cleveland Clinic Medical Observation and Scribe Training (MOST) Fellowship could be the unique opportunity you are looking for. MOST is a one-year post-baccalaureate program that offers students the opportunity to work alongside healthcare providers to enhance the delivery of team-based patient care and improve physician workflow. As a medical scribe fellow, you will be exposed to the real practice of medicine at the physician-patient level. Not only will you work directly with physicians to provide efficient patient care throughout the Cleveland Clinic health system, but you will also learn medical terminology and clinical documentation.
Additionally, fellows have the opportunity to participate in research in a mentored environment, learning side-by-side with some of the leading scientists in the nation. Fellows will also be able to participate in monthly interactive group learning workshops that will introduce you to a variety of Cleveland Clinic medical specialties, the healthcare team and overall hospital operations. Workshops engage fellows and immerse them in the multitude of specialties that exist in the healthcare field, while group learning offers exposure to members of the healthcare team, providing fellows the necessary tools to function in the team-based hospital system. Lastly, the Cleveland Clinic administrative team will orient fellows to the complexities of hospital operations and provide an inside look at the workings of one of the top hospitals in the world.
We are seeking candidates who have excellent educational merit, along with interpersonal and leadership skills. Our program is the best fit for those who are looking to have an intensive direct patient care experience before applying to medical, physician assistant or nursing school or other graduate programs in healthcare. Medical scribing is a great way to build clinical experience and engage in medicine.
The mission of the program is to provide quality medical scribe training as well as professional growth opportunities to our fellows. Our faculty physicians will provide fellows with indispensable career mentorship, as well as the opportunity to engage in research or other scholarly pursuits. In addition to scribing duties, fellows will have the opportunity to pursue part-time jobs within the health system. At the completion of the program, MOST fellows will be eligible for a one-year leadership role as Chief Scribe, overseeing teams of scribes. This selection is based on performance.
MOST Alumni: Medical School Acceptances
Medical School Acceptance Rate - Class of 2022: 88%
Here is a shortlist of some of the graduate schools our alumni have been accepted into:
Cleveland Clinic Lerner College of Medicine
University of Cincinnati College of Medicine
The University of Chicago Pritzker School of Medicine
Northeast Ohio Medical University College of Medicine (NEOMED)
Ohio University Heritage College of Osteopathic Medicine
Case Western Reserve University School of Medicine
The University of Toledo College of Medicine
Kentucky College of Osteopathic Medicine
Wright State University Boonshoft School of Medicine
Wake Forest School of Medicine
Tufts University School Of Medicine
The Ohio State University College of Medicine
UCF College of Medicine
Campbell University - School of Osteopathic Medicine
About the Program
About the Program
Program Benefits
An unparalleled, immersive clinical experience with outstanding faculty at Cleveland Clinic
Become a medical scribe and an expert in medical terminology and clinical documentation
Optional research experience
Opportunity to rotate in clinics of other fellows outpatient, inpatient, or in surgery
Interactive and hands-on workshops, exposing students to the different specialties of medicine, the healthcare team and hospital operations
Letters of recommendation from physician mentors
Excellent preparation for entering medical, physician assistant or nursing school, or other graduate schools in the healthcare field
Opportunity for a part-time job in addition to regular scribing duties
Sponsored social events
Eligible for a one-year leadership role as MOST Chief Scribe
Personalized experience designed to meet fellow's professional and educational goals
Exclusive access to State of the Art Simulation Lab and Resident/Fellow/Caregiver Training Workshops
Medical Interview Prep
Personalized Class Q/A with Medical School Admission team members
End of the year Standford University-Cleveland Clinic research symposium
MOST fellow peer mentor for application/interview prep
Group volunteering projects throughout the year
Medical School site visits
MCAT tutoring
Program Fee
Program fee is $6,500 for the academic year. The program does support students with scholarships on a case-by-case basis, please communicate your need to the program director upon application. Tuition must be paid in full within 30 days of acceptance into the fellowship. Tuition includes:
Training to become a medical scribe
All required materials, including books, stethoscopes and laptops
Support services such as tutoring, mentoring and coaching. Fellows will also be offered interview preparation for medical, physician assistant or nursing school, or other graduate schools in a healthcare field
Please note that housing, transportation, and health insurance are not included in tuition and are the responsibility of the student.
Fellow Responsibilities
Fellows are expected to:
Complete approximately 50 hours of training on the basics of medical transcription and terminology
Attend program onboarding and in-clinic training on the Cleveland Clinic main campus on June 1, 2023 (subject to change)
Complete 25 plus hours of in-clinic training with a MOST trainer and physician mentor(s)
Work a minimum of 24 hours a week. The shifts are on the weekdays and typically start at 7 a.m. and end 5 p.m. Please note that actual shift times may vary.
Commit to a one-year fellowship ending on July 15, 2024 (subject to change)
Physician Preceptors
Physician Preceptors
Current and Former Physician Preceptors
Dermatology & Plastic Surgery Institute
Endocrinology & Metabolism Institute
Head & Neck Institute
Cleveland Clinic Community Care
Neurological Institute
Ob/Gyn & Women's Health Institute
Orthopaedic & Rheumatologic Institute
Pediatrics Institute & Children's Hospital
Respiratory Institute
Sydell and Arnold Miller Family Heart & Vascular Institute
Taussig Cancer Institute
Digestive Disease & Surgery Institute
Admission Criteria
Admission Criteria
Requirements
Prospective fellows must possess:
Baccalaureate degree from an accredited U.S. or international college or university (degree must be conferred by the start of the program)
U.S. citizenship or permanent resident status
Minimum GPA of 3.0
All fellows are required to attend a minimum of six 4-hour clinic shifts or a total of 24 hours per week.
Who We're Seeking
We are seeking highly qualified fellows who will contribute to the Cleveland Clinic community. While educational merit is important, we also look at many other factors including:
Extracurricular activities, e.g., research experience, outreach activities
Employment history
Intellectual vitality, e.g., dedication to a life of service, demonstration of the ideals of the medical profession
Application Fee
All prospective fellows are required to pay a $95 (non-refundable) application fee.
Application Process
Application Process
Application
Interested in our program? Apply to the MOST Fellowship today!
Prospective fellows must fill out the MOST application and pay the $95 application fee to be considered for the program. The application deadline for the 2023 - 2024 year is April 30, 2023
PLEASE NOTE: We are currently accepting applications year-round pending available space. Please reach out to MOSTfellowship@ccf.org if interested in applying outside the application cycle. Your one-year commitment begins on your predetermined start date.
Documentation needed for the application includes:
CV/Resume
Two professional references (reference letters not required)
Unofficial transcripts from all undergraduate colleges/universities attended
Applicants who have limited financial resources and qualify for federal financial aid may be eligible for an application fee waiver. Please reach out to MOSTFellowship@CCF.org for more information.
Interview Process
Candidates being considered for the fellowship will be invited for an interview. For applicants residing outside of Cleveland, the interview may be arranged via video conference. Applicants not invited to interview should understand that the application process is extremely competitive, and we encourage you to reapply for the program next year.
Admission
Applicants will be notified if they are or not accepted to the fellowship in the Spring. Accepted fellows will need to be on site for in-clinic training on June 1 (subject to change).
Cleveland Clinic does not discriminate in admission, employment, or administration of its programs or activities, on the basis of age, gender, race, national origin, religion, creed, color, marital status, physical or mental disability, pregnancy, sexual orientation, gender identity or expression, genetic information, ethnicity, ancestry, veteran status, or any other characteristic protected by federal, state or local law. In addition, Cleveland Clinic administers all programs and services without regard to disability, and provides reasonable accommodations for otherwise qualified disabled individuals.
Frequently Asked Questions
Frequently Asked Questions
Q: Is this a residential program?
A: No, the MOST Fellowship is not a residential program. Students are responsible for making their own housing arrangements. For information on housing options, please visit the Cleveland Clinic student housing website.
Q: Can international students or international medical graduates apply for the fellowship?
A: Yes, international students or medical graduates may apply as long as they have U.S. citizenship or permanent resident status.
Q: Can DACA students apply for the fellowship?
A: Yes, DACA students are eligible to apply for the fellowship. Please reach out to MOSTfellowship@ccf.org for more information.
Q: What immunizations are required for accepted fellows?
A: Fellows should have the following immunizations:
Varicella
Hepatitis B
Measles
Mumps
Rubella
Flu Vaccine
Tuberculosis screening (must be done within one year)
Q: Do fellows receive grades or credit?
A: Fellows do not receive grades or credits.
Q: Do fellows receive a certificate at the end?
A: Yes, every fellow is awarded a certificate at the end of the program, signifying completion of the fellowship.
Q: Is a laptop computer required?
A: The MOST Fellowship will provide laptops for clinic use only. A personal laptop computer is not required for the fellowship; however, it may be beneficial for note taking and research work.
Contact Us