Overview
Overview
Allergy and Clinical Immunology training at the Cleveland Clinic focuses on developing the skills to be successful in clinical practice and/or with a career at an academic center. The fellowship includes exposure to a wide range of pediatric and adult patients with common and uncommon conditions. Fellows work closely with faculty who are dedicated to fulfilling the educational mission of the Cleveland Clinic, through both core Immunology and Allergy clinical experiences and in elective rotations in Pulmonary Medicine, Dermatology, Otolaryngology and Speech Pathology, Rheumatology, Infectious Diseases, and other areas. Our program offers patient care activities in a multi-specialty group practice environment, with a busy outpatient Allergy and Clinical Immunology practice at the Cleveland Clinic main campus, at community-oriented Cleveland Clinic regional sites (Family Health Centers), as well as an active pediatric and adult inpatient consultation service.
During the fellowship, time is dedicated for research and scholarly activities, during which clinical or basic science projects may be pursued. While carrying out research projects, the fellow is encouraged to develop the skills on how to approach a problem from an investigative standpoint, design a study, obtain IRB approval for a research proposal, analyze data, and prepare results for presentation and publication. Fellows may also elect to participate in ongoing research activities with faculty within the Department and with appropriate mentors throughout the Institution. Fellows are expected to participate in at least one research project, and as a prerequisite to program completion should generate an original research abstract to be presented at a national Allergy and Clinical Immunology meeting.
Didactic sessions, clinical and basic science seminars, case presentations, visiting speakers, and journal club sessions are held regularly and form the core of the educational curriculum. Fellows are encouraged to develop and improve presentation skills and teaching opportunities are available to those trainees interested in a clinician-educator career.
The program recruits two fellows per year, with the goal to recruit one fellow who is Board certified/eligible in Internal Medicine and one fellow who is Board certified/eligible in Pediatrics. The program is structured to include 50% time allocated for Adult Allergy and Immunology training and 50% Pediatric Allergy and Immunology training.
Fred Hsieh, MD, FACAAI, FAAAAI
Training Program Director, Allergy and Clinical Immunology
Cleveland Clinic
Mission Statement
The mission of the Cleveland Clinic Allergy and Clinical Immunology Fellowship Program is to successfully recruit and train individuals who will contribute to the field of Allergy & Clinical Immunology during their careers. Contributions to the field may be in clinical practice, research, education, community service, or other areas.
Our program provides fellows with clinical and research experiences which will encourage success in either academic or non-academic career paths. The program includes extensive clinical experiences in a multi-disciplinary environment. The wide range of clinical exposures fosters the skills necessary to provide high quality care to patients of all ages, from different socio-cultural backgrounds, and with complicated or unusual conditions. The program also includes a dedicated research rotation in the 2nd year of fellowship training, during which, under the supervision of a mentor, the fellow assumes the roles and responsibilities of an Allergy and Clinical Immunology researcher. During their training, fellows are under the direct supervision of board-certified Allergy and Clinical Immunology staff physicians at all times. Fellows take on increasing levels of responsibility throughout their training, commensurate with their level of demonstrated competency and professional responsibility.
All training and evaluation is competency-based, with improvements in the program linked directly to formal assessment tools.
Diversity & Inclusion
Discover the role diversity and inclusion plays at Cleveland Clinic and at its Graduate Medical Education program, as well as our diversity and inclusion efforts.
Learn more
Clinical Curriculum
Clinical Curriculum
Please note: The current training templates may be subject to change due to pandemic conditions or other institutional, departmental, or trainee-specific factors.
Overview
1st Year Training
The first 9 months of training focus entirely on inpatient and outpatient Allergy and Immunology clinical training, evenly split by time between the adult and pediatric services. Inpatient consults are shared equally between the two first year fellows. 8 weeks of electives during this time period include the following rotations:
Pulmonary medicine (including PFT laboratory)
Dermatology (including patch testing clinics)
Otolaryngology (including speech pathology)
Rheumatology
Infectious Disease
Laboratory medicine
During elective rotations the 2nd year Allergy fellows are responsible for inpatient consults and on-call duties instead of the 1st year fellows.
During the last 3 months of the 1st year the 1st year schedule changes to encompass 60% clinical and 40% non-clinical time for academic and scholarly activities; the 1st year fellows still perform inpatient consults.
During the 1st year each fellow will have a ½ day Adult and a ½ day Pediatric continuity clinic, with continuity clinics extending into the 2nd year.
2nd Year Training
The 2nd year schedule begins with nine months of 80% time for academic and scholarly activities and 20% time for clinical activities – specifically ½ day Adult and ½ day Pediatric continuity clinics. While the 1st year fellows are participating in elective rotations the 2nd year fellows will be on-call and are responsible for clinical coverage and inpatient consultations. During the last 3 months of the 2nd training year, the 2nd year fellows' weekly schedule will expand from 20% to 60% dedicated clinical time, 40% research time – during this period the 2nd year fellows are encouraged to individualize their training and develop an individual learning clinical program that matches their specific career goals and clinical interests, which may include but are not limited to:
Increased pediatric allergy exposure for fellows who plan a pediatric allergy focused career
Additional training with faculty interested in primary immunodeficiency
Increased exposure to food allergy patients and protocols in the Food Allergy Center
Additional exposure to community-based practice faculty for those interested in community medicine
Other career tracks are possible depending upon an individual's career goals
Additional Training Years
Interested individuals may elect to extend their training for another year to accomplish specific career goals and objectives with an investigative focus. Provisions for a 3rd year of training are made on a specific case-by case basis.
Ambulatory Clinics
Outpatient Clinics
The outpatient clinical experience focuses on teaching evidence-based approaches to the diagnosis and management of all clinical conditions in the field of Allergy and Immunology. While on the Outpatient or Clinic rotation, time is scheduled evenly between faculty in the Respiratory Institute – seeing primarily adult-age patients, and faculty in the Pediatrics Institute – seeing primarily pediatric patients. 80% of this time is spent at the Cleveland Clinic Main Campus. One full day per week is spent at a regional medical practice (Cleveland Clinic Family Health Center); fellows spend a three month block working with one faculty member at a regional site before rotating to a different regional site. At the regional sites a mix of internal medicine and pediatric patients are seen.
Longitudinal Clinic
During the 2-year fellowship term each fellow will have both a ½ day per week pediatric continuity clinic and a ½ day per week adult patient continuity clinic. The fellows' continuity clinic is located at the Cleveland Clinic main campus and each clinic has a consistent preceptor throughout each year of training. Continuity clinics are interrupted only for approved absences, meeting attendance, or vacation. The fellows oversee and perform food and drug challenges on their own patients seen in their continuity clinics. Dedicated faculty supervise the continuity clinics and fellows practice with increased responsibility and autonomy as training milestones are achieved.
Inpatient Consultation Services
The inpatient clinical experience consists exclusively of consultation services, though selected patients may be admitted to short stay or monitored units for desensitization procedures. The majority of consultation requests stem from hospitalized adult patients (Cleveland Clinic main campus: 1,398 total beds; Cleveland Clinic Children's Hospital at main campus: 126 beds), and of these consults the majority are for evaluation of drug hypersensitivity. Inpatient consultations are performed in conjunction with Respiratory Institute Allergy faculty for medicine patients and with Pediatric Institute Allergy faculty for pediatric patients.
Conferences
Conferences
Formal didactic training consists of twice weekly conferences that occur regularly throughout the year; core-curriculum topics are emphasized during the first part of the year. CME credit is available for conferences designated as Allergy and Immunology Grand Rounds. Intermixed with formal didactic presentations on clinical, translational, and basic science topics are case conferences, journal clubs, and presentations from visiting speakers. Active fellow participation in the educational curriculum is expected.
Additional educational curriculum includes:
Quarterly academic half-day sessions where the entire faculty assemble for academic presentations which include presentations from visiting speakers, Meet-the-professor rounds, department-wide journal clubs, case-based presentations with review-of-the-literature discussion, and morbidity-and-mortality presentations.
Evidence-based medicine and Classic articles in Allergy and Immunology sessions
Basic Immunology seminar series – a joint effort in collaboration with Rheumatology and Infectious Diseases, occurring monthly through the academic year.
Regular basic and clinical immunology tutorial and review sessions
Joint participation in Pulmonary and Critical Care Medicine Education days with Allergy and Immunology content (e.g. asthma)
Within the educational curriculum the fellows accomplish the educational objectives within the competencies of Patient Care, Medical Knowledge, Systems Based Practice, Practice-Based Learning, Professionalism, and Communication Skills.
National Meetings
During the first year of training, each 1st year fellow may attend one national allergy meeting - either the American College of Allergy, Asthma, and Immunology meeting or the American Academy of Allergy, Asthma and Immunology meeting. During the 2nd year of training the fellow may attend both national allergy meetings. In order to attend any meeting during the first or second years, each fellow must be an active participant and have an abstract accepted for poster or oral presentation.
Research
Research
Overview
In addition to clinical training and formal didactic training, the Allergy and Clinical Immunology fellowship encourages fellows to contribute to the scientific and evidence-based body of knowledge informing the specialty by pursuing academic and scholarly research activities. All fellows are expected to engage in one or more research projects with a faculty mentor and to develop skills and experience in medical research, which includes:
Formulating a research hypothesis
Reviewing the literature to identify existing knowledge and knowledge gaps to refine the hypothesis
Submitting and obtaining IRB research approval
Enrolling and recruiting, or performing laboratory experiments and collecting data as appropriate to test the hypothesis
Analyzing and interpreting the data; the Institute has access to embedded biostatisticians who can assist with statistical analysis
Presenting the results of the research at one of the annual professional society meetings and preparing the results as a manuscript for submission to a peer-reviewed journal within the specialty.
Fellows may also work with faculty members who have existing IRB-approved research projects and may develop an individual research hypothesis based on existing data or clinical samples within the aims and scope of the ongoing work.
Fellows are supported with dedicated academic time during the last 3 months of the 1st training year to develop projects that spark their individual interests and identify research mentors amongst all teaching faculty in the training program. Specific projects and mentors are not assigned, and the program leadership assists the fellows in identifying specific mentors, research sponsors, and projects that meet each fellow's individual career goals. Projects can be laboratory-based basic science projects, translational projects involving assays on clinical samples, prospective clinical trials, or chart-based clinical research. Most fellows pursue more than one project simultaneously, and often with different mentors. Research can also be pursued with Cleveland Clinic faculty sponsors who may not have their primary appointments within pediatric or adult Allergy and Clinical Immunology as long as the project has a topic and focus relevant to the specialty, and is conducted with the approval of the leadership.
Quality Improvement and Quality Assurance (QI/QA) Project
Fellows all complete at least one QI/QA Project during their 2-year fellowship. The Allergy Department has a dedicated QA Officer who assists the fellow, in collaboration with the Program Director, in developing a clinically relevant QI/QA project that can be completed within the training term and can deliver significant measurable outcomes.
Recent publications
Selected peer-reviewed publications by Cleveland Clinic Allergy and Immunology fellows, last five years (fellow highlighted):
Lennox MG, Li M, Wang X, Pien LC, Lang DM; Patterns of North American Women Authorship in 2 Allergy/Immunology Journals: 1887-2017. J Allergy Clin Immunol Pract 2019;7(7):2156-2160.
Knox S, Lang D, Hoyt A. The many flavors of pineapple reactions. Ann Allergy Asthma Immunol 2019;123(5) 519-521.
McNamara KB, Pien LC. Exercise-induced anaphylaxis associated with the use of bee pollen. Ann Allergy Asthma Immunol 2019: 117−123.
Bjelac JA, Yonkof JR, Fernandez J. Differing Performance of the Warning Signs for Immunodeficiency in the Diagnosis of Pediatric Versus Adult Patients in a Two-Center Tertiary Referral Population. J Clin Immunol 2019;39(1):90-98.
Bjelac JA, Blanch MB, Fernandez J. Allergic disease in patients with common variable immunodeficiency at a tertiary care referral center. Ann AllergyAsthma Immunol 2018;120(1):90-92.
Smith MA, Schroer B. Could We Discontinue All Asthma Medications in a Third of Adult Asthmatics? J Allergy Clin Immunol Pract 2017;5: 1471-1472.
Gonzalez-Estrada A, Silvers SK, Klein A, Zell K, Wang XF, Lang DM. Epidemiology of anaphylaxis at a tertiary care center: A report of 730 cases. Ann Allergy Asthma Immunol 2017;118(1):80-85.
Hatipoglu U, Subramanian A, Campbell T, Rice R, Mummadi S, Hu B, Lang DM. Intrasubject Variability in Total IgE Levels in Patients with Moderate to Severe Persistent Allergic Asthma Over 1 Year. J Allergy Clin Immunol Pract 2016;4(4):691-6.
Smith M, Gonzalez-Estrada A, Fernandez J, Subramanian A. Desensitization to Mycofenolate Mofetil: a novel 12 step protocol. Eur Ann Allergy Clin Immunol. 2016 Jul;48(4):147-8.
Glancy E, Siles R. Monoclonal B-cell lymphocytosis and hypogammaglobulinaemia. Br J Haematol 2016;173(2):316-7.
Cuervo-Pardo L, Gonzalez-Estrada A, Lang DM. Diagnostic utility of challenge procedures for physical urticaria/angioedema syndromes: a systematic review. Curr Opinion Allergy Clin Immunol 2016;16(5):511-5.
Gonzalez-Estrada A, Cuervo-Pardo L, Ghosh B, Smith M, Pazheri F, Zell K, Wang XF, Lang DM. Popular on YouTube: a critical appraisal of the educational quality of information regarding asthma. Allergy Asthma Proc. 2015 Nov-Dec;36(6):121-6.
Cuervo-Pardo L, Barcena-Blanch MA, Gonzalez-Estrada A, Schroer B. Apps for food allergy: A critical assessment. J Allergy Clin Immunol Pract 2015; 3(6):980-1.
Gonzalez-Estrada A, Pien LC, Zell K, Wang XF, Lang DM. Antibiotics are an important identifiable cause of perioperative anaphylaxis in the United States. J Allergy Clin Immunol Pract 2015;3(1):101-5.
Greiwe JC, Pazheri F, Schroer B. Nannies' knowledge, attitude, and management of food allergies of children: an online survey. J Allergy Clin Immunol Pract 2015;3(1):63-7.
Fellows
Fellows
Current fellows
Training Year 1
Sarah Johnson, MD
Rainbow Babies and Children's Hospital
Ayman Aouthmany, MD
Ascension Providence/Michigan State University
College of Human Medicine
Training Year 2
Jennifer Ohtola, MD, PhD
Cleveland Clinic
Sara Ghannam, MD
Cleveland Clinic
Former Fellows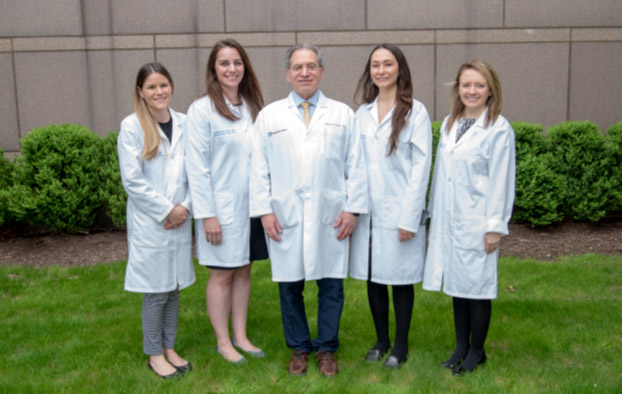 Left to Right: Dr. Maria Lennox (class of 2019); Dr. Samantha Knox (class of 2019); Dr. David Lang (Chairman, Department of Allergy and Clinical Immunology, Respiratory Institute, Cleveland Clinic; former Training Program Director, Allergy and Clinical Immunology, Cleveland Clinic 2002-2019; past-President, American Academy of Allergy, Asthma, and Immunology, 2019-2020); Dr. Christine Royer (class of 2020); Dr. Margaret Kuder (class of 2020)
| | | | |
| --- | --- | --- | --- |
| Prior Residency Training | Graduation Date | Category | Place of Employment |
| Internal Medicine | 2020 | Academic | Cleveland Clinic, Ohio |
| Internal Medicine | 2020 | Practice-oriented | Family Care Allergy & Asthma, California |
| Pediatrics | 2019 | Practice-oriented | Gunderson Health System, Wisconsin |
| Internal Medicine | 2019 | Practice-oriented | Buffalo Medical Group, New York |
| Pediatrics | 2018 | Academic | Cleveland Clinic, Ohio |
| Internal Medicine | 2018 | Academic | Cleveland Clinic, Ohio |
| Pediatrics | 2017 | Academic | Cleveland Clinic, Ohio |
| Pediatrics | 2017 | Academic | MetroHealth Medical Center, Ohio |
| Pediatrics | 2016 | Practice-oriented | Allergy & Asthma Centers, Virginia |
| Internal Medicine | 2016 | Practice-oriented | Allergy & Asthma Associates, Florida |
| Internal Medicine | 2015 | Practice-oriented | Allergy & Asthma Center, Washington DC |
| Internal Medicine | 2015 | Academic | Mayo Clinic, Florida |
| Internal Medicine | 2014 | Practice-oriented | Allergy Partners, Virginia |
| Pediatrics | 2014 | Practice-oriented | Bernstein Allergy Group, Ohio |
| Pediatrics | 2013 | Practice-oriented | Coastal Allergy & Asthma, Georgia |
| Med-Peds | 2013 | Academic | Cleveland Clinic, Ohio |
Faculty
Faculty
Respiratory Institute | Allergy and Clinical Immunology
Pediatric Institute | Allergy and Clinical Immunology
Facts and Figures
Facts and Figures
Faculty
The faculty of the Allergy and Immunology program has increased steadily over the past decade, and currently there are 16 Internal medicine and Med-Peds trained faculty appointed from the Respiratory Institute and 4 Pediatric faculty from the Pediatrics Institute. Patients are seen at the Main campus, regional hospitals, and freestanding outpatient medical facilities.
Fellowship Training
American Board of Allergy and Immunology – board certification exam: 1st time pass rate over the past 16 years: 97%
Fellow scholarly activity, last five years, mean number of publications: 2.1 (range: 0-9)
Fellow scholarly activity, last five years, mean number of 1st author publications: 1.1 (range: 0-2)
Fellow employment – 1st job out of fellowship training, last 16 years:

Academic appointment: 54% (including all graduating fellows accepting a Cleveland Clinic faculty (staff physician) position)
Private practice: 46%
Applying to Our Program
Applying to Our Program
At Cleveland Clinic, we accept two applicants each year for subspecialty training in Allergy and Clinical Immunology. At the end of the 2-year training term, at a minimum, graduates should be competent to practice independently in the specialty of Allergy and Clinical Immunology without supervision.
To apply for our program, please complete the application online via ERAS. In the NRMP Match program we have one position available on the Pediatric list and one position available on the Internal Medicine list. Ideally, candidates board-eligible in Pediatrics, if interested, would rank the Cleveland Clinic program on the Pediatric list; candidates board-eligible in Internal Medicine, if interested, would rank the Cleveland Clinic on the Internal Medicine list. Candidates with a Med/Peds background could rank the Cleveland Clinic program on either, or both, lists.
Some of the factors important in the decision making process include character, prior training, board scores, letters of recommendation, academic experience, non-academic experience and sense of humor.
In the past, the faculty have completed surveys to identify characteristics of a 'successful' fellowship graduate from this program. Such characteristics include:
Patient-centered career goals with a clinically oriented 'mission'
Initiative and ability to pursue self-directed career goals and objectives
Willingness to work in a more collaborative vs. competitive workplace environment
Preference for flexibility with some degree of control and supervised autonomy within the training experience.
Capacity to integrate work/life activities
Apply
To apply for our Allergy and Immunology Fellowship, please complete an application online through ERAS.
For the 2021 interview season, all invited residents will be offered a virtual interview with the faculty, regardless of the geographic location of their current training program. Interviews will occur in September and October of 2021.
The day prior to the interview, interested candidates will be offered a virtual informal meeting with the current Allergy and Immunology fellows to address fellowship training or other queries in an open format.
Fellowship interviews will take place over a ½ day session with individual applicants having 4-6 rotating small group interviews with all Core and Teaching faculty in a virtual format.
The program will send the specific details on interview specifics and technology platforms prior to the interview date.
Contact the Allergy and Immunology Fellowship
Eman Danial
Allergy/Immunology Fellowship Training Program Coordinator
daniale@ccf.org
216.444.9003
Fred Hsieh, MD
Allergy/Immunology Training Program Director
hsiehf@ccf.org
216.444.6933