Overview
Overview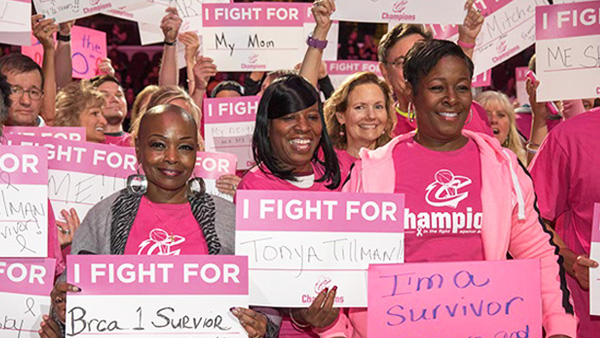 Why Choose Cleveland Clinic for Breast Cancer Care?
Our Comprehensive Breast Cancer Program is one of the largest and most specialized in the nation. As part of the Case Comprehensive Cancer, we are one of only 41 comprehensive cancer centers in the nation designated by the National Cancer Institute. Cleveland Clinic has also achieved a Three Year Full Accreditation from the American College of Surgeons' National Accreditation Program for Breast Centers (NAPBC). Cleveland Clinic is ranked as one of the nation's top hospitals by U.S. News & World Report.
Our multidisciplinary physician team of breast surgeons, medical oncologists, radiation oncologists, radiologists, and plastic surgeons work together to provide customized, coordinated care for patients. We offer the highest-quality screening, diagnosis and treatment of breast cancer.
We are a national leader in intraoperative radiation therapy, novel targeted therapies and adjuvant therapies for breast cancer, and also in fertility preservation for cancer patients. We also participate in important clinical trials of brand new therapies and our patients have access to these trials for every stage of breast cancer. Our cancer specialists are pursuing many promising avenues of research — including the development of a breast cancer vaccine — to bring hope to future patients as well.
What We Treat
What We Treat
About Breast Cancer
Breast Cancer Q&A
Breast Cancer Resources
Detection
Services
Treatments Options
Doctors
Appointments
Appointments
At Cleveland Clinic our team is committed to providing you with the highest quality, comprehensive, efficient and compassionate care. We offer several community locations for routine screening mammography and consultations for the diagnosis and management of breast disease.
Schedule an Appointment or Second Opinion
To schedule your mammogram, make an appointment with one of our breast cancer specialists, or request a second opinion, please call 216.445.7946.
We also offer Walk-in Screening Mammography without an appointment.
Locations
Locations
Breast Center Locations
Whether you've just been diagnosed, need a second opinion, or are seeking cancer treatment, Cleveland Clinic Breast Centers provide you comprehensive care for breast disease and cancer treatment.
Mammography
Cleveland Clinic makes it easy to get your mammogram. Some locations even take walk-ins, without an appointment.
Support & Services
Support & Services
Patient Services
Cleveland Clinic's Comprehensive Breast Cancer Program offers the highest quality care for the screening, diagnosis and treatment of all medical and cosmetic breast problems.
We offer a full range of services to address all of your needs, including:
Specialty Clinics
Cleveland Clinic breast cancer patients have access to a wide range of experts who specialize in breast imaging, medical breast care, breast surgery, plastic and reconstructive surgery and genetics. Our specialists also offer unique specialty clinics for:
Young women with breast cancer
Women with high-risk, hereditary breast cancers
Women with triple-negative breast cancer
Women with central nervous system metastases
---
Patient Support
In addition to offering state of the art diagnostic techniques and breast cancer treatment methods, our breast cancer specialists also offer an array of resources that can help patients cope with the demands of breast cancer. Patients are encouraged to take advantage of these resources to ease the burden of managing breast cancer and breast cancer treatment.
Patient Resources
Cleveland Clinic's Comprehensive Breast Cancer Program offers resources to help patients and their families through the cancer journey. By working with these organizations, we can help extend our patients resources:
Breast Cancer Fund of Ohio (BCFO) is here to support patients that are experiencing financial hardship while receiving breast cancer care.
Patient Navigator
Cleveland Clinic's Comprehensive Breast Cancer program offers a free resource called a patient navigator. Your patient navigator assists you throughout the entire breast cancer journey – helping you through the diagnosis, treatment, follow-up care and any obstacles that might arise.
Your patient navigator can help:
Connect you with the services needed within the Cleveland Clinic health system, community agencies and elsewhere if necessary.
Schedule and coordinate your appointments.
Assist with counseling needs and provide emotional support.
Provide you with resources to assist with financial hardship or other needs.
Clinical Trials & Research
Clinical Trials & Research
We can help you access hundreds of clinical trials across all specialty areas. Our new searchable online trials tool makes identifying treatment opportunities easier than ever.
Clinical Trials
Clinical trials can not only expand your treatment options but give hope to others.
Cleveland Clinic offers a wide range of clinical trials that have the potential to advance the cause of preventing, diagnosing and treating cancer. Some of the most important breast cancer trials focus on:
Triple-negative breast cancer
Central nervous system (CNS) metastases
HER-2 targeted therapies
Immunotherapy
Liquid biopsy
Hair loss prevention
Cleveland Clinic Cancer Center Clinical Trials
Clinical trials (or research studies) help us create the medicine of tomorrow. They provide hope through offering testing of new drugs, new surgical techniques or other treatments before they are widely available.
Questions you should ask the doctor or study nurse about cancer clinical trials:
What is the purpose of the study?
What has previous research of this treatment shown?
What is likely to happen in my case with, or without the treatment?
Are there standard treatments for my type of cancer?
How does this study compare with standard treatment options?
What phase is this cancer clinical trial?
What are the possible short and long-term risks, side effects and benefits of the treatment?
What kinds of treatments, medical tests, or procedures will I have during the study? And how do they compare with what I would receive outside of the study?
How long will the study last? Will there be a follow-up after the study?
Where will my treatment take place? Will I have to be in the hospital?
How will I know the treatment is working?
How could the study affect my daily life?
Will my records be kept confidential?
Will my insurance pay for the treatments?
If I decide to withdraw from the study, will my care be affected? Will I need to change doctors?
---
Research
Cleveland Clinic breast specialists have made enormous progress in the prevention, diagnosis and treatment of breast cancer. More women than ever before are winning the fight because of improvements in prevention and detection and the advances in treatment options and services available.
One of the most important advances is the ability to tailor treatment based on the risks and benefits for a specific patient, which could lead to better outcomes and fewer side effects.
Cancer clinical trials offer patients important treatment options and access to the latest treatments and procedures resulting from cancer research. Participation in clinical trials also helps scientists and researchers advance the cause of preventing, diagnosing and treating cancer.
Breast Cancer Vaccine
Cleveland Clinic is taking the lead in developing a breast cancer vaccine.
Thanks to the dedication and innovation of Dr. Vincent Touhy, the idea that a vaccine can prevent breast cancer may one day become a reality.
Learn more about the research that's being done.
Webchat Transcripts
Medical Professionals
Medical Professionals
Cleveland Clinic Cancer Center is committed to working with you to provide the best care for your patients. Our team is also dedicated to the training and education of medical professionals to advance cancer care and research.
View our For Medical Professionals resources
Make An Online Referral
To make a direct online referral to our Cleveland Clinic Cancer Center, complete our Online Cancer Patient Referral Form or visit clevelandclinic.org/cancerpatientreferrals.
You will receive confirmation once the appointment is scheduled.
Cancer Advances Podcast
A Cleveland Clinic podcast for medical professionals exploring the latest innovative research and clinical advances in the field of oncology. Listen to Cancer Advances.
Consult QD | Cancer
Our cancer care blog for physicians and healthcare professionals. Discover emerging advances, innovations and research insights from Cleveland Clinic Cancer Care specialists. Explore Consult QD.
Resources
Resources
Treatment Guides
Patient Stories
Hear the inspiring stories of real Cleveland Clinic patients fighting breast cancer.
Health Essentials
Find helpful posts from Cleveland Clinic's Health Essentials site. Discover the latest breast cancer health and wellness tips.
Virtual Patient Event: Breast Cancer 101
During our virtual patient event, Breast Cancer 101, experts in Cleveland Clinic's Breast Cancer Program walk through the experience of a newly diagnosed breast cancer patient. They explain diagnostic testing, medical terminology and factors they consider when making treatment recommendations for patients.
Virtual Patient Event: Breast Cancer and Your Genes
During our virtual patient event, Breast Cancer and Your Genes, members of the Cleveland Clinic Breast Cancer Program discuss genetic testing, how to cope with genetic results and treatment options for patients with genetic related breast cancer and those at high-risk for the development of breast cancer.
Podcasts
Listen to episodes from Cleveland Clinic's Butts & Guts podcast about breast cancer topics:
Listen to episodes from Cleveland Clinic's Health Essentials podcast about breast cancer topics:
Listen to episodes from Cleveland Clinic's The Comeback podcast to hear patients share their experiences of perseverance and determination in their fight against breast cancer.
Listen to the following episodes to help with relaxation, healing and pain management.
Hereditary High Risk Clinic
Hereditary High Risk Clinic
Cleveland Clinic offers a unique, hereditary high risk clinic to help manage the risk for individuals with identified mutations and untested family members, or a strong family history of breast cancer.
Characteristics that may suggest a hereditary predisposition include:
diagnosis of breast cancer before age 50
triple negative breast cancer
two breast cancer primaries
several family members on the same side with breast and/or ovarian cancer or pancreatic cancer
male breast cancer
and/or a known familial gene mutation.
Early identification of patients at increased risk due allows for a proactive approach to care, including genetic counseling, education about lifestyle changes, enhanced surveillance, chemoprevention, and risk-reduction surgery.
Young Women's Services
Young Women's Services
Overview
A breast cancer diagnosis can be a very scary thing at any age. But for young women under the age of 50, there may be additional concerns such as genetic risk factors and long-term effects of treatment that may impact fertility, quality of life or overall health. Many women are not sure where to turn or what their first step should be.
At Cleveland Clinic, we are here to help you throughout your journey and provide the highest quality and compassionate care personalized for you. Our multidisciplinary team consists of surgeons, medical oncologists, radiation oncologists, radiologists, plastic surgeons, psychosocial specialists, rehabilitation specialists, geneticists and fertility specialists. We will work with you to determine the best course of treatment for your breast cancer diagnosis and address any concerns that treatment may have on your overall health.
Appointments
To make an appointment with one of the specialists in the Young Women's Breast Cancer Program, please call 216.444.3024.
---
Treatments & Services
Medical Oncology
For most young women with breast cancer chemotherapy, hormonal treatments, or both are recommended as part of the treatment plan. Chemotherapy and hormonal treatments are individualized according to patient and disease-related factors. Genetic factors, desire for future childbearing and specific concerns about late effects of treatments are also taken into account during treatment planning. A variety of survivor-ship services are available to guide transition to routine medical follow-up following initial cancer treatment.
Fertility Counseling and Fertility Preservation
Patients still in their reproductive years have unique concerns and needs while planning cancer treatments. Although cancer therapies have become very effective, they can also compromise future fertility. Fertility specialists are available to discuss your risks as well as fertility-preserving options as you plan for cancer treatments.
Genetic Counseling
When a young woman is diagnosed with breast cancer, she often meets with a genetic counselor to see if there is a hereditary predisposition to breast cancer. If one is found, her family members can also choose to undergo genetic testing to see if they are also predisposed. We also offer a sub-specialty Hereditary High Risk Clinic so that women can be further educated and informed, and discuss their specific risks and options.
Social Work Consultation for the Young Women's Breast Clinic
Dealing with a breast cancer diagnosis profoundly impacts young women and their families on multiple levels. Our social workers can help you and your family deal with the impact breast cancer has on your lives.
---
Our Doctors
Fertility
Genetic Counselors
Medical Oncology
Plastic Surgery
Radiation Oncology
Surgical Oncology