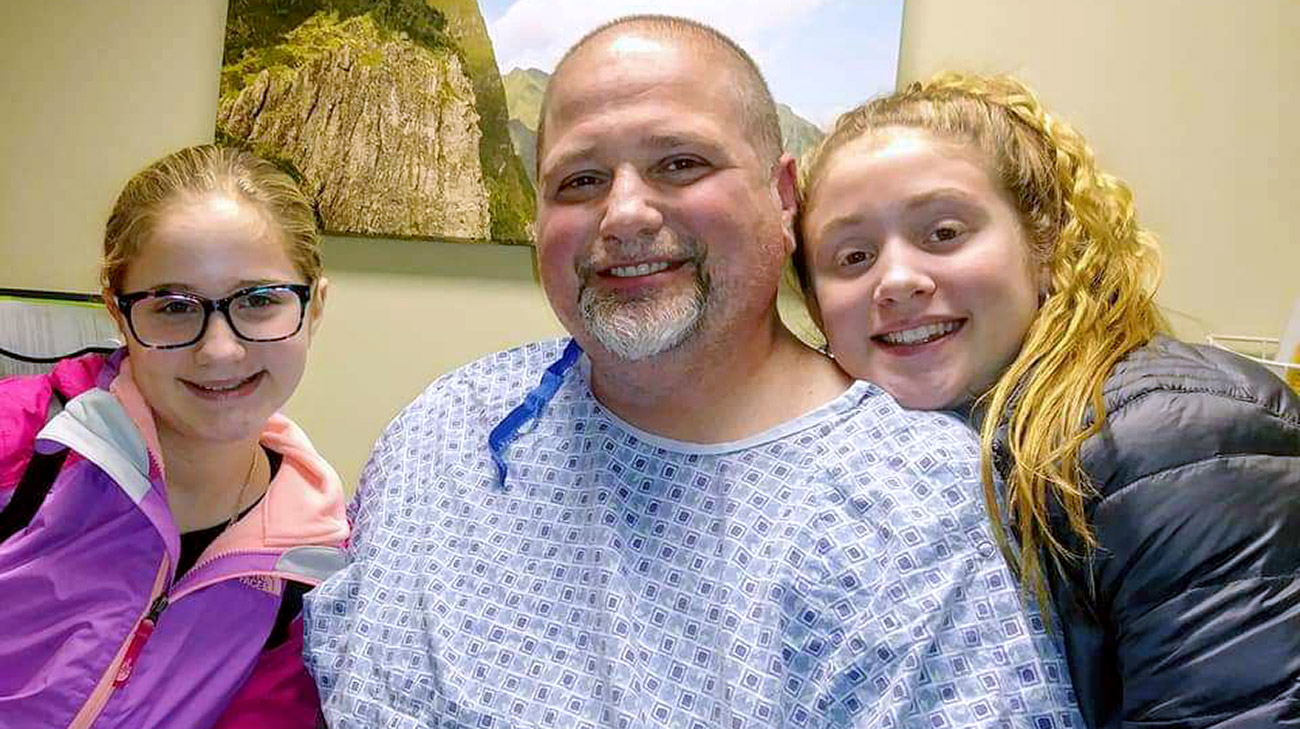 When Dan DiNardo, 49, was diagnosed with advanced breast cancer in 2015, he and his young family were stunned.
"I didn't even know men could get breast cancer," says Dan, a husband, father of four and engineer from Youngstown, Ohio. "There was no history of breast cancer in my family and no risk factors."
It is an unusual occurrence. Men make up just one percent of the breast cancer population.
"Because breast cancer is so rare in males, men often ignore the signs," according to Halle Moore, MD, medical oncologist and hematologist at Cleveland Clinic Cancer Center. "A lot of men will think it's just a cyst and not something that requires immediate attention."
When Dan initially noted a lump in his breast, he received a mammogram at a local cancer center and was instructed to return if the lump changed. For nearly a year, Dan self-monitored the lump as it continued to grow larger, not realizing that growth was considered a change. He then experienced bleeding and skin changes in the breast. That's when Dan decided to seek further medical attention.
Following a scan and biopsy, Dan received a breast cancer diagnosis and treatment plan. Following four months of aggressive chemotherapy, a full mastectomy of his left breast, 35 radiation treatments, hormonal treatment with tamoxifen and the support of his family, Dan remained cancer-free for more than two years.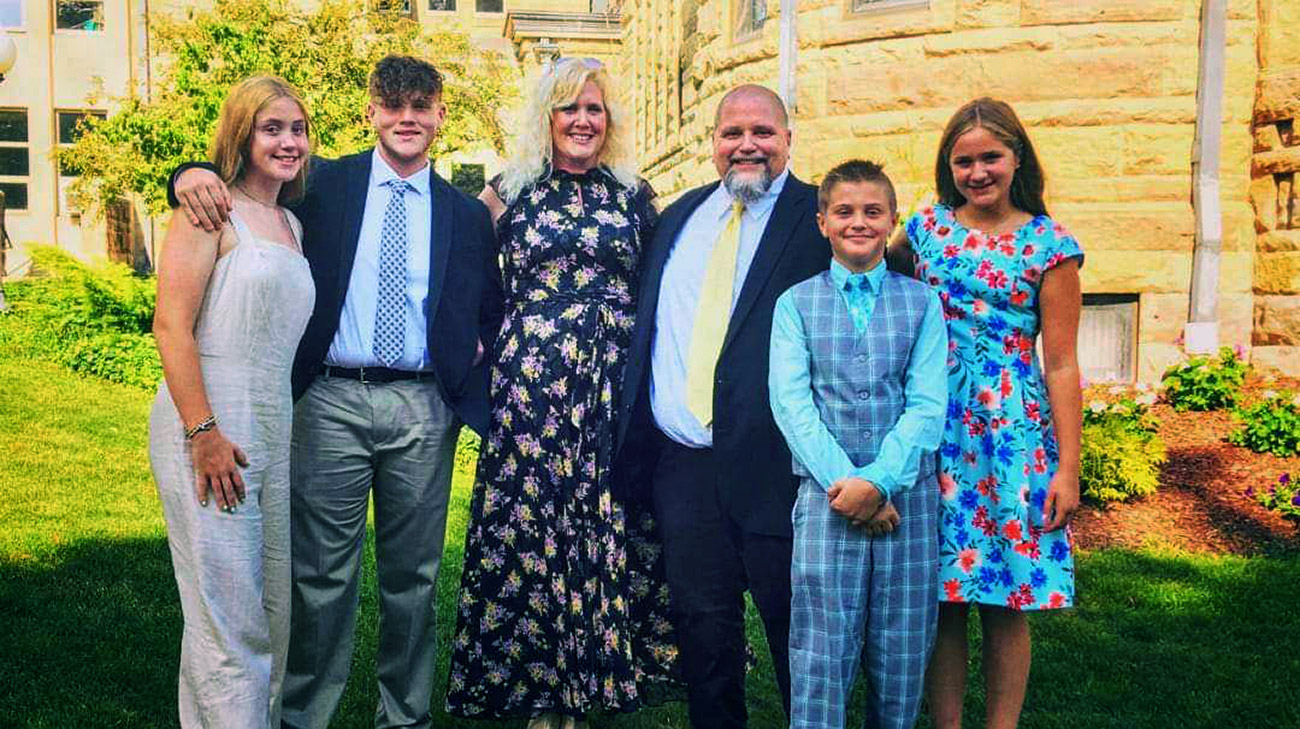 Dan DiNardo, his wife, Sarah, and their four children.
But in 2018, he developed hip pain after moving heavy furniture and was found to have metastatic recurrence of breast cancer. When it returned, he recalls, "It had metastasized into my femoral ball in my left hip. There was a spot on my spine, a couple spots in my lymph nodes, and in my chest."
Dan decided to get a second opinion at Cleveland Clinic. He had an appointment with Dr. Moore, who was especially concerned about Dan's hip.
Dr. Moore called orthopaedic surgeon Nathan Mesko, MD, who specializes in orthopaedic oncology and trauma at Cleveland Clinic. Within hours, Dan had an examination with Dr. Mesko.
"From my first appointment with Cleveland Clinic, it was clear that Dr. Moore, Dr. Mesko and the team of caregivers showed a sense of urgency and compassion that made our family less anxious and much more confident of the whole outcome," says Dan.
Just a few days later, Dan underwent surgery. Post-surgery, his medical team started different hormone blocking medications, along with a CDK4/6 inhibitor (a newer targeted treatment), and treated Dan's hip with radiation.
"His cancer has responded well to the treatment," says Dr. Moore. "There are certain nuances to using endocrine treatment in male breast cancer that are different than treating female breast cancer. Dan will likely have to live with breast cancer and ongoing treatment for the rest of his life, but for the past year he has had no evidence of cancer growth and continues to live a productive life."
"I get my strength from my family and my faith," Dan says. His wife, Sarah, shares his optimism and resolve: "We want to teach our children, you can either wake up and cry, 'Woe is me,' or you can get up and fight."
"Educating others is important to me," he says, "If I can help one person realize they need to go get checked … just go get checked."
The American Cancer Society estimates close to 2,700 new cases of invasive male breast cancer will be diagnosed in the U.S. this year and about 500 men will die from the disease. Warning signs can include a lump or swelling, skin dimpling, nipple retraction and redness or scaling.
Related Institutes: Cleveland Clinic Cancer Center, Orthopaedic & Rheumatologic Institute
Patient Stories
Patient Stories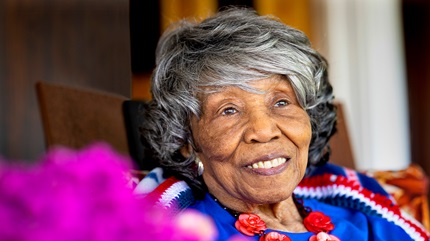 May 30, 2023
"I woke up coughing, and I couldn't move anything on my right side. I knew I had a stroke."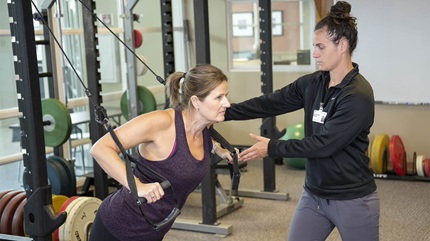 May 25, 2023
"Watching all the challenges my mom was facing made me rethink how important weight training is as we age."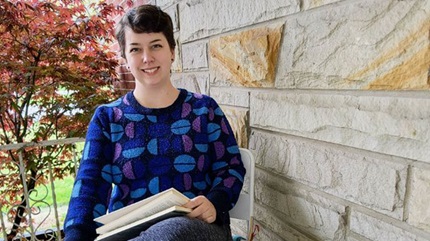 May 24, 2023
"If you feel something is wrong, call an ambulance. Don't wait it out to see if it passes. That's what saved me, by getting into surgery as fast as possible. Otherwise, I'd absolutely not be here."