As a triathlete, cyclist, and professional fitness trainer, Pam Benchley is accustomed to aches, pains and minor irritations.
So at first, she shrugged off the inflamed patch of skin on her left breast, assuming it was chafing from her sports bra during one of her training sessions. Additionally, the 53-year-old western New York resident recently had a mammogram that didn't detect cancer.
Still, she had her local physician examine the inflamed skin. To her surprise, a biopsy revealed breast cancer. Further testing identified a spot on her liver. The fact it had spread meant Pam had stage 4 cancer. "Hey girls, take it from me," Pam wrote on her blog, recounting her health crisis. "If you see something, say something. I have the kind of cancer that didn't show up – until it did."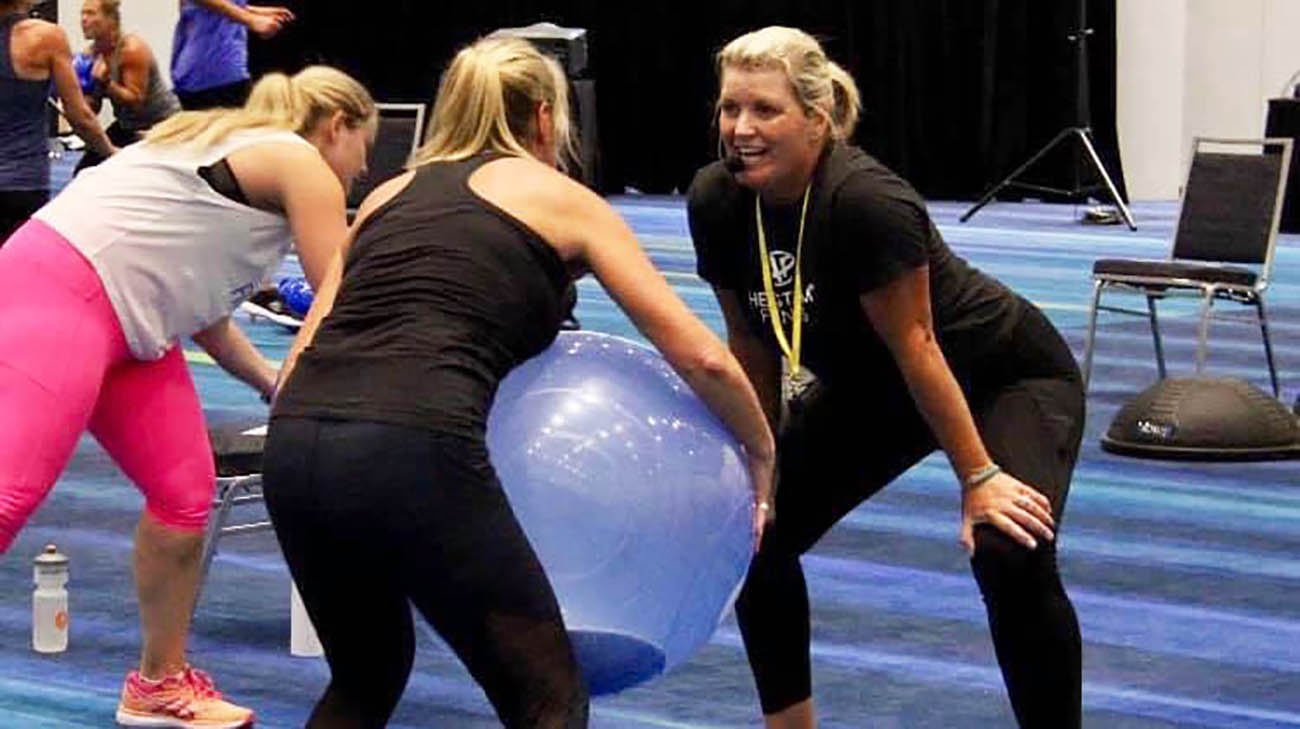 Pam Benchley has dedicated her life to fitness for 30 years. She never dreamed she would receive a breast cancer diagnosis or learn she had two unrelated aortic aneurysms. (Courtesy: Pam Benchley)
Ready to fight the cancer, Pam received more unexpected news. Additional testing uncovered a new complication -- two unrelated aortic aneurysms, which are bulges in the wall of the body's largest artery. If an aneurysm were to rupture, it could be fatal.
"To be completely honest, that (shocked) me more than the cancer diagnosis," says Pam. "As a person that works in fitness and is very active and athletic, the thought of open heart surgery was just mind blowing to me."
Pam decided to visit Cleveland Clinic for a second opinion, and ultimately moved the majority of her care to her medical team that would include: breast medical oncologist Halle Moore, MD, breast surgeon Stephanie Valente, DO, endocrine surgeon Eren Berber, MD, and cardiologist Rhonda Miyasaka, MD. They decided Pam's aortic aneurysms were small, and a better course of action would be to monitor them closely rather than operate.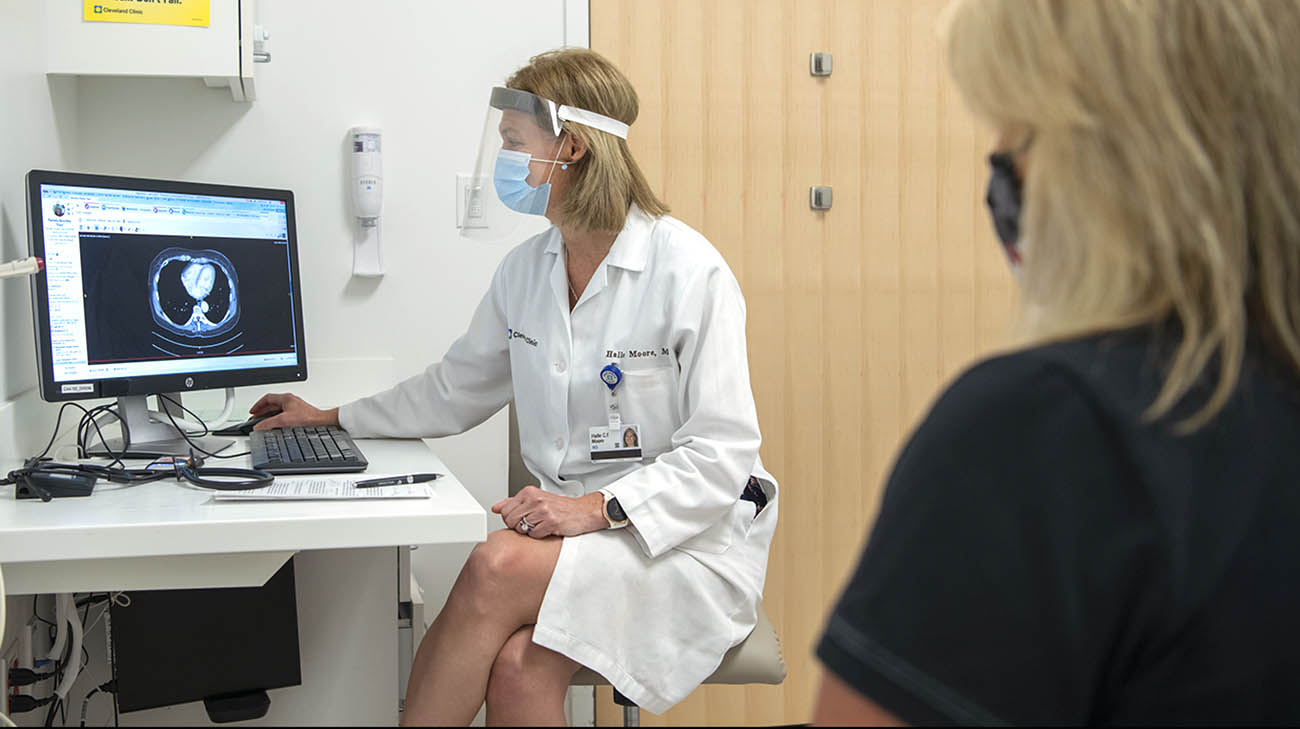 Pam and Dr. Moore, during a follow-up appointment, at Cleveland Clinic Cancer Center. (Courtesy: Cleveland Clinic)
"Being athletic and playing sports my whole life, my mentality is to have a plan, work towards a goal, stay consistent and stay focused. Coming to Cleveland Clinic and getting a treatment plan worked great for me. That correlation (with sports) was one of the things I've loved about being here. Their plan allowed me to keep doing all the things I love to do in my life," Pam adds.
Upon confirming Pam's cancer diagnosis, the treatment plan involved administering a hormone-based, anti-estrogen oral chemotherapy drug, along with a newer drug called a CDK4/6 inhibitor. That combination reduced the size of the tumor in the breast and the one in the liver. Dr. Valente removed the breast tumor via surgery (followed up with rounds of radiation performed at another facility, closer to her home), without requiring a mastectomy.
The day after the surgery, Pam was back at the gym, walking on a treadmill, readying for her next race. "It was all really pretty easy. Those are probably not words people use when they talk about their cancer treatment. Getting a cancer diagnosis doesn't have to define you. Your strength defines you."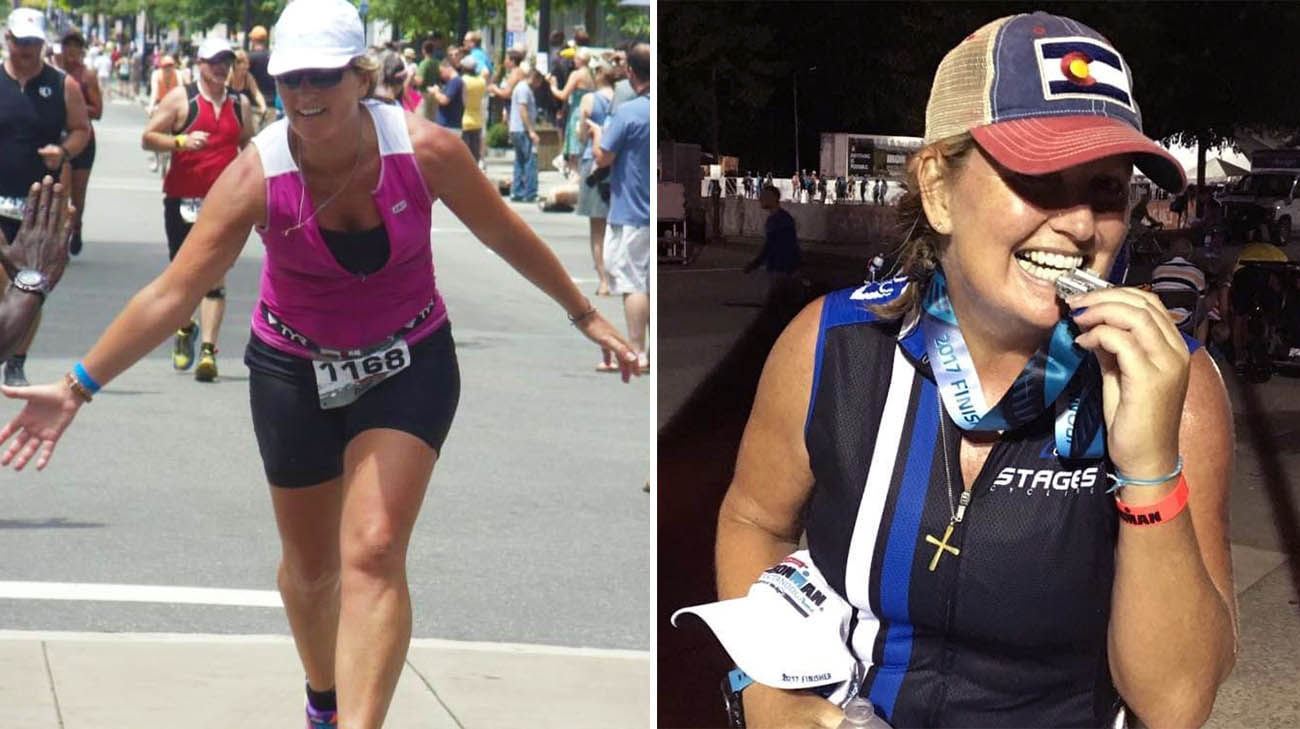 Pam was back to biking and running two weeks after surgery. (Courtesy: Pam Benchley)
According to Dr. Moore, the fact Pam had such a favorable response to the initial hormonally-based treatment enabled the team to encourage other aggressive forms of treatment.
"In stage 4 (breast cancer), we don't always find surgery to be effective," she explains. "But for some patients (like Pam) with limited sites of metastases, it can be."
Regarding the cancerous spots on her liver, Pam underwent a relatively non-invasive, pinpoint targeted form of treatment – known as radiofrequency ablation. "That was a pretty easy process, too," Pam notes. "You have to stay positive throughout the whole thing even if you have some rough moments. A negative mind will never give you a positive life."
While a mammogram didn't uncover Pam's cancer, it still detects a majority of breast cancers at an earlier and more treatable stage. Dr. Moore adds, "Even if some cancers are missed with screening we still do pick up many cancers and at an earlier stage than we would have if we simply waited for symptoms all the time."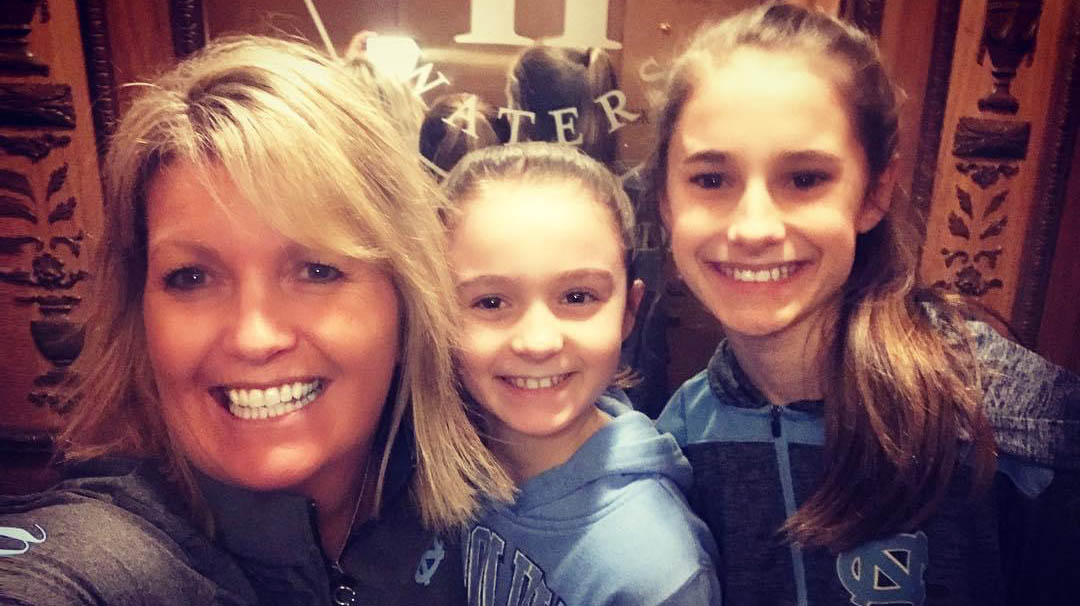 Pam with her step-granddaughters. This fierce athlete, wife and stepmom continues to keep her eyes on the road ahead. (Courtesy: Pam Benchley)
Even though the COVID-19 pandemic caused most competitive sporting events to be cancelled, Pam is actively training for more to come in 2021 and beyond. It's all part of her plan, and she's not letting cancer or her heart problems deter her.
"Some people get cancer and it overtakes them," she states. "I feel like I have this amazing, big, wonderful, huge rocking life, and cancer is a little tiny sliver of it."
Dr. Moore, who told Pam her straightforward approach to dealing with her medical journey has inspired other patients, says her prognosis is quite good.
"I don't usually use the term cancer-free in people with metastatic cancer. But right now, Pam is free of evidence of active cancer, and she is doing extremely well," notes Dr. Moore. "She continues to compete in endurance sports and remains an inspiration to all of us."
Related Institutes: Heart, Vascular & Thoracic Institute (Miller Family), Cleveland Clinic Cancer Center
Patient Stories
Patient Stories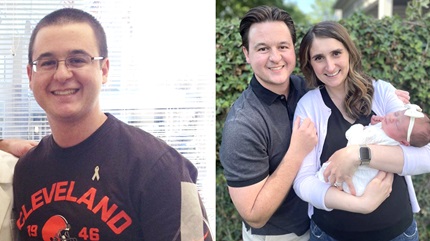 Nov 30, 2023
"At the time of my diagnosis, I was thinking, 'I'm 24. I'm a lifelong nonsmoker. I'm not supposed to get cancer.'"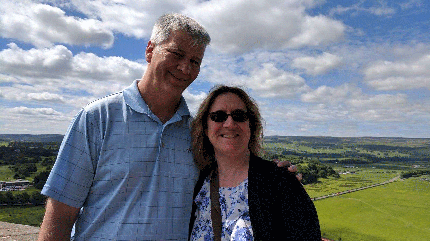 Nov 30, 2023
"I was under enormous stress and having difficulty sleeping, so I reached out to Dr. Saper to see if he had any suggestions as to how I could better cope."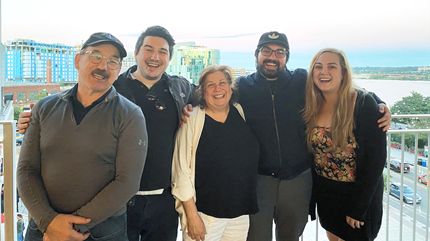 Nov 22, 2023
"I was truly blessed to be with the doctors and the entire cardiac surgery team. They saved my life."