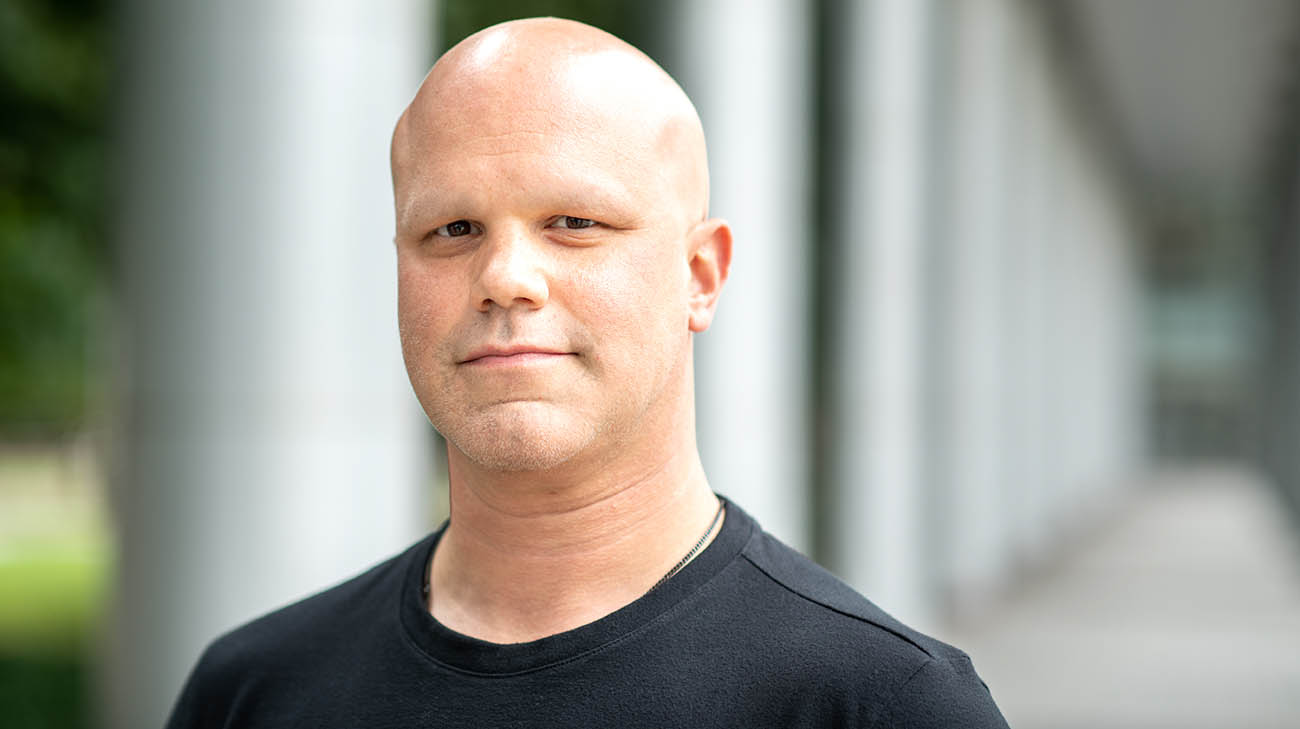 "Like the flip of a light switch." That's how Brian Chrobak, of New Castle, Pennsylvania, describes how quickly the small lump behind his left nipple evolved from being an annoyance to a serious medical condition.
As he toweled off after a shower in January 2021, the 35-year-old noticed the lump. His primary care physician told him to keep an eye on it. It had changed in size and was throbbing. "I won't lie, I didn't run to the doctor right away," Brian admits. "But my girlfriend, Nikki, is a physician's assistant, and she pushed me to go."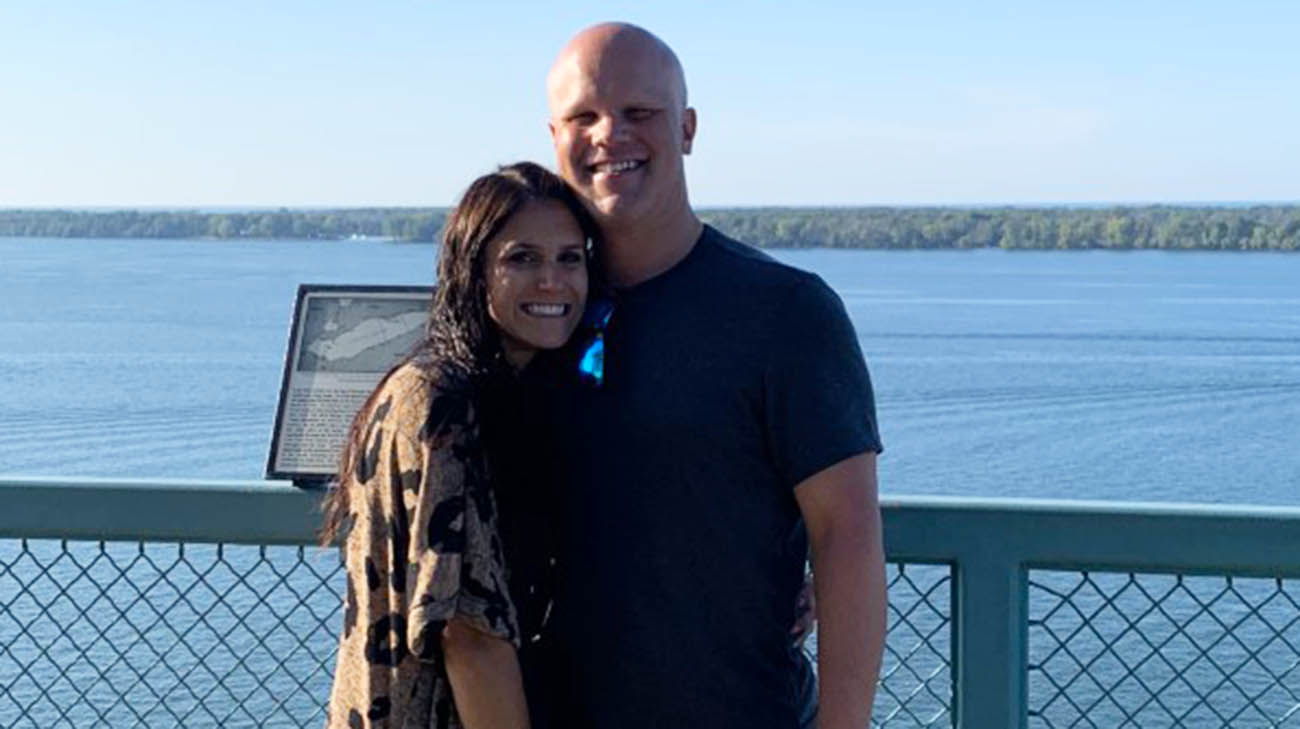 Brian's girlfriend, Nikki, encouraged him to get the lump on his chest checked. (Courtesy: Brian Chrobak)
That visit, a series of tests and a biopsy revealed shocking news to Brian. He had breast cancer.
"When they wouldn't give me the results over the phone, and the nurse walked me to the doctor's office instead of an exam room, I knew it was bad," recalls Brian, a former college baseball player who was otherwise in excellent health. "It was surreal, because I didn't expect to hear 'breast cancer.'"
Indeed, less than 1% of Americans diagnosed with breast cancer are men. According to Erin Roesch, MD, a breast medical oncologist at Cleveland Clinic Taussig Cancer Institute, while male breast cancer is extremely rare, its treatment is typically similar to that of female breast cancer patients.
"Brian's form of breast cancer (hormone receptor-positive breast cancer) is the most common type, for men and women," she explains. "And as happens with many patients, Brian's breast cancer occurred despite the absence of any genetic or other risk factors."
Cleveland, Ohio, is a 90-minute drive from his northwestern Pennsylvania home. Brian chose to seek treatment at Cleveland Clinic where, years before, his mother, Linda, had successfully undergone liver and kidney transplants. "Based on my mom's experience, I had good vibes about it."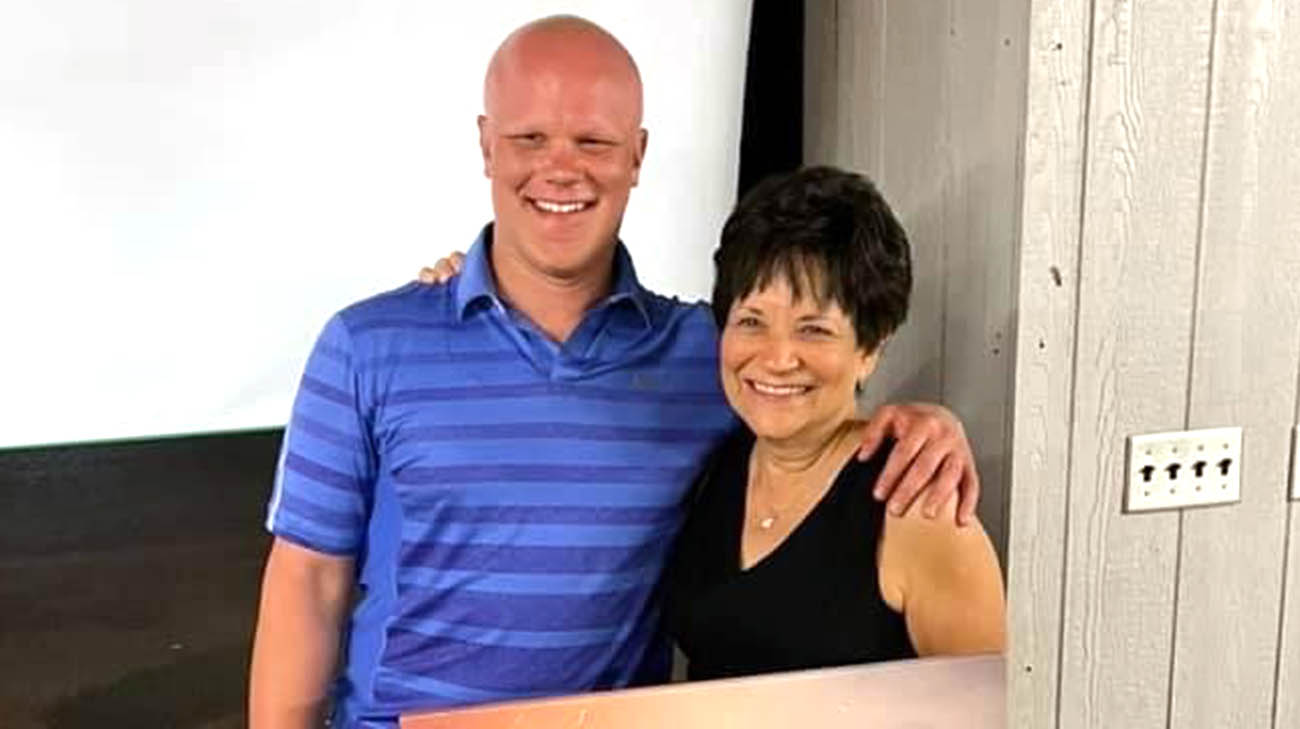 Brian came to Cleveland Clinic for care after seeing his mother undergo a liver and kidney transplant at the hospital. (Courtesy: Brian Chrobak)
Less than two weeks after his diagnosis, Brian met with Dr. Roesch and underwent a comprehensive battery of tests, which he called "the most grueling part of the process." Based on those findings, they determined a treatment plan: four months of chemotherapy, followed by surgery and, if needed, other treatment options.
"Brian had a palpable breast mass, and we also found (cancer) in lymph nodes underneath his armpit," says Dr. Roesch. "But test results showed no evidence the cancer had spread beyond that area. So, from the beginning, we treated his cancer with curative intent," meaning there is a high possibility Brian would ultimately be cured.
The first phase of treatment was chemotherapy. Every Friday, for four months, Brian would drive to Cleveland to undergo neoadjuvant chemotherapy, which is used to try and shrink the size of the tumor before removing it surgically.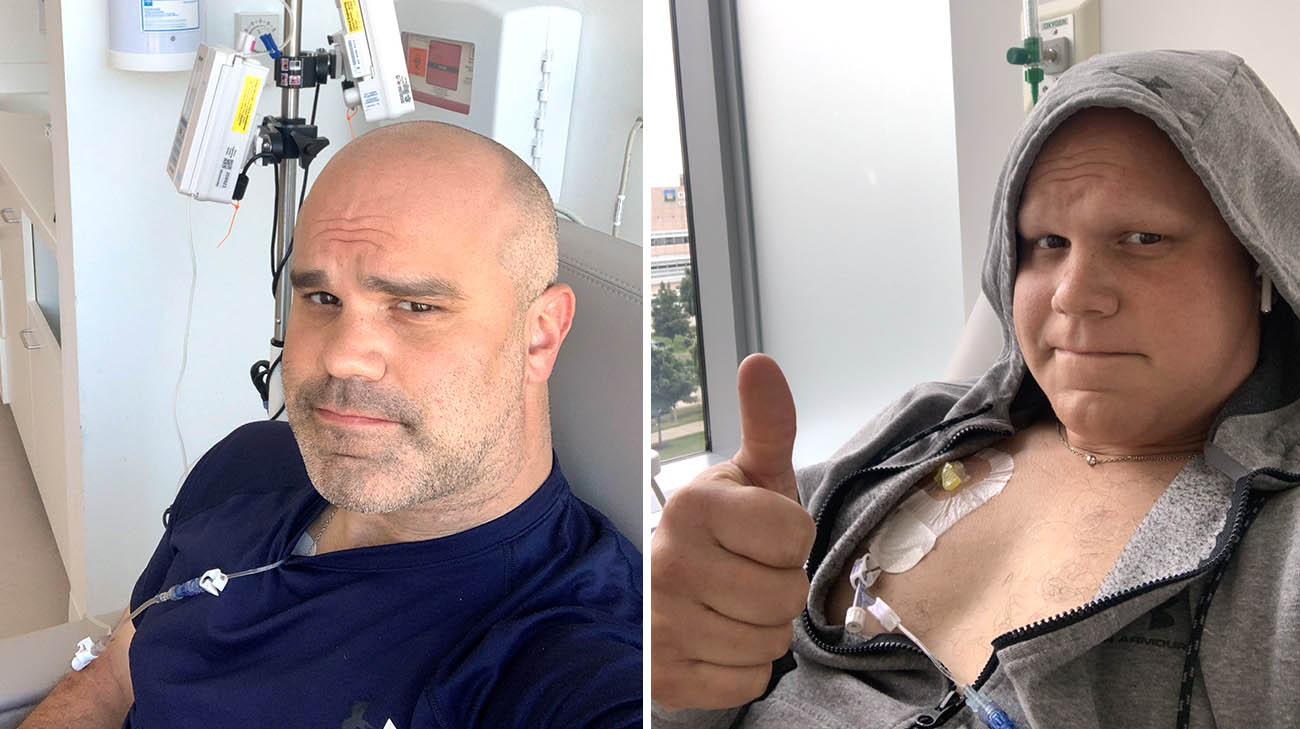 Brian underwent chemotherapy as part of his treatment regimen for breast cancer. (Courtesy: Brian Chrobak)
"Brian is very active, and likes to exercise. It was important to him we try to have a more conservative surgery so he could more quickly return to those activities," Dr. Roesch notes. Administering chemotherapy first also gave the oncology team more information about the biology of the cancer and how it would respond to treatment, which can inform any additional therapies.
Although Brian lost his hair, he generally tolerated the chemotherapy treatment well and continued to work throughout. Since chemo only minimally reduced the cancer, he underwent a lumpectomy on September 24, 2021. It's a form of surgery that removes the cancerous cells with only a small margin of healthy breast tissue. Stephanie Valente, DO, Brian's breast surgical oncologist, also removed more than 20 cancerous lymph nodes.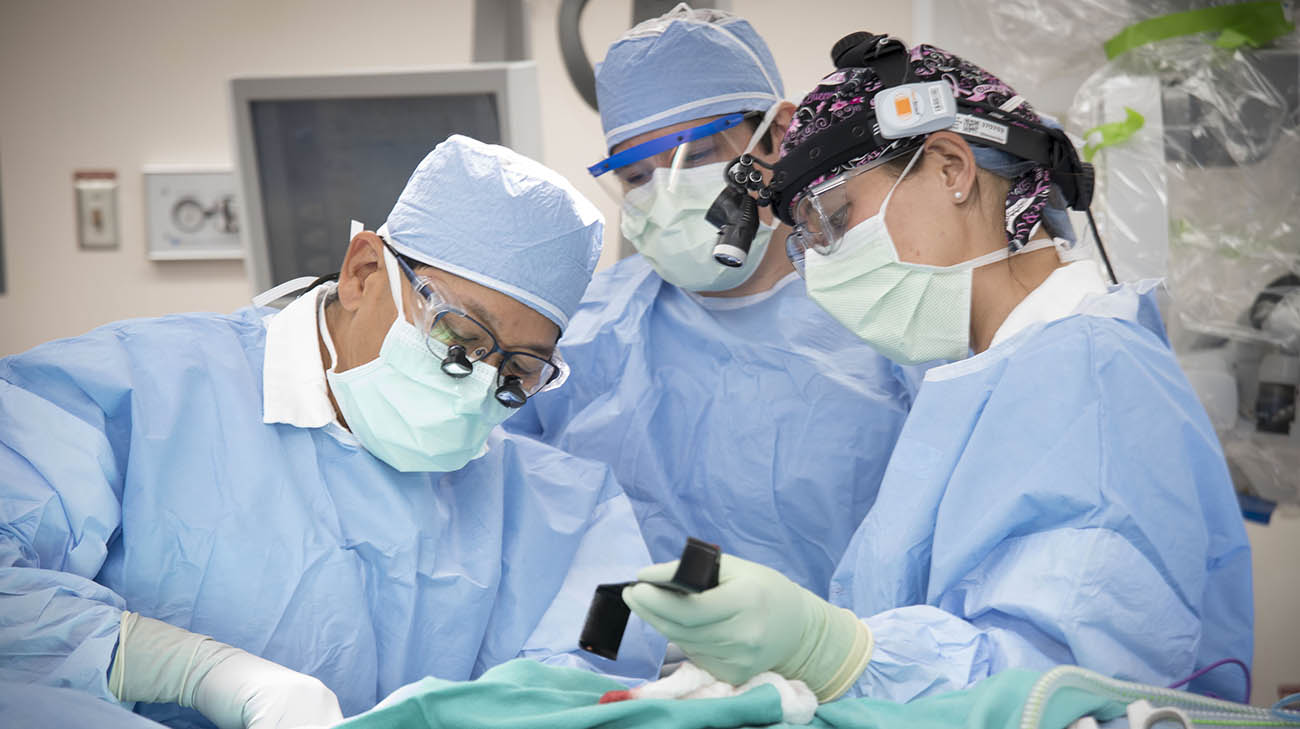 Cleveland Clinic surgeons performed a lumpectomy on Brian to remove the cancerous cells. (Courtesy: Cleveland Clinic)
Soon, Brian begins the next phase of treatment, which includes daily radiation, along with oral hormone therapy drugs, including tamoxifen, that have proven effective in treating hormone receptor-positive breast cancer. Dr. Roesch says Brian may receive the oral therapies for as long as 10 years.
"Brian is young and very healthy, so we want to begin that therapy as soon as we can," notes Dr. Roesch. "His prognosis is good. He is very motivated and has a great outlook on life."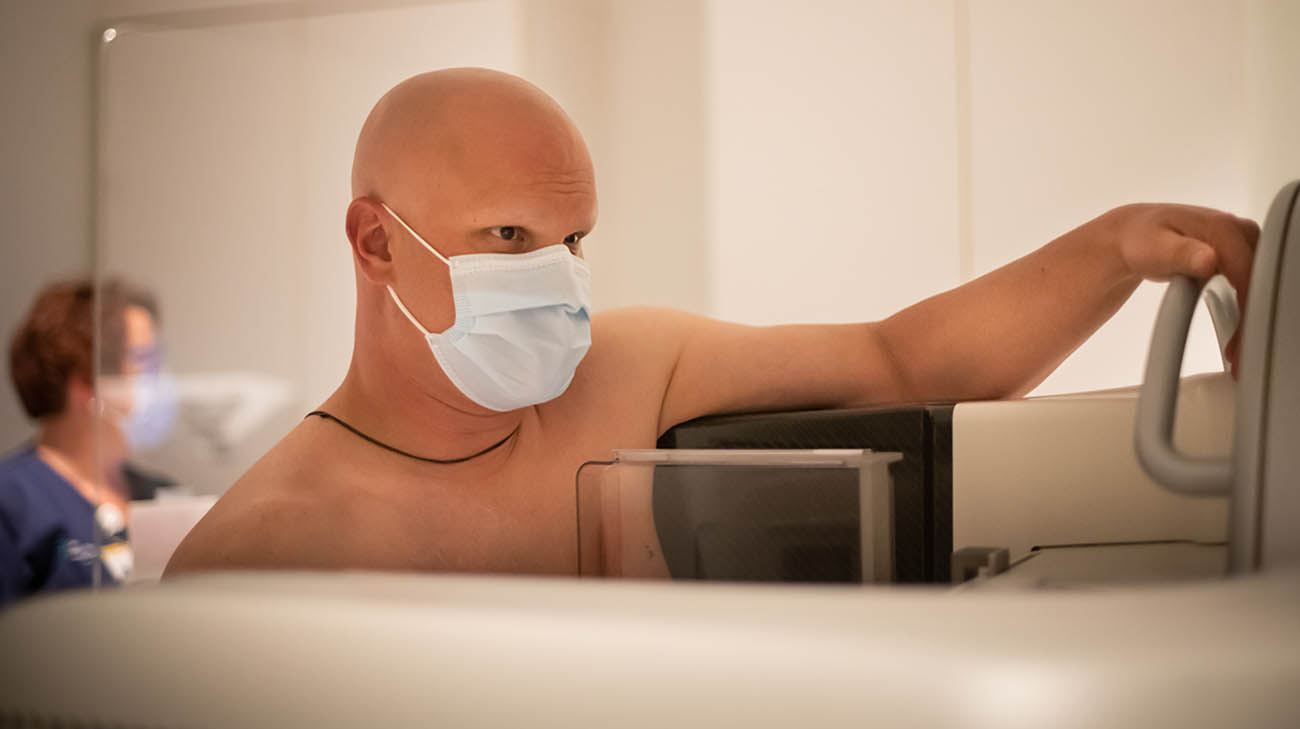 Brian undergoing a mammogram at Cleveland Clinic, prior to his lumpectomy. (Courtesy: Cleveland Clinic)
Once his radiation treatment is underway, Brian expects to return to work. He hopes a return to the golf course and basketball court will follow shortly after. He has had no ill effects from the surgery and is eager to begin the remainder of his treatment.
He also wants to encourage men – and women – to not delay in seeking a doctor's care when they notice changes in their body.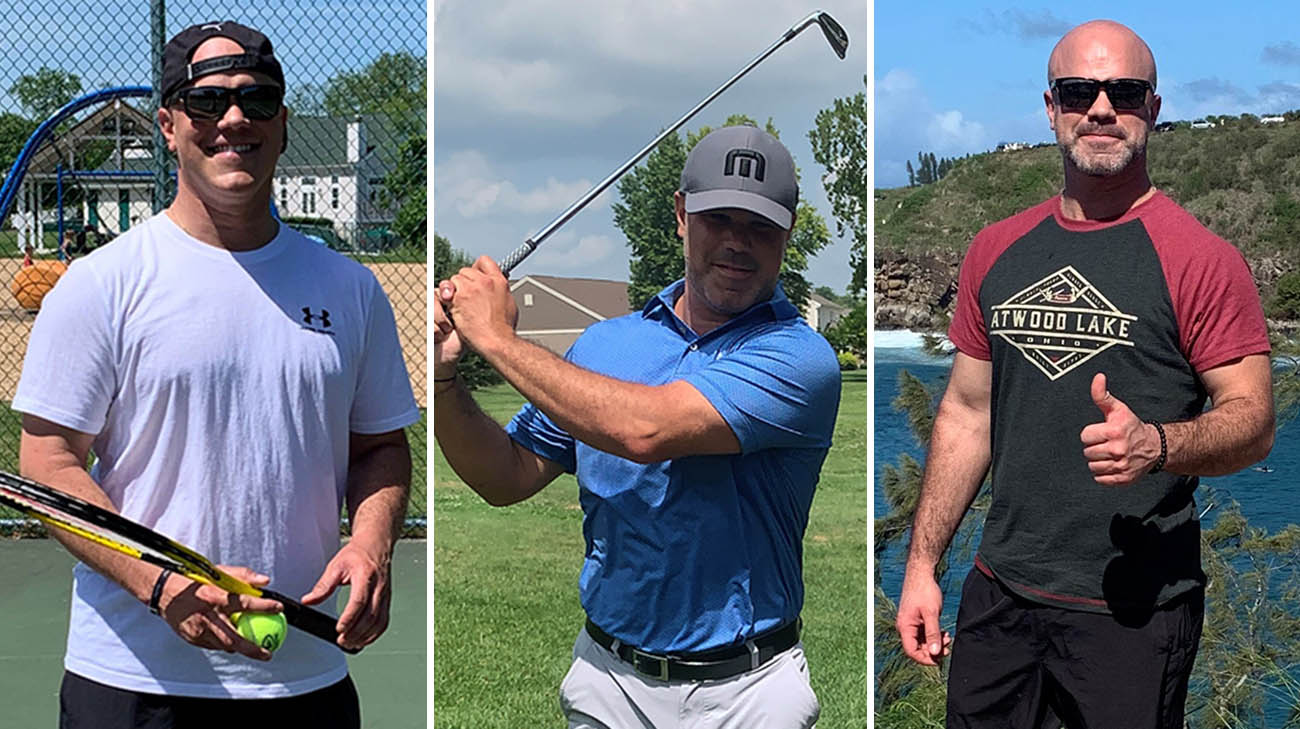 Brian has always been active. He continues trying to stay motivated throughout his cancer journey. (Courtesy: Brian Chrobak)
"Nothing gets better by ignoring it," he says. "If you notice something is wrong, be proactive and get ahead of it."
Dr. Roesch agrees: "Brian's story highlights the fact that although male breast cancer is rare, it happens. Men need to be very aware of their bodies and to come in immediately if they see or feel something abnormal. If detected early, breast cancer can often be cured."
Related Institutes: Cleveland Clinic Cancer Center
Patient Stories
Patient Stories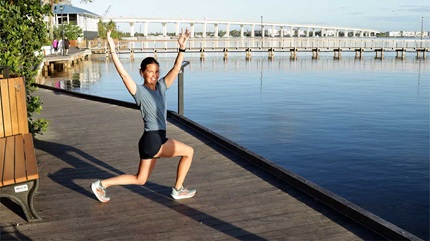 Jun 6, 2023
"Had I not listened to my body and took the time to get checked out, I might have gone another six months to a year as the tumor kept growing,"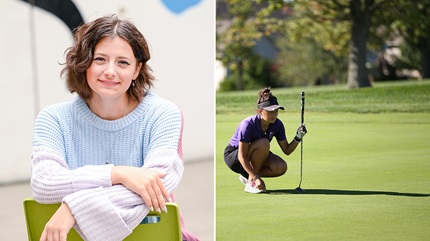 Jun 1, 2023
"I don't remember everything that happened before surgery, but right before fully going out, I remember things being very fun"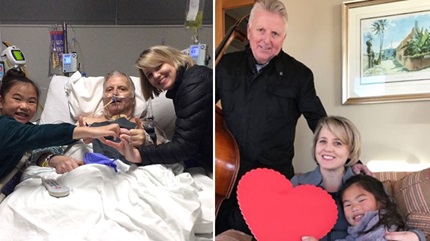 May 31, 2023
"Donors and caregivers. They're the real heroes. They sacrifice so much, and we wouldn't be here without them."