Overview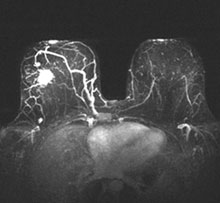 The staff comprises nine physicians who have dedicated their careers to breast imaging through specialized training and experience, and are committed to guiding their patients through every step of the diagnostic process. They understand that news of a questionable finding at a routine examination is highly stressful, and waiting for additional testing causes even more anxiety. Therefore, they try to schedule follow-up testing and even biopsies the same day so that patients can obtain answers as quickly as possible. They also work closely with Cleveland Clinic breast surgeons to plan the best treatment options, when warranted.
Procedures
The section offers the latest technologies in diagnostic mammography, breast ultrasound, MRI, image-guided needle biopsy and ductography, in which a catheter is inserted into the nipple to determine the cause of unexplained discharge. Members also perform preoperative imaging-guided lesion localizations, which entail the insertion of needles that pinpoint the exact location of small tumors to guide and assist the surgeon in removing lesions with minimal impact on the remainder of the breast.
Research
Breast imagers are actively involved in significant research projects, including a study of the value of MRI as a routine test in women at high risk for breast cancer. Additionally, section members are evaluating the use of whole breast ultrasound vs. the conventional methods in use today.
Education
Equally committed to education, Breast Imaging staff members are actively involved in training residents and fellows, as well as medical students and observers, in breast imagery and interventional techniques.
Members of the section serve as examiners for the oral certifying exam administered by the American Board of Radiology. Staff members participate in a number of professional organizations with national and international reach, including the Radiological Society of North America, the American Cancer Society, the American Roentgen Ray Society, the Society of Breast Imaging and the American College of Radiology.