Flying High Despite Parkinson's Disease: One Man's Story
Flying High Despite Parkinson's Disease: One Man's Story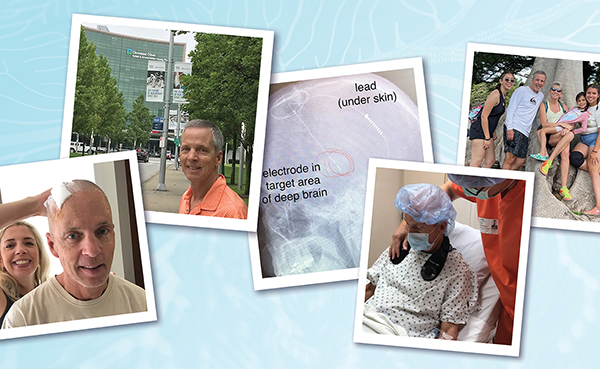 Shortly after retiring from a 34-year career as a pilot with United Airlines, Las Vegas resident Larry Austin landed in the office of Zoltan Mari, MD, FAAN, Director of the Parkinson's Disease & Movement Disorders Program at Cleveland Clinic Nevada in Las Vegas. The diagnosis? Parkinson's disease, which explained the tremors that had bothered Larry for a few months.
Below is Larry's own account of his journey.
Despite a series of treatments, including BOTOX® injections and a succession of pills, the tremors in my left foot, left hand and lower jaw persisted. Although I was able to swing a golf club, I would shake while sitting in the cart. I could ride my motorcycle, but I'd start shaking as soon as I got off. At night, my tremors made the bed vibrate, so sleeping was difficult for both me and my wife. Dr. Mari quickly concluded my Parkinson's is tremor-predominant and resistant to medication, which made me a good candidate for Deep Brain Stimulation (DBS) surgery.
Turns out, there's nothing to be scared of with DBS. But do your research. Your neurologist will want you to exhaust all the drug and physical therapy options before you have surgery. But once you make the decision, if you choose Cleveland Clinic, relax. The people are incredible, from the concierge service who gave me a schedule and stuck to it, to the clinical team.
When I explained a surgeon was going to drill holes in my head and stick probes in there and move some stuff around, of course, friends and family were curious and wondering what I'd be like after the procedure. So, they came along to Cleveland to find out for themselves. I was there for two weeks, first having the electrodes placed in my brain and then having the battery device implanted in my chest a week later.
I had no pain from the incision in my head. The day after the surgery, I was walking around Cleveland. In fact, I had intentionally postponed the surgery to spring so I could catch a baseball game at Progressive Field and dine outside along the Cuyahoga River. I went to Cleveland's Rock & Roll Hall of Fame and the NFL Hall of Fame in nearby Canton, Ohio.
There are no pain receptors in the brain, so it makes sense that my head didn't hurt. The only minor discomfort I had was from the battery placed in my chest, which was much more invasive. Occasionally, when I do a pushup, I feel the battery wire stretch and pull in my chest.
Dr. Sean Nagel, who did the surgery in Cleveland, said it might take some time to get the program right, but when Dr. Mari hit the second program on my implant, I had an instantaneous reaction: The tremor stopped. Six months after the surgery, I occasionally have a tremor, but people who meet me now can't believe I have Parkinson's, and my friends can't believe I'm like my pre-Parkinson's self.
Parkinson's disease is a degenerative disease and there is no cure, but with symptom management you can lead a relatively normal life. Thanks to DBS, I feel fortunate to have no physical limitations. I exercise an hour a day, ride my motorcycle, play with my grandkids and golf a lot. If I trip getting out of the golf cart, I wonder if it's because I have Parkinson's or just because I'm 67.
Ask the Expert: What is DBS?
Deep brain stimulation involves a surgical procedure to place stimulation electrodes into the brain, explains Dr. Mari, Ruvo Family Chair at Cleveland Clinic Nevada. The electrodes are connected by wires to a pacemaker device implanted under the skin of the chest just below the collarbone.
Once activated, the battery-powered device delivers continuous electrical pulses to modify the dysfunctional brain circuits that are responsible for motor symptoms of the disease.
Philanthropy Furthers DBS Research
Thanks to early seed funding from generous donors, Cleveland Clinic's DBS research has received federal grants from the National Institutes of Health totaling $7.5 million. Philanthropic funding remains a vital factor in advancing DBS as a life-changing treatment for neurological disorders like Parkinson's disease.
"Outcomes can vary after DBS, and it is extremely important to have surgery at a center with extensive expertise and frequency in performing the procedure," says Dr. Mari.
"The DBS procedure utilizes the full resources of Cleveland Clinic's multi-disciplinary team of experts at our Cleveland and Las Vegas campuses: Our neurologists, neurosurgeons and neuropsychologists have expertise and specialized training in DBS, and will provide ongoing assessments and modifications to assure optimal continuity of care."
Take the Next Step
Learn more about DBS and make a gift to support Cleveland Clinic Neurological Institute.
The Heart of Rock 'n Roll is Still Beating in Florida
The Heart of Rock 'n Roll is Still Beating in Florida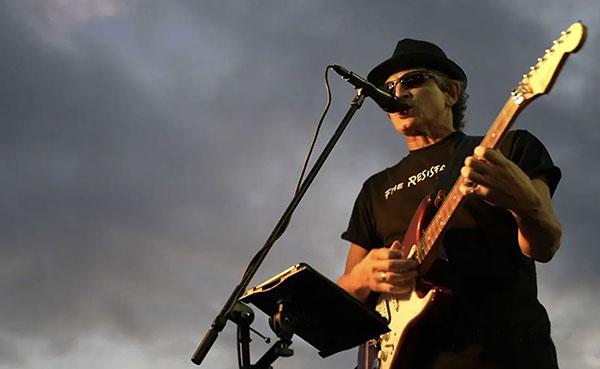 Joe Santoro, 57, had been dealing with mitral valve disease for almost a decade when his cardiologist told him the new symptoms he had were caused by an additional heart condition – atrial fibrillation. His doctor advised him to undergo a procedure to treat the valve disease. Joe, a first-grade teacher and musician, decided to get a second opinion. He chose Cleveland Clinic Florida, where he met with Jose L. Navia, MD, Director of the Cleveland Clinic Florida Heart, Vascular and Thoracic Institute and Minimally Invasive Valve Program.
"After seeing Dr. Navia, I knew there were more options," Joe says.
A Better, Faster Process
He chose a robotically-assisted approach to his mitral valve repair surgery because it was less invasive than traditional open-heart surgery and he would heal faster.
During the robotically-assisted procedure, the surgeon sits at a console in the operating room. The console provides a high-definition, 10x magnified view of the patient's valve. From the console, the surgeon directs robotic arms to move surgical instruments through a small incision. The surgical instruments are sized to allow for more precise movements. The patient benefits from less trauma to the chest, which allows for a better, faster healing process.
"A robotically-assisted approach for valve repair surgery is the ultimate new use for technology," Dr. Navia says. "This approach provides the patient with a better option to have a durable repair or replacement of the valve."
An international leader and pioneer in cardiothoracic surgical techniques and devices, Dr. Navia is the inaugural holder of the S. Donald Sussman Distinguished Chair in Heart and Vascular Research.
Joe Santoro's procedure was the fourth performed by Cleveland Clinic Weston after the Cardiac Robotic Program was launched in January of 2022. In South Florida, Cleveland Clinic Weston is the only center that offers robotically assisted mitral valve repair.
Back With the Band
Three weeks after Joe's robotically-assisted valve repair surgery he was back to normal activities. His band played a gig – and he played right along with them.
"I was jumping around, playing guitar and singing. I felt perfectly fine. It was amazing," he says. Thanks to this new approach to valve repair, Joe was able to get back to doing the things he loved faster than if he had undergone a more traditional heart surgery.
Learn more
Read more about Dr. Navia and the S. Donald Sussman Distinguished Chair in Heart and Vascular Research in the Winter 2020 issue of Cleveland Clinic Magazine.
Florida Gets the Lead Out
Florida Gets the Lead Out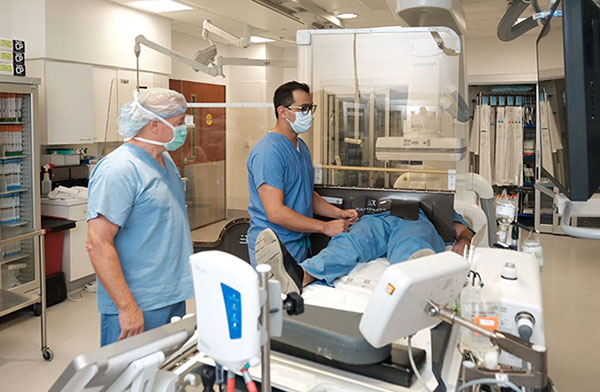 For decades, cardiac interventionalists and staff members at Cleveland Clinic have relied on lead aprons to protect themselves from radiation during cardiac catheterization procedures in the lab.
Over time, however, the weight of the aprons can cause fatigue and long-term injuries to the back and neck of wearers.
Thanks to a gift from the Welsh Family Foundation, Cleveland Clinic Indian River Hospital is the first hospital in Florida, and within the Cleveland Clinic healthcare system, to purchase a revolutionary device to protect caregivers from radiation exposure during catheter procedures, replacing the lead apron.
The adjustable and motorized device uses lead-equivalent acrylic panels that can accommodate the access point and the heights and widths of the doctor, technician and patient, protecting them from harmful radiation. The device is specifically engineered to give physicians and their teams the freedom to work without the need for the heavy lead aprons.
Carlos Gonzalez-Lengua, MD, an Interventional Cardiologist at Indian River Hospital says, "After doing some research, I felt that investing in this device for our physicians was a wise one. We now get the protection we need, so we can focus on what we do best."
Too much radiation exposure can result in radiation sickness, which causes vomiting, nausea and diarrhea. The lead apron and the new protective device system are specially designed to protect medical personnel working with X-rays from unnecessary radiation exposure.
The protective device can be used for coronary angiogram, coronary intervention, Coronary Intervention of Chronic Total Occlusion (CTO), Watchman and MitraClip procedures.
"We now get the protection we need without the weight of the apron," says Dr. Gonzalez-Lengua. "We are very grateful to the Welsh Foundation for this gift."
Gifts of all sizes have an impact at Cleveland Clinic Florida. Learn how you can make a difference.