Latest Round of Catalyst Award Funding Announced
Latest Round of Catalyst Award Funding Announced
Gifts from thousands of donors totaling over $2 million are rewarding the innovation and initiative of 43 caregivers throughout Cleveland Clinic. The recent announcement of the latest round of Catalyst Grants, Catalyst SPARK Awards and Hickey Innovation Impact Awards is made possible through their generosity and belief in Cleveland Clinic's mission. View a brief description of all 43 awards here.
Funding Impactful, Diverse and Powerful Ideas
Donors provide 100% of the support for Catalyst Grants and the ability to fund these ideas is limited only by the philanthropic support received from generous donors. Every dollar of every contribution has an immediate impact by funding projects that help caregivers develop medical breakthroughs, enhance patient services and build community wellness programs.
The funding reflects Cleveland Clinic's spirit of diversity and inclusivity. All types of ideas are supported and any Cleveland Clinic employee in the U.S. can apply – including surgeons, social workers, nurses, administrators and more.
Grant-supported initiatives have the potential to become permanent programs. Many Catalyst Grant projects eventually receive funding from their department's operating budget, foundations or National Institutes of Health (NIH). Even small donations have the power to propel long-term change in healthcare.
By the Numbers
Since Catalyst Grants launched in 2018, more than 1,000 applications have been received from caregivers who envision a brighter future. The ability to fund their ideas is limited only by the philanthropic support received from generous donors. A few statistics since the program began include:
$11M+ awarded
240+ projects funded
40+ departments and 20+ locations represented
1,200+ ideas submitted to date
How Catalyst Grants Work
Twice a year, caregivers from across the Cleveland Clinic enterprise apply for a Catalyst Grant. The grants are funded up to $100,000.
Through a competitive process, these one-time grants are awarded to the project proposals that show the most promise for making an impact within one year. Caregivers must report on their progress and return any unused funds.
Help Bring New Ideas to Fruition
Your donation to our Catalyst Grants program has an immediate impact by giving Cleveland Clinic employees the resources they need to bring novel, innovative ideas to life quickly.
Learn more about Catalyst Grants here and make a gift to support the next round of Catalyst Grants here.
New Hope for Fighting Obesity
New Hope for Fighting Obesity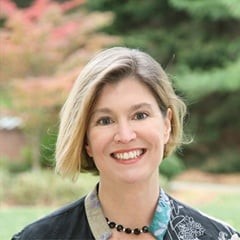 It would be unthinkable to shame someone for having cancer or almost any other disease. So why should there be a different standard for people with obesity?
One generous Cleveland Clinic donor is out to change that. "Our culture wants to blame the person with obesity," says Sarah Hagen McWilliams. "These patients need to be met with compassion, not shame."
With her support, Cleveland Clinic is expanding care, research and education initiatives within its Endocrinology and Metabolism Obesity Center. These efforts include the launch of a pilot program to address diabesity, the one-two punch of diabetes and obesity.
"Ms. McWilliams is a special individual who truly cares about the community, and we're very thankful to her," says Bartolome Burguera, MD, PhD, Chair of the Endocrinology and Metabolism Institute at Cleveland Clinic.
Approximately 2 in 5 adult Americans have obesity, according to the Centers for Disease Control and Prevention.
Communities of color are disproportionately affected.
"Our program is interdisciplinary and comprehensive," Dr. Burguera says. "It's unique because we're putting all our effort into treating obesity without being judgmental. We're providing the tools for people to control their weight as a top priority because they have a chronic disease that is affecting their general health. If they can get their weight under control, we can better treat the diabetes and other medical conditions, too."
For McWilliams, the cause is personal. "I've struggled with obesity on and off throughout my adult life," she says. "I've been on the receiving end of that stigma." Back when she was a social worker in Cleveland more than 20 years ago, she also saw firsthand how social determinants of health contribute to obesity in disadvantaged communities.
As part of the new pilot program, assorted pieces of high-tech exercise equipment — including treadmills, a step machine and recumbent bikes — were recently installed at Cleveland Clinic Langston Hughes Community Health and Education Center, which serves the neighborhood where Cleveland Clinic's main campus is located. Wearable devices sync the equipment with physician-prescribed exercise regimens for participants, including community members and Cleveland Clinic caregivers alike. The program also encompasses everything from culinary classes to wraparound social services.
Plans call for the pilot to expand to other Cleveland Clinic locations in Northeast Ohio in the near future. McWilliams would love to see it serve as a model for an even broader campaign someday. "Obesity is very treatable," she says. "More than anything, I want people to have hope."
Partnering to Combat Hunger Across Florida
Partnering to Combat Hunger Across Florida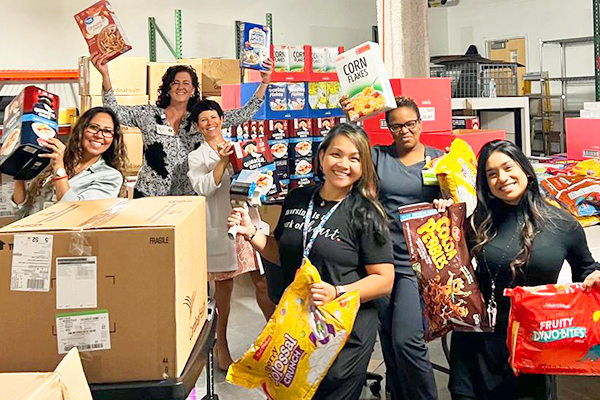 One in seven children in Florida—more than 600,000—are facing hunger, according to Feeding America. During the summer months, when children do not have access to free or reduced meals through school programs, it can be even more of a problem.
For more than two decades, the Stanley Shalom Zielony Institute for Nursing Excellence at Cleveland Clinic has partnered with hospitals across the country to help feed hungry children throughout the summer by participating in a cereal drive. During this year's drive, which took place June 5 - 9, caregivers were invited to donate boxes of healthy hot or cold cereal, or "milk money" (cash donations).
Friendly competition between nurses working in Cleveland Clinic Florida's hospitals and departments, along with collection stations at Cleveland Clinic Florida hospital lobbies, led to an impressive amount of donations this year.
Cleveland Clinic Florida hospital locations netted a total of nearly 179,000 servings of food that will be delivered to local organizations that provide breakfast during the summer for children living in Florida.
Weston Hospital led the organization with nearly 79,000 servings collected. Indian River Hospital and Tradition Hospital also contributed impressive amounts, with more than 57,000 and 35,000 servings respectively, helping to provide a healthy and nutritious start to the day for hungry children.