A First-ever Medication to Treat Hypertrophic Cardiomyopathy
A First-ever Medication to Treat Hypertrophic Cardiomyopathy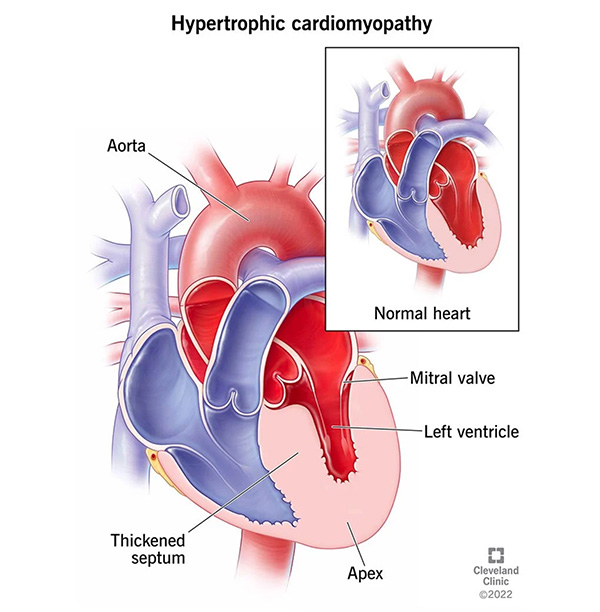 Hypertrophic cardiomyopathy (HCM) is a complex type of heart disease that causes thickening of the heart muscle, left ventricular stiffness and mitral valve changes. It affects an estimated 600,000 to 1.5 million Americans, or one in 500 people, but many of those patients go undiagnosed until the disease has progressed.
"Common symptoms are shortness of breath, dizziness with exertion and lightheadedness. Occasionally, they may have chest pain and passing out, commonly with exertion or due to arrhythmias," explains Milind Desai, MD, MD, MBA, Director of the Hypertrophic Cardiomyopathy Center and Director of clinical operations in Cleveland Clinic's Sydell and Arnold Miller Family Heart Vascular & Thoracic Institute.
Dr. Desai is the principal investigator of a clinical trial that is showing promising results in the treatment of HCM.
Funded in part by generous philanthropic support, the Cleveland Clinic-led trial showed that the use of an experimental drug, mavacamten, significantly reduced the need for invasive procedures such as heart surgery or alcohol septal ablation, therapies used to reduce thickening of the septum, the wall separating the right and left sides of the heart.
When the clinical trial began, all of the study participants were eligible for septal reduction therapy (SRT), a more invasive surgical approach to treatment. After 16 weeks of taking the medication, only 18% of participants remained eligible for SRT and by 32 weeks, only 11% were still eligible for the procedure. At the conclusion of the study, 95% of participants chose to continue taking the medication and no longer required surgical interventions.
Dr. Desai says patients who took the medication reported an improvement in symptoms and quality of life. "This disease has been barely recognized for about 60 odd years, so the evolution of diagnostic techniques in this disease, the evolution of invasive techniques in this disease and now the evolution of precision medications in this disease is huge if you take the spectrum of time we are talking about," he says.
Medication Could Add New Therapy Alternative
"These results could give what can be a very sick patient population a non-invasive therapy alternative," says Dr. Desai. "There are few high-volume centers performing septal myectomy or alcohol ablations which may limit a patient's access to optimal results and patients may need repeat interventions. That is why it is vital to explore non-invasive options for these patients."
No medication has previously been approved for this indication, although medications such as beta-blockers, calcium channel blockers and antiarrhythmics are often prescribed to treat the symptoms of HCM and prevent further complications. Patients with persistent symptoms may also undergo a septal myectomy, in which a surgeon removes a small amount of the thickened septal wall to widen the outflow tract (the path the blood takes) from the left ventricle to the aorta. Another option is alcohol ablation, a cardiac catheterization procedure where a tiny amount of pure alcohol is injected into the septum, causing it to shrink back to a more normal size and widening the passage for blood flow.
Follow-up of the study's participants will continue through at least 128 weeks, says Dr. Desai. "We are focused on confirming whether the impressive safety and efficacy results with mavacamten are sustainable over the long term. A key question is whether this can modify the disease to a point where we can change patients' life trajectory in a positive way."
Why Support Medical Research?
The more innovative the research, the more difficult it tends to be to secure external funding. Often, there is a gap between an idea and the scientific discovery — this is where philanthropy comes in. Philanthropy is the spark that transforms an idea in a researcher's mind into the next big medical breakthrough. It fuels transformational research that impacts patients across the globe. The studies Cleveland Clinic conducts to prevent and treat disease require significant financial investments and progress depends upon generous donors. This funding is essential to advance discoveries that will benefit patient care. Please make a gift today because every gift, no matter the amount, helps to advance Cleveland Clinic's mission.
Related content
Watch a video about the clinical trial. Read the story of a patient who is participating in the clinical trial.
"Ask the Experts" Features Florida Cardiovascular Specialists
"Ask the Experts" Features Florida Cardiovascular Specialists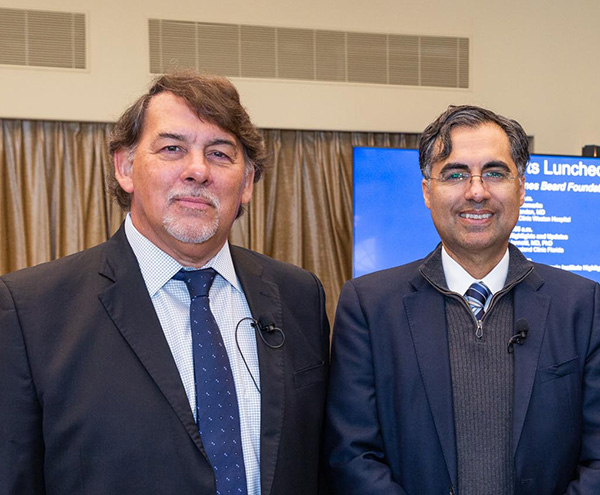 Cleveland Clinic Florida's recent "Ask the Experts" luncheon event featured medical updates from cardiovascular specialists from the medical center's Heart, Vascular & Thoracic Institute.
Sponsored by the Nancy Jones Beard Foundation, the goal of the annual event is to provide health education to the Palm Beach County community.
Presenters included José L. Navia, MD, and Jerry D. Estep, MD. Dr. Navia is the Director of Florida Regional Heart & Vascular Institute, the Director of Heart & Vascular Center in Weston and Chairman of Cardiothoracic Surgery. Dr. Estep is the Chairman of Cardiology Staff, Section of Heart Failure and Mechanical Circulatory Support & Transplantation.
Rodolfo Blandon, MD, President of Cleveland Clinic Florida Weston Hospital, welcomed guests and recognized the Chair of Cleveland Clinic Weston Hospital's Board, Sean Lang, for his support in Palm Beach and across the region. He also thanked Nancy and Gene Beard for their extraordinary generosity over the years in support of Cleveland Clinic's health services in Palm Beach and on the Weston campus.
Joseph Iannotti, MD, PhD, Cleveland Clinic Florida Chief of Staff and Chief Academic and Innovation Officer, shared a comprehensive overview of Cleveland Clinic and the continued growth of Cleveland Clinic Weston, which will open 30 new ICU and MCU rooms as part of an ongoing expansion project.
"We have always focused on exceptional patient care and to do that, have added 355 physicians to our system since 2019,"says Dr. Iannotti. "We are working hard to expand our workforce at all locations to increase access and meet the demands of those we serve. Thank you for your commitment to helping Cleveland Clinic Florida and our mission of patient care, innovative healthcare, and promoting the well-being of our shared communities."
"Ask the Experts" also served as a kickoff event for the Cleveland Clinic Florida Ball, taking place on February 25, 2023, at The Breakers Palm Beach. Chairing the annual black-tie benefit are longtime Cleveland Clinic supporters Kathryn and Leo Vecellio, Annie and Michael Falk, and Simone and Kerry Vickar. The Honorary Chairs are Nancy and Bill Rollnick, and Milly and Patrick Park. The 2023 Sydell L. Miller Award, established in 2011 to honor those who have committed themselves to supporting Cleveland Clinic Florida's mission of bringing world-class care to its patients, will be presented to the Lang family.
For more information about the Cleveland Clinic Florida Ball, please contact the Philanthropy Department at 954.659.6720 or visit our website.