Does Using a Common Artificial Sweetener Increase Your Cardiovascular Risk?
Does Using a Common Artificial Sweetener Increase Your Cardiovascular Risk?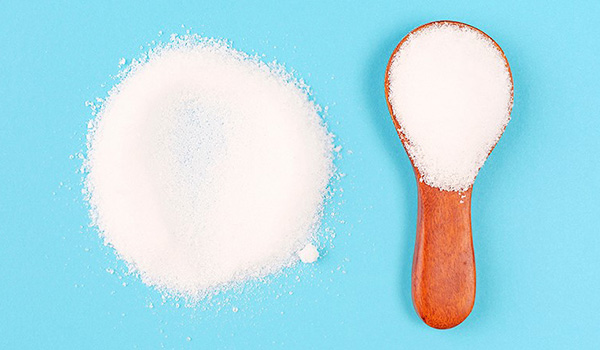 Look at the ingredients list in processed foods like protein bars, low-calorie soft drinks and low-carb baking mix and you might find a common theme — ingredients ending in "-ol."
These artificial sweeteners, known as sugar alcohols, are common replacements for table sugar in low-calorie, low-carbohydrate, "zero sugar" and "keto" products. And their use is on the rise.
Erythritol, one of the most popular sugar alcohols, is the subject of new findings released by Cleveland Clinic. Elevated blood erythritol levels are associated with an increased chance of cardiovascular events, like heart attack or stroke, according to the study published in Nature Medicine. The research, led by Stanley Hazen, MD, PhD and holder of the Jan Bleeksma Chair in Vascular Cell Biology and Atherosclerosis, supports launching further investigation and clinical trials to determine the effects of polyols, a group of sugar alcohols including erythritol, on patients' long term health.
"Sweeteners like erythritol, because they appear naturally, had minimal requirements to pass through the regulatory process, but there needs to be more in-depth research into long term effects," says Dr. Hazen, chairman for the Department of Cardiovascular & Metabolic Sciences, and co-section head of Preventive Cardiology. "Cardiovascular disease builds over time, and heart disease is the leading cause of death globally. We need to make sure the foods we eat aren't hidden contributors."
A Link between Erythritol and Blood Clots?
Erythritol is about 70% as sweet as sugar and is produced through fermenting corn. The sweetener also has a similar flavor profile, "mouthfeel" and texture to table sugar — aspects that influenced rapid adoption in processed foods. Because humans don't have the enzymes to breakdown sugar alcohols like erythritol, it isn't metabolized by the body. Instead, it goes into the bloodstream and leaves the body mainly through urine.
"Sugar-free" products containing erythritol are often recommended for people who have obesity, diabetes or metabolic syndrome and are looking for options to help manage their sugar or calorie intake. People with these conditions also are at higher risks for adverse cardiovascular events like heart attack, stroke and death.
Dr. Hazen's lab focuses on identifying environmental and genetic factors that contribute to residual cardiovascular disease risk, moving beyond traditional risk indicators like high blood pressure, diabetes or high cholesterol. His team studies molecules in the blood that can predict who is at risk for experiencing cardiovascular events in the future.
This particular study investigated the association between higher circulating levels of erythritol in patients who experienced major adverse cardiac events (MACE), including non-fatal heart attack, stroke or death.
After confirming an association between blood erythritol levels and incident MACE risks in studies of over 4,000 subjects in both the US and Europe, researchers examined the effects of adding erythritol to either whole blood or isolated platelets — cell fragments that clump together to stop bleeding and contribute to blood clots that cause stroke and heart attack. Erythritol made platelets easier to activate and form a clot, with the study showing increased clot formation in models of arterial injury.
Setting the Stage for Future Study
Measuring sugar alcohols is difficult and labeling requirements are minimal and often do not list individual compounds, Dr. Hazen says. He added, because erythritol is "Generally Recognized As Safe (GRAS)" by the FDA, that means there is no requirement for long-term safety studies.
One of the reasons to investigate erythritol's cardiovascular effects is how much people consume. Because erythritol is less sweet than other artificial options, manufacturers tend to add much more of it. Erythritol is also at times added to other sweeteners and is referred to as a "bulking" sweetener because it adds weight and volume to foods similar to sugar.
Research on how many grams of artificial sweeteners people consume per day, and observing the results, can shape dietary recommendations. Because our bodies create low amounts of erythritol naturally, any additional consumption can stack up, Dr. Hazen says.
"Our studies show that when healthy volunteers consumed an artificially sweetened beverage with an amount of erythritol observed in many processed foods, markedly elevated levels in the blood are observed for days — levels well above those observed to enhance clotting risks," Dr. Hazen says. "The question is whether it's safe for some of us to be consuming this much erythritol — and for an extended period of time."
The study was partially funded by the National Heart, Lung, and Blood Institute and the Office of Dietary Supplements, both of the National Institutes of Health. Additional funding from the Jan Bleeksma Chair in Vascular Cell Biology and Atherosclerosis supports Dr. Hazen's research, allowing him the flexibility to focus on specific problems and spur advancement critical to cardiovascular innovation.
Lifesaving Organ Transplant is a Perfect Match
Lifesaving Organ Transplant is a Perfect Match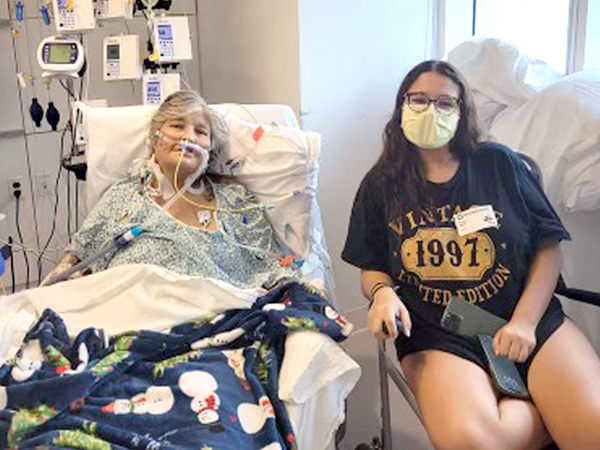 Jennifer Boyd has three children. Savannah is 27, Jacob is 26, and Emma is 20. All three happen to be adopted, and one happened to be the perfect match for a liver transplantation that would save Jennifer's life.
"In my 20s and 30s, I went to school a lot … searching, trying to figure out what I really wanted in life," Jennifer shared. During that time, she was learning and teaching … in Virginia and Florida and in a Navajo Indian reservation in Arizona. "But I always really wanted kids – that was above everything else," she says.
Jennifer felt fortunate to learn through relatives about adoption opportunities close to home. She adopted Savannah and Jacob as toddlers. Emma joined the family five years later. "I got to see Emma a couple hours after she was born."
For many years, Jennifer and her three children felt fortunate to live abroad in places like the Azores in Portugal, South Korea, Germany and Italy. Jennifer was working as an assessor and teacher for the Department of Defense Education Activity, which operates schools for military families.
"I was in Naples when I started to get sick," she remembered. "It was just weird. We went on vacation and rented some bikes. When I got on mine, I thought something was wrong with it. But we went on riding and I don't know how many times I crashed!" She didn't realize at the time she was suffering from hepatic encephalopathy, a brain disorder that develops in some individuals with cirrhosis of the liver.
Jennifer began feeling sick and off balance toward the end of 2010. "It got to the point where I was really tired and remembering things became very difficult." She decided to seek medical care in Florida, where she had been living prior to moving out of the country. But she wasn't accurately diagnosed until the end of 2015. It was a long, frustrating period of suffering.
"I think the fact that I don't drink or smoke kept everyone from considering cirrhosis. I was diagnosed with neuropathy, fibromyalgia and even MS." Then, finally, Jennifer says, she went to "this local little ER" – which is now Cleveland Clinic Martin South Hospital, in Stuart, Florida – where she had bloodwork done. "The doctor came back and says, 'You have cirrhosis.' He took one look at the lab results and he knew immediately."
Jennifer was referred to Xaralambos Zervos, DO, Associate Director, Abdominal Transplant Institute, and chair and medical director, Liver Transplantation Program, at Cleveland Clinic Florida's Weston Hospital. Medication helped Jennifer, but it became clear she would need a transplant. "It got to a point that my liver couldn't filter anymore. I had to go to the hospital every week so they could drain 12 to 15 pounds of fluid. … It became clear I would die if I didn't get a live liver transplant.
Jennifer had several friends volunteer to be her donor, but for different medical reasons, they didn't qualify. Savannah and Jacob had health challenges that eliminated them from consideration, as well. A cousin, Theresa, went through the extensive testing process and was a possibility but she was almost 60. Emma turned out to be the perfect match.
"My mother had the same thing and it killed her three years ago," Jennifer shared. "My great-grandmother had cirrhosis, too, and she didn't drink at all. And I have another cousin who has it, and she doesn't drink. So in our case, it's obviously hereditary. But nobody thought about it until I needed a transplant. I told my kids, I was sure glad they didn't get my genes."
Emma ultimately gave her mom 60% of her liver in October 2022, saving and changing Jennifer's life. Agreeing to be tested was her Christmas gift to her mom a year prior. "I just felt so strongly in my heart that it was going to be me," Emma says. "I love it. I would so do it again."
The big scar was a tough pill to swallow for the young future nurse, though. "My mom would never let me wear a bikini and now finally she doesn't care. But it's a beautiful scar, people tell me."
"We couldn't have asked for better care," Jennifer emphasized. "I joked with the nursing staff that they never go home. Dr. (Antonio) Pinna, Dr. (Nikhil) Kapila and Dr. Zervos … my coordinator … were all great."
"I really love them," Emma added. "They are like my family. As soon as I learned I made it into the nursing program, I told them, and when I got my first scrubs, I sent them a picture." (Emma also raved about the food, believe it or not, especially the waffles!)
The Role of Philanthropy in Transplantation
Liver transplant patients endure a lot, for a long time, according to Dr. Zervos. "There are recurrent hospitalizations, so patients often lose their employment and COBRA expires. The process is a slow, steady decline that can debilitate the patient and family. As a transplant center, we occasionally pick up expenses for patients. Or there might be a month or two where the anti-rejection drugs co-pay changes, and they have to be covered. We don't want the patient to end up losing the organ because of insurance or transient personal circumstances that require temporary financial support."
Donors help with these expenses and support educational training and development of staff, according to Dr. Zervos. "Transplantation is very complicated. It takes one to two years for nurses, fellows and advanced practitioners to really get comfortable enough to make decisions and interact with patients independently. As a growing transplant center, we're constantly hiring and training."
Research is another area that benefits from philanthropy, he adds. "Thanks to research, we're now using organ perfusion machines, which means organs that once would have been discarded can now be treated and used successfully," says Dr. Zervos. "But perfusion machines have disposable filtration devices that cost as much as $35,000 each. We truly couldn't do the lifesaving work we do without the generosity of our donors."
A Leading Researcher Works to Increase Transplant Success
A Leading Researcher Works to Increase Transplant Success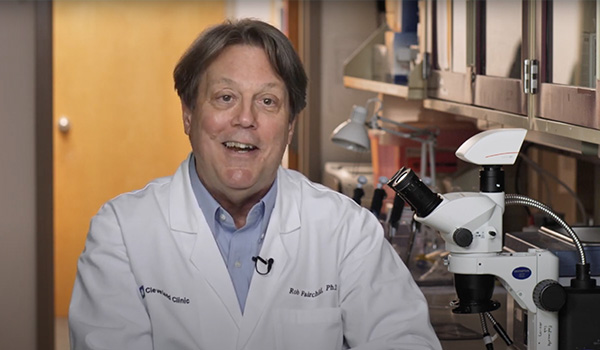 Three years ago, Robert Fairchild, PhD, lived the experience that he has researched for decades: his son needed a liver transplant.
"There's nothing like being a parent waiting for a transplant for your child," Dr. Fairchild says.
Dr. Fairchild was recruited to Cleveland Clinic in 1990 to launch a transplant immunology research program. Thirty years later, he leads a lab of 10 team members within the Lerner Research Institute that has helped to make measurable improvements in the success rate of organ transplants.
How Inflammation Impacts Transplantation
Removing an organ from oxygen during harvest to perform transplantation causes a highly inflammatory response in the organ when it is vascularized in the recipient.
"And then if the graft fails, that rejection makes it much harder to do another graft," Dr. Fairchild says. "We work with the liver, kidney and lung transplant teams to try to figure out better strategies to perform the transplants and monitor their function."
His team studies the molecular markers of the early post-transplant immune system response to transplants, called ischemic perfusion. Seeing a patient's elevated mitochondrial DNA before and after a transplant could help physicians manage the success of the transplant and avoid the rejection response. There are ways to look for this in blood tests, but the process takes a long time and needs improvement.
Even when the graft is successfully transplanted, the years ahead continue the patient's battle against inflammation. Current immunosuppression therapies to treat inflammation in organ transplants are toxic enough that they can eventually cause the organ to fail and have undermined the goal of one transplant for the life of the recipient.
"The body can sense components where they are not supposed to be. That causes a feedback loop that leads to the worse graft outcomes," he says. "There is a need for more specific therapies."
Meaningful Research In the Lab
In 2015, Dr. Fairchild and his colleague Roslyn Mannon, MD, became aware of a multiplex platform to probe and monitor the expression of about 800 different genes. Using the platform, his lab compared urine samples of healthy kidney patients to the urine of those with biopsy-confirmed acute rejection. Between the populations, they found marked differences in the expression of specific transcripts found in urine.
Although the transplant rejection biomarker space is crowded, many transplantation market participants are currently using a three- or four-gene signature for graft rejection diagnosis. In contrast, Drs. Fairchild and Mannon's non-invasive assay uses about 20 genes that can accurately distinguish graft injury from non-injury.
Another new practice suppresses the immune system's response to a grafted organ: ex vivo lung perfusion (EVLP). In this therapy, donated lungs are ventilated and given blood flow outside the body. This can restore their functionality and keep them viable for transplant up to 10 times longer than the practice of icing organs for transplant.
Ex vivo lung perfusion "washes" lungs by providing oxygen and nutrition at normal body temperature on an ex vivo (outside the body) circuit. This prevents cold injury and reconditions lower-quality lungs. It is a new practice: Just 1% of Cleveland Clinic's lung transplants in 2016 involved ex vivo lung perfusion, but by 2020 that percentage was 25%.
Cleveland Clinic has done about 60 perfusions on organs in the past two years. Cleveland Clinic was one of only four U.S. centers to perform more than 100 lung or heart-lung transplants in 2020.
Dr. Fairchild says, "Cleveland Clinic's strength is the strength of our basic science group, the volume of transplants done here and the interactions between the scientists and the clinical teams. We are one of the biggest transplant centers in the world. That number of samples allows us to do meaningful research in the lab. You don't learn enough if you do only two or three dozen transplants a year."
How Your Gift Helps Research
At Cleveland Clinic's Lerner Research Institute, scientists like Dr. Fairchild partner with physicians and clinical investigators every day to translate laboratory discoveries into exceptional patient care. To achieve this goal, the Lerner Research Institute depends on donor support to discover tomorrow's cures.
The more innovative the research, the more difficult it tends to be to secure external funding. Often, there is a gap between an idea and the scientific discovery — this is where philanthropy comes in. Philanthropy fuels transformational research that impacts Cleveland Clinic patients across the globe. The studies we conduct to prevent and treat disease require significant financial investments and we are reliant upon generous donors like you. Please make a gift today.
Annual Concert Benefits Indian River Hospital
Annual Concert Benefits Indian River Hospital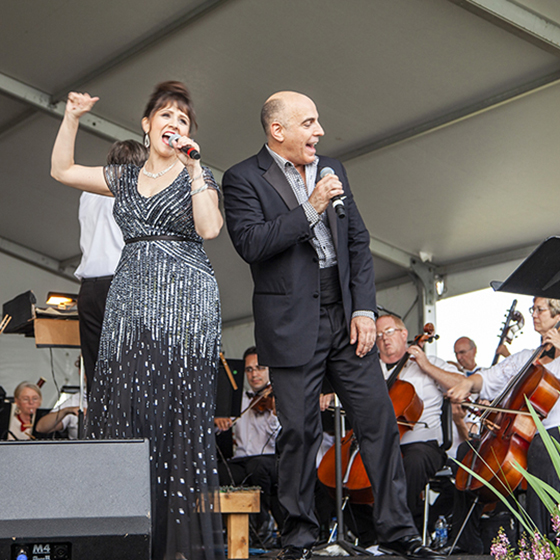 Cleveland Clinic Indian River Foundation's annual signature event, May Pops, takes place at the Windsor polo field on Sunday, May 7, 2023. Presenting sponsors Marlynn and Bill Scully invite you to enjoy a special outdoor concert performance from the Brevard Symphony Orchestra, conducted by Christopher Confessore and joined by Broadway vocalists Sarah Uriarte Berry and Sal Viviano.
All proceeds from the May Pops concert benefit Cleveland Clinic Indian River Hospital. This is the 32nd year that funds raised through May Pops will help to advance technologies, enhance facilities and elevate patient care in various areas, including oncology, stroke, cardiac, emergency services and more.
Make an afternoon of it with your family and friends. Gates open at 3 p.m. for early picnicking and the concert begins at 4:30 p.m. VIP ticket holders will enjoy a special reception beginning at 3 p.m.